Dear Mr Desmond,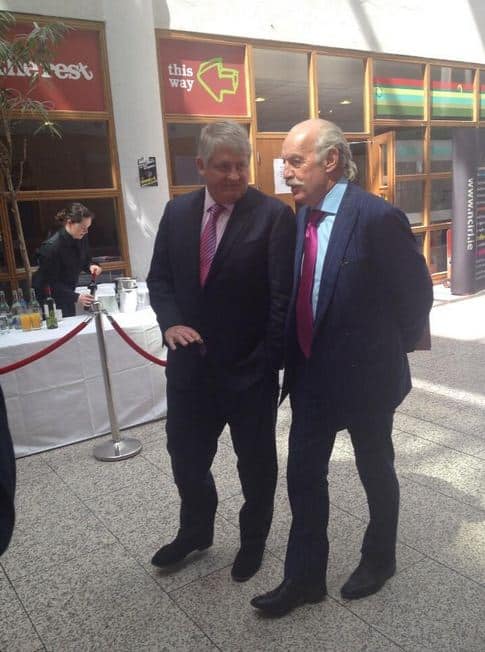 You never go to Davos.  Why's that then? I've been going for more than a decade, cruising in on the old Gulfstream. I love to put myself about. I had them eating out of my hand with my clever stock tips: "I am positive about 2014, but it will not be like 2013 in terms  of S&P 500 index gains", I told Bloomberg in one of my rare but exciting interviews.
"Of course, I told them,  "politicians are the biggest hurdle facing the global economic recovery". Now you and I both know what  I meant by that.  Give an elected member an inch and they'll be right up your  ileum trying to get an inquiry or tribunal into you. "They are more and more worried about their re-election than  growing their economies", is how  I put it.
Meanwhile "'I've been investing heavily in Ireland because I believe in it".  You and I, Sir, believers. The  green jersey.
Love the new look Sunday Business Post, by the way.  Was that your  idea, the green bits on the cover?  If a man can't show his patriotism by insisting on green bits on the cover of a newspaper, what's this great little country come to?
How're you doing for cash? See you netted almost €180m from the sale of your stake in listed online payments and money transfer group Optimal Payments – a near eightfold return on his investment in little over four years.
Personally, I'll be getting a dividend of around $650m from Digicel in 2014. I'll invest about $500m (€369m) in infrastructure for it in 2014.
We won't be floating it for a while. Meanwhile we're borrowing another more than €360 million from the capital markets to cover general company spending. See, I'm bloody determined to keep the telecommunications business outside Europe,  due to "failed" regulation. By that of course, as you well know,  I mean tribunals. Give me Burma any time.
But it didn't stop me in early February becoming the fourth largest player in the UK radio market after buying eight stations from Global Radio in a deal worth £35million after they were forced to sell off by competition regulators following acquisition of GMG Radio. We'll be adding  eight stations with a combined audience of 2.8 million listeners.
We're  looking at other opportunities, including China. We have 4,000 people working for us in China in recruitment.  And not one of them's ever been before  a tribunal.
Someone who should be in front of a tribunal is that Declan  Ganley where he gets his funding is even more  obscure  than the amount I've given Fine Gael down  the years.  Malicious Ganley  and his nasty little last-coming consortium are suing Esat, over the  ssecond mobile licence. It's as if they actually believe the Moriarty report that Lowry interfered with the tender process to ensure Esat would be awarded the licence and that he accepted payments   from us. High Court – a ring of steel of course – ruled Ganley  doesn't  have to cough  up security for costs to pursue his action since essentially he was loaded.  I'll show  him loaded.
I'm on the verge of buying €304m worth of loans linked to Topaz and its mouth-watering 330 service stations across Ireland, as part of a big loan auction from IBRC.
IBRC are great sports of course: they wrote off around €100million in debt belong to Siteserv, before I bought it for €45million even though an underbidder offered more – while I owed Anglo hundreds of millions.  Hate Anglo of course  after how they treated Seanie, my mate.
Those eejits in Broadsheet.ie, with their anti-everything smartarsery moved quickies to remove a typically begruding piece about me written by an anti-austerity protester that had been doing the rounds on social media. It suggested several allegations – which it didn't stand up in the article – about Siteserv and Irish Water. A subsidiary of Siteserv is one of the companies that recently won contracts as part of the rollout of water meters. "It is outrageous that you should seek to impugn an investment by Mr O'Brien . . . in a struggling Irish business (Siteserv) that had the effect of saving jobs", we thundered and they folded.
Sorry to hear about the depositions you're giving in the  Paul Siegel defamation  case but a classic stroke getting it upgraded to federal racketeering.  According to the Irish Times your man "has admitted setting up meetdermotdesmond.com, a no longer active – deo gratias – website lampooning you".   Fair game for you to file details of a restraining order taken out by Siegel's former  and text messages he allegedly sent to his daughter, as well as details of alleged altercations involving Mr Siegel and his children following his recent divorce. Lovely touch Mr Desmond when this little fellow referred to his own "tenacity" to refuse to back down  to his threats and to tell him after dealing with you you'll "know the meaning of the word tenacity". Brilliant and right  out of the  Denis O'Brien book of witticisms.
So this whoor's defence regarding the website is that it constitutes humour and satire, and that he had a right to publish it under the liberal free speech laws of the US. We've all a lot to lose if satire takes hold, Mr D.
See you in Twickenham.
Denis
pic – thanks, Broadsheet