By Joseph de Burca
Last month, Village speculated about the secrets which Peter Wright CBE, formerly of MI5, and author of the hugely controversial memoir, 'Spycatcher', failed to reveal in his book. During his battle to publish it, Wright warned the British Establishment that if they "behaved" towards him (that is to say if they didn't kill him), the secrets would not be disclosed. In the event, he took them to his grave at the age of 78 in 1995.
By his own admission, Wright was an expert in vilification. He even boasted about his prowess to his lawyer Malcolm Turnbull (now Prime Minister of Australia) during the 'Spycatcher' affair. This month we will look at his knowledge of a string of smear campaigns which were directed against Irish politicians, none of which featured in 'Spycatcher'. As Northern Ireland (NI) Adviser to the Director General of MI5, Peter Wright knew everything there was to know about the smear campaigns of the early and mid-1970s.
 PAISLEY
The IPU smear machine and Operation Clockwork Orange
Captain Colin Wallace worked for the Information Policy Unit (IPU), a black propaganda machine in Belfast controlled by MI5/6 at the time Wright was NI Adviser to the DG of MI5. Ian Paisley was one of its victims. It forged share certificates and a bank account in his name. The forgeries indicated the substantial purchase of shares in Canadian companies with mis­appropriated funds. "I've got no shares anywhere", Paisley thundered in April 1987. "But I mean it's common knowledge put out by the dirty tricks department that I have ranches in Canada and ranches in Australia", he added sarcastically. "That has been common parlance for years".
The smears were part of Operation Clockwork Orange. In 1990 Michael Taylor, who also worked for the IPU stated: "I can support everything Colin Wallace says and can confirm that the Clockwork Orange operation did include the smearing of British politicians. There were two Clockwork Orange files which were always in use during my period… I saw forged documents, for instance that the Reverend Ian Paisley had a bank account in Canada". The forgeries were shown to gullible, lazy or compliant journalists.
Taylor also saw forged documents alleging to show that Merlyn Rees "had made financial contributions to the IRA cause". Rees subsequently became NI Secretary.
Another IPU victim was William Craig MP, Leader of the Ulster Vanguard Party. It was alleged he had organised the kidnap of the Grundig executive, Thomas Niedermayer, in 1973, because he – Craig – was having an affair with Niedermayer's wife, Ingeborg. In reality, Niedermayer was kidnapped by the IRA, who murdered him in December 1973. His decomposed remains were discovered in March 1980. One of the conduits for the Craig smear was a British Army major based at Lis­burn. The smear reached the German newspaper Bild and prompted a headline which asked: "Did the consul die because of a romance?". Craig and his wife sued Bild and received £8,000 in damages.
HUME
The smear about John Hume stealing charitable funds
In the early 1970s John Hume made many trips to Washington where he forged excellent rela­tions with Tip O'Neill, Ted Kennedy and other influential Irish-Americans.
According to Hume's biographer: "The British watched from a distance, wary that he might try to prise the US State Department away from its pro-London, anti-interventionist line. Indeed, it was partly to break the State Department's hold on policy that Hume concentrated on the politi­cians, who in America wield real power". Worse still from a British perspective, in 1971 he smug­gled details about the maltreatment of internees out to the Sunday Times, causing an interna­tional uproar.
Some of Hume's US visits were as Chairman of the Northern Ireland Resurgence Fund, a charity which raised funds to encourage employment and self-help projects in Belfast. One of its early initiatives had been to raise money to re-build Bombay Street, which rampaging Loyalist mobs had torched in 1969.
The IPU struck in August 1972 claiming some of the money raised by the Fund had been diverted to the IRA while Hume had carved off a slice for himself. A forged bank account was manufactured purporting to show theft from var­ious US charities. The IPU showed a briefing paper to a select group of American reporters. It (a) linked Hume with IRA fundraisers, and (b) hinted that he had stolen money which had been donated by the American Ancient Order of Hiber­nians. According to it, "Hume received $10,000" on one occasion. Scribbled alongside this in red ink was "see [Hume's] bank account".
The smear oozed its way into the Christian Sci­ence Monitor, an international publication which, while it was available on subscription, was also distributed free to influential political figures throughout the world. The story festered and spread until Hume was obliged to denounce it.
In April 1987 Barry Penrose of the Sunday Times confronted Hugh Mooney, an ex-IPU officer with the briefing paper. At first he denied he had written it, or had seen the forged bank account. Later he conceded the handwriting on the documents "could be" his.
 HAUGHEY
The Haughey smear dossier
When 'Spycatcher' finally appeared in 1987, Easons on O'Connell Street informed the Gay Byrne radio show that people were leafing through the index to see if it mentioned Charlie Haughey and returning it to the shelf when they found it didn't. At the time Haughey had just returned to power as Taoiseach for the third time. Any confirmation that MI5/6 had spied on him – not to mention vilified him – would have further soured the difficult relationship he had with Margaret Thatcher.
The Arms Crisis, the motive for MI6's anti-FF campaign
British concerns about FF and Haughey drew their roots from the Arms Crisis of 1970. It involved a covert arms importation operation conducted by G2, Irish military intelligence, with the sanction of James Gibbons, the then-Minister for Defence. A declassified G2 document dated 11 February 1970, contained a directive from Gib­bons' office to the Chief of Staff or Ceann Foirne (CF) of the Irish Army entitled: 'Addendum to the Memo of 10/2/70, Ministerial Directive to CF' which read: 'The Taoiseach [Jack Lynch] and other Ministers have met delegations from the North. At these meetings urgent demands were made for respirators, weapons and ammunition the provision of which the Government agreed. Accordingly truckloads of these items will be put at readiness so that they may be available in a matter of hours".
The G2 operation meandered through many twists and turns. By April 1970 it had evolved into a scheme to import a consignment of weap­ons through Dublin Airport for storage in a monastery in Cavan. The operation was man­aged by Captain James Kelly of G2. The arms were to be distributed to the Citizens Defence Committees (CDCs) in Northern Ireland in the event of a calamitous breakdown in law and order. The worst-case scenario envisaged an absent or overstretched British Army incapable of protecting Nationalist communities from Loy­alist militias intent on murder and mayhem. This had nearly been the case in August 1969. Fortu­nately the British Army had intervened to halt murderous Loyalist mobs who were looting and burning Catholic communities led by the likes of John McKeague of the UVF (and later Red Hand Commandoes), B-Specials and out-of-control RUC officers. At one stage an RUC gunman sprayed tracer bullets into the Divis flats. One of them tore into the back of Patrick Rooney's head. He was only nine years old. When Paddy Ken­nedy MP visited the flat, he found the boy's father scraping his brains off the wall with a spoon. Thousands of Catholic refugees fled across the Border.
The CDCs were led by priests such as Fr Pád­raig Murphy from the Falls Road, solicitors, future SDLP politicians; friends of FF, FG and Labour parliamentarians in the South; numbers of those hostile to the emerging Provisional IRA; as well as some sympathetic to them. The most senior CDC leader in Belfast was Jim Sullivan, who would become an Official IRA commander. He would engage in a lethal feud with the Provos a few years later. Emphatically, the CDCs were not a front for the Provos as is sometimes claimed. Their main activity was to erect barri­cades to keep Loyalist militia out. The last thing they wanted was intercommunal violence with Loyalists. At least one FG TD and one member of the Special Branch independently furnished them with guns in August 1969 for defence against the Loyalist militia.
Perjury and cover-up at the Arms Trial
Captain Kelly, Haughey and others would end up as defend­ants at the 1970 Arms Trial. Few prosecutions in Southern Irish history have been as tainted by State-sponsored corruption as it was. For a start, Jack Lynch con­cealed what he knew about the G2 operation when he addressed the Dáil and continued to do so for the rest of his life. Gibbons followed suit. Ini­tially, Lynch's motive was to avoid a catastrophic diplomatic breach with the UK and a Loyalist backlash against vulnerable Nationalists in Northern Ireland. Significantly, recently discov­ered British documents have shown that Lynch was perfectly capable of misleading the Dáil. He entered into a secret intelligence arrangement with Britain in 1972 on condition it could be "deniable in the Dáil". Lynch did not testify at the Arms Trial, something that starved the jury of crucial evidence about his knowledge of the affair, including details of a discussion he had with Peter Berry of the Department of Justice at Mount Carmel Hospital. While Berry testified, he concealed the Mount Carmel exchange with Lynch – something that was tantamount to per­jury by omission.
When he testified, Gibbons denied the exist­ence of the G2 operation – blatant perjury – and concealed the existence of the 11 February 1970 directive.
Colonel Michael Hefferon, the head of G2, was placed under pressure to perjure himself but held fast. Instead he disclosed details about the contingency plan including the component involving the monastery in Cavan. He was only called as a witness because the judge demanded he be called, one of the more noteworthy exam­ples of judicial independence in Irish history. At the time the independent DPP did not exist and prosecutions were brought by the Attorney-General.
In addition, it has been shown that crucial wit­ness statements were altered before the trial began.
Haughey's account of G2's 'Contingency Plan'
Haughey had been in control of a fund of £100,000 which Lynch's government had assigned for the "relief of distress" in Northern Ireland. Some of it had been used to fund the G2 operation. This resulted in Haughey facing gun­running charges. In his evidence he acknowledged the existence of the contingency plan, although he denied specific knowledge that arms were to be landed at Dublin Airport. He revealed that his personal secre­tary had informed him that G2 had asked him to bring in a con­signment through the airport "without having it subject to the usual clearance". Haughey told him to "go ahead" adding that he "had no doubt that this was an official approach from Army Intelligence through official channels". Niall McCarthy SC asked: "If you had known, first, that the consignment contained arms, ammunition and bullet-proof vests, would that have made any difference?". Haughey replied: "Not the slightest, no. The contingency plans natu­rally envisaged items of that nature".
He was then asked: "If you had known that they were intended for possible ultimate distri­bution to civilians in the North would that have made any difference?". He replied: "No, not really, provided, of course, that a Government decision intervened. I would have regarded it as a very normal part of Army preparations in pur­suance of the contingency plans that they would provide themselves with, and store here on this side of the Border, arms which might ultimately, if the government said so, be distributed to other persons".
The British never believed Gibbons' account. A decade later Ambassador Robert Haydon would report to Britain's Foreign Secretary, Peter Carrington, that Gibbons and Haughey had been "involved in an alleged conspiracy to import arms for the IRA". While Haydon was correct about Gibbons' involvement in the operation, he was woefully mistaken in linking it to the IRA. What is significant for present purposes is that in British eyes Gibbons and Haughey had tried to arm the IRA. To put this in context, Peter Wright and others in the so-called 'intelligence' community in the UK actually believed Harold Wilson was a KGB stooge who only became Leader of the Labour Party because the KGB had poisoned his predecessor Hugh Gaitskell.
Haughey could have unleashed a broadside at Lynch from the witness box but chose not to do so. He knew for example that Lynch had attended a meeting with a group of men in 1970 at the instigation of Minister Neil Blaney, at which Lynch considered – but rejected the next day – a request to furnish them with surplus Irish Army rifles to defend Nationalist communities. As it happened, the spokesmen for the group were IRA members. Instead Haughey chose to walk a fine line which involved securing an acquittal without casting FF into turmoil: with the inten­tion of then regaining his former status inside it.
Lynch and Haughey were playing some sort of a private game. Lynch had initially ordered a cover-up of the affair despite protestations from Peter Berry. Neither Berry nor the Department of Justice nor the Garda had been privy to the G2 operation, but had all been misled about it from an early stage by faulty Garda intelligence. The cover-up was thwarted when Liam Cosgrave was tipped off about it. Haughey and Blaney were then pushed out of the Cabinet. Significantly, Lynch told the Dáil during the marathon Arms Crisis debate that ensured that "Deputy Haughey has, in a statement issued yesterday, said he regarded his political future as less important than the future of Fianna Fáil. But his political future was and I hope could yet be particularly bright…". These were hardly the sentiments of someone who believed Haughey had misappro­priated funds behind his back; less still funds he had tried to use to purchase arms for the IRA. More likely, the comment was a signal to Haughey (who was in hospital with a fractured skull, a broken eardrum and an injured clavicle) to play along with the charade in return for even­tual rehabilitation – the best deal in the circumstances (and indeed one that ultimately played out). Initially Lynch had no intention of pursuing a criminal prosecution. Subsequently, he succumbed to pressure from Peter Berry to mount one. In private Haughey was incandes­cent at how he felt Lynch had thrown him to the wolves but never uttered a word in public. Lynch brought him back onto his front bench in 1975 and his cabinet in 1977.
The Ambassador and the Tánaiste
Her Majesty's Government had no real idea what had actually been going on behind closed doors in the lead up to the Arms Crisis. Its interpretation of the affair was skewered by accurate information fed to it by con­tacts it had such as FF's Tánaiste Erskine Childers (later President). Ambassa­dor John Peck described Childers in his memoirs as "a very wise and experienced man, who had always been friendly and helpful" to the Embassy.
Childers was born in London in 1905, and educated at the University of Cambridge. He became an Irish citi­zen in 1938. By the 1960s he had become a welcome dinner party guest at the Ambassador's residence. Peck recalls that at one of the last parties he hosted "without warning Erskine Childers rose made a speech, very warm and simple and obviously straight from the heart, not about our guests of honour [the Canadian ambassador and his wife] but about Mariska and me and our time in Dublin".
Childers despised Haughey and had once offered each one of his FF Cabinet colleagues a cigarette from an open package in turn with the pointed exception of Haughey. After the Arms Trial defendants were acquitted, Childers told Peck that a named businessman "who is a close friend of Mr [Neil] Blaney [former Cabinet minis­ter] and an associate of Mr Haughey in the various property deals and other transactions in which he specialises" had interfered with the jury. Childers "told me that to his certain knowl­edge [the businessman] had tracked down and "got in touch with" all 12 jurors in the trial. If, as appears to be the case, Childers was implying the entire jury had been nob­bled, he was – at best – a fantasist. There has never been any suggestion that even a single member of the jury was approached, let alone threat­ened by anyone.
Haughey is "no friend of ours" says the Ambassador to the Foreign Secretary
On 9 April, 1980, Ambassador Haydon dispatched a profile of Haughey to Peter Carrington, Britain's then Foreign Secretary, entitled: 'The Greatest Come­back Since Lazarus'. According to it, Haughey had been "relegated to the back benches in disgrace [in 1970] and all seemed lost yet slowly he managed to rehabilitate himself. He started by travelling round the Fianna Fáil constituencies all over the Republic, doing favours and winning friends. This was possibly because he was never really condemned by the rank-and-file of the Party, of whom an important element cherish extreme republican views". Haydon described how, in 1972, Haughey was "elected Vice-Chairman of the Fianna Fáil Party and in 1975, following the [Cosgrave] coalition election victory, Lynch, greatly against his will, agreed to allow Haughey back on the front bench as shadow spokesman on Health and Social Security. During this period Haughey carefully avoided making any remarks about the North".
Ambassador Haydon also warned Carrington that Haughey was "no friend" of the UK and even someone with the potential to become "hostile" towards it.
Overall, Haydon's analysis was risible. Haughey had crushed the IRA's Border Cam­paign in the early 1960s while Minister for Justice. When he became Taoiseach in 1979 he would increase the number of officers serving in the Special Branch significantly at the request of Garda Intelligence supremo Joe Ainsworth. This would lead to unprecedented success against the IRA. Sir John Hermon, RUC Chief Constable, would be particularly complimentary about Ains­worth's crackdown in his memoirs.
Spying on Haughey
In the mid-1970s, MI6 attempted to recruit one of Haughey's secretaries, Sally Ann Egan, who worked in the private office at his home, Abbev­ille, as an informant. She reported the unsolicited approach to him, received his thanks and kept her job.
MI6 also recruited a member of the staff at the Old Shieling Hotel in Raheny to monitor him. It was owned by one of Haughey's friends, and he occasionally stopped off at it on his way home to Kinsealy.
There are even indications that Haughey's family circle was targeted. In Dingle a Scottish sailor befriended the family during the 1970s. He became a regular guest around the camp fire on Inishvickillane, Haughey's offshore Kerry island. One day he simply disappeared, never to return, nor to make contact again; leaving the family to wonder if he had been spying on them all along.
The Smearmeisters
Spying was one thing, vilification was another. MI6 set out to keep FF and Haughey in the politi­cal doghouse with black propaganda. Haughey would be portrayed as a Provo godfather. Link­ing FF during the Jack Lynch era to subversion was not an original MI6 concept. William McGrath of Tara, a Loyalist paramilitary organi­sation, dreamt it up first. He also believed the Protestants of Ulster were the Lost Tribe of Israel and was convicted for a series of brutal rapes at Kincora Boys Home in 1981. His deranged claims about FF appeared in The Protestant Telegraph in April 1969 which blamed the "chicanery of the Dublin regime" for a bomb attack on the Caste­lereagh electricity sub-station in 1969. The FF-IRA theme was subsequently developed by the Official IRA, which alleged that the Provos had been created by Captain Kelly and FF. Next, it would be MI6's turn to spew out clouds of poisonous lies about FF-IRA connections. Indeed, some of the Offi­cials' pamphlets claiming FF sponsorship of the Provos would be circulated by MI6 to Irish-American politicians in Washington.
Sir Maurice Oldfield oversaw MI6's cam­paign against FF. He was Deputy Chief of MI6, 1964-1973, and Chief, 1973-78. He was probably assisted in the task by Daphne Park, at least after 1975, in targeting Washington. They were both devious, amoral and unscrupulous individ­uals. Oldfield sometimes boasted about torturing Jews in Palestine in the late 1940s to entertain his friends at his London club and was a pederast who exploited rent boys and – accord­ing to MI6 records disclosed to the Hart Inquiry in NI in 2016 – had enjoyed a 'relationship' with "the head of Kincora Boys' Home (KBH) in Belfast". Oldfield also sent two criminals, Ken and Keith Littlejohn, to the Republic where they masqueraded as Official IRA members, robbed banks, engaged in kidnapping and petrol-bombed Garda stations, all to manipulate public opinion against subversives. If, as evidence from various sources indicates, MI6 and the MRF bombed Dublin in 1972, Oldfield must have approved – if not actually overseen – it.
Daphne Park, the daughter of a Belfast Prot­estant, was a self-confessed killer and dirty-tricks expert. Oldfield promoted her to the post of Controller of the Western Hemisphere in 1975 where she reigned over MI6's operations in the US and Latin American. At the time the CIA was on the rampage, busy propping up murder­ous right-wing dictatorships in Latin America. It is a given that she was aware of what was going on and equally certain she assisted lethal CIA operations when­ever asked. On a more respectable level, she was responsible for thwarting IRA gun-run­ning efforts from the US, albeit with little or no success.
While serving in Africa during an earlier stage of her career, Park had channelled MI6 funds to support Kenneth Kaunda of Zambia. Her role in the murder of Patrice Lumumba in the Congo was described in the July edition of Village.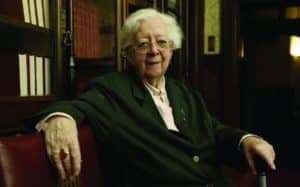 Park knew how to generate political turmoil. In an interview she gave to the BBC's Panorama about MI6 in 1993 she explained: "Once you get really good inside intelligence about any group, you are able to learn where the levers of power are, and what one man fears of another. [..] You set people discreetly against one another [..] They destroy each other, we [MI6] don't destroy them".
After her so-called "retirement" from MI6, Park served as Oldfield's sounding board in London during his tenure as Security Co-Ordina­tor in Northern Ireland during 1979 and 1980. At this time she ran the British-Irish Association (BIA) and befriended a string of Irish politicians including Garret FitzGerald, though not Haughey, who shunned it.
Forum World Features
Forum World Features (FWF) was one of the vehi­cles Oldfield used to drip MI6's poison into the mainstream media unnoticed. It was a joint MI6/CIA venture based in London which fed articles to newspapers, most of which were about 1,000 words long, around the world, weekly. At one stage it was supplying 250 newspapers and magazines in 53 countries up to 10 articles per week. Brian Crozier, a friend of Oldfield and an adviser to Thatcher and Ronald Reagan, ran it for years. In 1994 he published his memoirs, 'Free Agent: The Unseen War 1941-1991', in which he admitted that FWF was a CIA/MI6 front.
Colin Wallace has revealed that MI6 planted stories about Haughey in the European press through FWF in the 1970s. In addition MI6 used the North Atlantic News Agency, Trans World News and Preuves Internationales to dissemi­nate its propaganda.
Haughey would be portrayed as a shady land and cattle dealer; a Provo godfather; a man responsible for bombings outrages in NI. A smear dossier on him was deployed by the IPU in 1973 for off-the-record briefings for European and American journalists by British Army offi­cials. One of the men vilified was an Irish-American businessman who was alleged to be a close friend of Haughey. According to Wal­lace, "there were a whole string of these people who had tenuous connections allegedly with Mr. Haughey. The idea was that this document put together a package really saying he was heavily involved in shady financial dealings both in the construction industry and also in the cattle busi­ness, and a lot of the money from these transactions was being diverted to get arms and explosives for the Provisional IRA".
In 1990 Wallace revealed that another aspect of the campaign was designed to "damage the reputation of the Provos in the United States – by creating the illusion that they were being sup­ported by the Kremlin, splitting off some of their right-wing backers there – and to tarnish the image of Fianna Fáil in Washington by associat­ing them with the IRA who were being armed by the Russians".
The first US Embassy cable
Wallace's claim that MI6 pulled the wool over Washington's eyes about Haughey is supported by two transatlantic cables transmitted by the US Embassy in Dublin to Washington which sur­faced in 2013 courtesy of Wikileaks. They dovetail neatly with the smears Wallace described in 1990.
The first cable was transmitted in April of 1973 by a US diplomat by the name of Moore shortly after the change of government in Dublin. It alleged that the new FG-Labour Coalition led by Liam Cosgrave had learnt that senior FF figures had been involved in a conspiracy with the IRA to bomb Belfast and then purchase the damaged properties at a discount. Patrick Cooney, the former FG Minister for Justice, who was men­tioned in the cable as having been aware of the plot, has dismissed it as nonsense, yet one can imagine the horrified reaction in Washington.
The first cable identified the "source" of the information as someone close to the Cosgrave Government. Realistically, the CIA personnel in Dublin were not halfwits and could hardly have believed any of this arrant nonsense. It is far more likely there was no "source" at all and that the CIA Dublin station passed the smears along to Washington as a favour for Oldfield.
The cable was dramatic: "Source close to new Govt, however, tells us that Cosgrave expects to make some major announcements and disclo­sures in near future…Some of info is sensitive. Please hold carefully…senior figures in previous [FF government] had formed a ring to buy bombed-out property in NI at low prices, using an American businessman as front for pur­chases…Disclosures will inevitably raise suspicions that Dublin-based profiteers were in collaboration with IRA bombers…Source says that he has seen some of files on case and found them 'extremely unsavory'".
The authors of these ludicrous yarns built themselves an escape hatch so they could flit out of it later when their predictions crumbled to dust: "Govt is likely to follow with full disclosure of scandal, though some in Govt believe that news should be withheld because it reflects badly upon entire Irish Nation".
The cable also alleged that Patrick Cooney had "found much evidence, hitherto undisclosed, implicating members of previous Govt in arms-smuggling scandal of 1970". Cooney had found nothing of the sort. Nonetheless, the cable per­sisted in claiming that: "Outgoing Govt had made off with files on this and similar embar­rassing topics, but a few career men kept personal photocopies which have now been turned over to new Govt. According to source, Justice Minister [Cooney] believes that evidence is sufficiently incriminating to allow new arms trial, with formal charges against three previous ministers: Haughey, Lenihan, and one other whom source did not recall. (This is first time we have heard that Lenihan may have been deeply involved in arms-smuggling episode)". Of course, no further trial took place.
The second US Embassy cable
A second Embassy cable, dated 11 November 1974, concerned Haughey's alleged 'shady' land dealings, another favourite IPU-MI5/6 theme. It was entitled 'Haughey Tries For A Comeback' and detailed how Haughey "has been making a speaking tour that is clearly a bid for a front bench seat. Previously a minister, Haughey fell from power and grace during 1970 arms-trial crisis. (He was involved in misappropriation of public funds for Northern Catholic extremists.) Since then, he has kept quiet and worked hard on back benches. Newspapers have always been fascinated by him, however, since he is one of party's few talented deputies. Current Fianna Fáil front bench is so weak that journal­ists love to speculate on 'when Charlie will return'. His reputation for shady real-estate deals does not seem to discourage his fans. Eventually, Haughey would certainly like to be party leader".
In reality Haughey was surviving on a large overdraft from AIB.
The cable's recommendation to Washington was that "over long-term, Haughey must be con­sidered a serious challenger for Lynch's job, if only because the competition is so weak. We can entirely accept Lynch's judgment that Haughey would be dangerous: nothing is less needed now than Republican opportunism".
Pushing an open door with the Dublin media
MI6 did not have had to engage in much heavy lifting in Dublin to turn the Irish media against Haughey. Accord­ing to Geraldine Kennedy: "All of the senior big beasts as you would call them in the political correspondents' room [in Leinster House] did not trust Haughey after the Arms Crisis. They were all against him".
Some of the more influential journalists had a deep rooted anti-FF bias on account of their left-wing political leanings. Foremost amongst them was Dick Walsh, who worked at the Irish Times for thirty years and became its political editor. He wrote a book on the Arms Crisis and another on FF. In the early 1970s at least, Walsh was a secret supporter of Cathal Goulding, the Chief-of-Staff of the Official IRA. Walsh wrote the eulogy that Goulding presented at the funeral of Joe McCann, an Official IRA volunteer who had been killed in Belfast in April 1972. Clearly, the slaughter of a chaplain and five cleaning ladies at the Parachute Regiment's HQ in Alder­shot two months earlier had done nothing to make Walsh think ill of the Official IRA which had perpetrated the atrocity.
Sir Tony O'Reilly, who owned a string of Irish newspapers including the Irish Independent, also lined up against Haughey. Michael Daly was the Head of Chancery at the British embassy in Dublin with responsibility for "information" 1973-76. In 1975 he transmitted a cable to London revealing that O'Reilly had "instructed his editors at lunch that no support whatsoever was to be given to Haughey's efforts to return to respectability". O'Reilly had opined that Lynch was a "decent man who was above [reproach] and should be protected from Haughey's machinations".
Daly also noted that the Dublin business commu­nity would be less inclined to support Haughey if O'Reilly opposed him. Daly commended O'Reilly for having acted "sensibly". Daly later went to serve in Nicaragua (during the Contra era), Chad, Costa Rica and Bolivia, and was probably an MI6 officer. In any event, his use of the word "sensibly" indicates that the Foreign Office (which controls MI6) was opposed to Haughey.
Haughey became disgruntled at how he was being treated by the Irish Independent. One of his complaints was that they habitually referred to him as "Haughey" on its front page whereas the Leader of FG was described as "Garret". He once even challenged the editor of the paper about this practice only to be told it had to do with space requirements.
The bid to keep Haughey out of Cabinet
Haughey rarely kept newspaper clippings about himself. Yet he deemed one from the Sunday World sufficiently important to preserve in his private archives at Abbeville. It was written by Gerry Lawless 'from Westminster' in June 1977 after FF's landslide general election victory and entitled, 'Whitehall Row Over Bid To Block Charlie'.
The article read as follows:
"Last Monday's sudden dash to Belfast by Robin Haydon, the British Ambassador to Dublin, is believed in Westminster to be con­nected with an attempt by British government interests to influence Jack Lynch's selection of the new Dublin government, and to block Charlie Haughey from obtaining any senior governmen­tal position…Haydon's trip was an attempt by the Foreign Office to get the Northern Ireland Office to tone down a bitter press campaign aimed at destabilising Fianna Fáil and influenc­ing Mr. Lynch in his choice of Ministers. The Foreign Office feared that this campaign would backfire".
Lawless revealed that as soon as FF's election triumph had become apparent, "British Army psycho-ops chiefs" had launched a campaign. There had been briefings in London and Belfast for select British journalistic "experts" on Irish affairs. There had been a "press campaign which warned Mr. Lynch to watch out for the 'Haughey clique' while at the same time "revealing that Lynch would not give Haughey a top government post".
Lawless had been interned during the IRA's Border Campaign in the late 1950s and was not one of the well-trained poodles of the Westmin­ster lobby, hence his willingness to expose their complicity in MI5/6 machinations which he wit­nessed all around him at Westminster. According to him, the operation had appalled the "more sophisticated Foreign Office mandarins", who ordered Haydon to go to Belfast to warn "Mason's officials that this campaign could backfire" and that it should be suspended until after 5 July when Lynch would announce his new administration.
Haughey was friendly with the then editor of The Sunday World, Kevin Marron, and may have elicited further details from him about the story.
Dining with "Sir Spy"
By the time of his retirement from MI6 in 1978, Oldfield can only have been dismayed at the momentum building up behind Haughey. In his profile of Haughey, Ambassador Haydon described how he had become Minister for Health and Social Welfare but had "distanced himself from the Government's increasingly unsuccessful attempts to improve the economy and used his position cleverly to publicize his own achievements. So, by the time the [1979] leadership election occurred, he had re-estab­lished the image of a highly efficient Minister who got things done".
The supreme irony is that insofar as the smear campaign had any impact on the Irish electorate it backfired because it (a) enhanced Haughey's reputation as a wealth creator – something large swathes of the electorate found attractive – and (b) shepherded at least some soft Republican voters in his direction. He became Taoiseach in December 1979. Worse still from a British per­spective, he was now extremely wary of British diplomats and adamant that his staff would maintain a safe distance from them.
Padraig O hAnnracháin, who served as Haugh­ey's chief civil service adviser, referred to Ambassador Haydon as "Sir Spy". Shortly after Haughey became Taoiseach, Haydon took Frank Dunlop, the Government's press secretary, out to lunch at an expensive restaurant in Dublin. Later O hAnnracháin asked Dunlop not to meet with "Sir Spy" again without sanction. At the time Dunlop was working from an office which allowed him to observe offi­cials flitting in and out of the Taoiseach's department. On one occasion, he peered out and spotted Haydon's car pulling up shortly before lunch to pick up O hAnn­racháin. Dunlop was able to rib O hAnnracháin afterwards for dining with "Sir Spy". On another occasion while Dunlop was in Europe with Haughey, a British diplomat who had served in Dublin recognised and greeted Dunlop as he and Haughey were alighting from a lift. Haughey turned to Dunlop and remarked sarcastically: "Another one of your friends from the British Embassy".
So who helped Ambassador Haydon with his profile? As the document itself reveals, one of his informants was Garret FitzGerald, hardly the most objective contributor.
Declassified documents confirm MI6 espionage directed against Haughey
The efforts to spy on Haughey would only increase after he became Taoiseach. Oldfield's biographer, Richard Deacon, was an informed and credible source about the MI6 spy master. His real name was Donald McCormick. He was a former intelligence officer and a friend of Old­field. One of Deacon's tantalising revelations in his 1984 book was that during Oldfield's tenure as NI Security Co-Ordinator in 1979/80: "MI6's main success was in establishing agents inside the Garda, the Irish Army and government departments. One of the most vital informants was a senior Garda officer [who] provided infor­mation on the activities of the former Irish premier, Mr. Haughey, and other prominent polit­ical figures".
Since then irrefutable corroboration about British espionage against Haughey has emerged from Britain's National Archives. Declassified files reveal that on 24 April, 1980, Northern Ire­land Secretary, Humphrey Atkins, wrote to Thatcher stating "you will, I expect, have noted two recent intelligence reports that throw some light on [Haughey's] approach" to Anglo-Irish affairs.
The threat posed by Wright To Anglo-Irish Affairs In 1987
As Northern Ireland adviser to the D-G of MI5 in the early and mid-1970s, Peter Wright knew all about the IPU. Any disclosure by him in 1987 about the campaign against John Hume in the early 1970s would have delivered a severe blow to Britain's prestige, especially in Washington, not to mention alienating and humiliating the SDLP.
The most volatile explosive in Wright's arse­nal, however, was the threat he posed to HMG's plans to persuade Haughey to support the Anglo-Irish Agreement (AIA) of 1985. Hence Wright's knowledge of the anti-Haughey cam­paign threatened to sour Anglo-Irish relations and unravel a number of carefully woven diplo­matic and security tapestries.
In addition, there was the likely anger that would erupt in Washington if Wright chose to dis­close that CIA personnel had helped MI6 mislead their political masters in Congress and the Senate over Haughey.
Ultimately the British Government "behaved" itself just as Wright had warned it to do. He suf­fered no physical harm and in return shuffled to his grave in 1995 with his tawdry secrets intact. Any manuscript he prepared never surfaced. Unless it does, large swathes of Irish history may never emerge from the mists of speculation.