As the Nineteenth Century came to a close, notable architects and designers in France recognised that the Art Nouveau style was becoming tiringly passé. It was time for something new, that would intone 'Twentieth century'. Architects began designing structures that could be regarded as practical, reflecting the demands of real-life and machine-age technology such as modern aviation, electric lighting, radio, ocean liners, and skyscrapers. Art Deco buildings are symmetrical, bold geometric shapes (triangular, zigzagged, trapezoidal, chevron-patterned and later curved), streamlined, often simple and pleasing to the eye.
Capturing the "primitive"
Art Deco drew its look from concepts as wide flung as the so-called 'primitive' tribal designs of Africa, the sleek sophistication of Paris, the elegant geometry and sculpture characteristic of ancient Greco-Roman architecture, the geometric representational forms of Ancient Egypt and the stepped pyramid structures of Aztec Mexico. The discovery of King Tut's tomb in 1922 stirred the world's imagination while aviation made such exotic lands more accessible, more immediate.
The Art Deco ethos diverged from the Art Nouveau and Arts and Crafts styles, which emphasised the specialness and originality of handmade objects and featured stylised, organic forms. That crafted quality was emblematic of a kind of elitism in opposition to Art Deco's more egalitarian aim: to make aesthetically appealing, machine-made objects that were available to everyone. Art Deco style is in contrast to avant-garde De Stijl and Futurism which challenged viewers to find meaning and beauty in what were often unapologetically anti-traditional images and forms.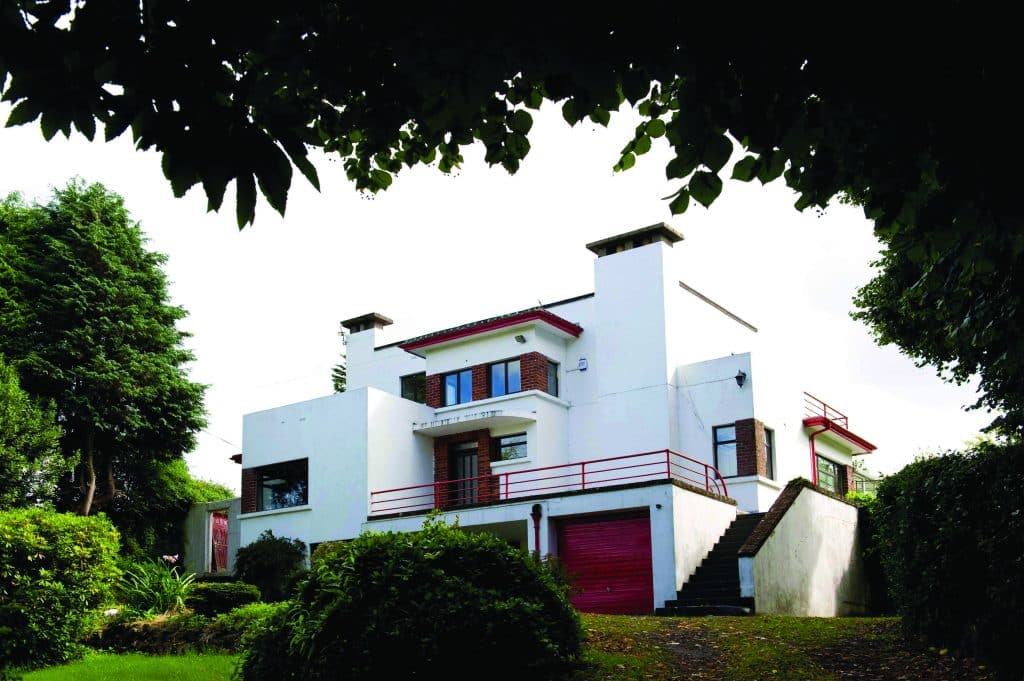 What Did You Call Me?!
Art Deco was named retrospectively. Originally, the term 'Art Deco' was used pejoratively by Bauhaus and its most famous detractor Le Corbusier who scorned it for its ornamentation. During an exhibition in Paris in 1925, Le Corbusier wrote a series of articles for his magazine L'Esprit Nouveau. They were a spirited attack on the excesses of the colourful and lavish objects at the Exposition. The style was reinvigorated in 1968 when the term "Art Deco" was used in a positive manner by British art historian and critic Bevis Hillier in the first major academic book on the style, citing examples of prior usage of the term.
And All That Jazz
With its international influences, the Art Deco style took hold in cities as diverse as Miami, Paris and Havana. The roaring twenties were a reaction to the devastating aftermath of the Great War. The world needed a reason to cheer up. It was the jazz age of decadence and excess. Glamorous Hollywood was providing America with celebrities to dream about. This escapism was a welcome relief to the upper echelons of frugal Free State Ireland which dabbled unflamboyantly in the style in both private and public spheres of architecture.
The Great Escape
The country desperately needed respite from the pressure to live as a collective Celtic-Catholic beacon of purity. Bishops were obsessed with censorship and the temptations of modernity – the invisible enemies of blasphemy and immorality. The break from the gloom was seen most notably across the country in the form of cinema theatres and dance halls such as Floral Hall in Belfast Zoo built by Belfast Corporation in 1936. These pleasure palaces were glamorous places to go to in the evenings to indulge the senses. For the working classes the upholstered seating and heated interiors were unimagined luxuries consolidating the extravagance of the interior décor, lights and neon signs. The Church still had their souls but imagination was free to swirl in some of our dancehalls.
Going to the pictures
The thirties was the golden age of cinema building. And much of it was concentrated around Dublin's principal thoroughfare, O'Connell Street, rebuilt after the 1916 Rising. The Carlton Cinema, 52-4 O'Connell Street (1934-38), was one of Dublin's first Art Deco façades, influenced by the Egyptian-style Carlton Cinema in London. It was a slick and stylised Art Deco version of Neoclassicism, with some jazzily curved fenestration bars and flood lighting.
O'Connell Street also boasted the Savoy Cinema (1929), whose cut-stone façade was designed to match the Gresham Hotel under the direction of Horace O'Rourke, City Architect. It was certainly an "event" going to watch a movie in this theatre as it could seat up to 3,000 people. Also The Theatre Royal, Hawkins Street (1935) was intended for use as both theatre and cinema as was Theatre De Luxe (1934) on Camden Street with its dramatic proscenium. It was demolished in 1962 and the execrable, now doomed, Hawkins House was constructed on the  the site. The former Tivoli Cinema (138-9 Francis Street) opened in 1934 as the third largest cinema in Dublin, operating until 1964, and since as a theatre.
The suburbs also had cinemas such as the Classic Cinema in Terenure which opened in 1938 and the Ormonde Centre in Greystones (1947). Regional cities and small towns also enjoyed modernity bursting onto their streetscape manifest in the ritzy likes of the Abbey Cinema in Abbeyfeale, County Limerick, which opened around 1940, the Savoy and the Regal in Waterford (both in 1937). A jewel in Art Deco design is the cinema which is now the Strand Arts Centre in Belfast. It had one screen with a stage, and 1170 seats. It is the last of the pre-war Belfast cinemas still in existence. Its design was influenced by its proximity to the nearby shipyard of Harland and Wolff featuring curved walls and a port-holed foyer.
Buying Modern
The twentieth-century saw the growth of the middle classes and disposable income for the goods of department stores. In Dublin there was Clery's & Co which opened on Lower O'Connell Street in 1922 with its Art Deco accented Classical features. F.W Woolworth (1930) in Belfast was the largest Art Deco building in the city centre. Roche's (now Debenhams Department Store) on O'Connell Street Limerick (c1940) features stepped stylised Doric piers with fluted capitals, rising from first- to third-floor level. Burton's Men's outfitters in Britain and Ireland had stores across the country and their in-house architecture was Art Deco in style. Individual stores vary from the more restrained red-brick with neoclassical scroll headed columns to fully fledged Art Deco with geometric patterns and stylised elephant heads. In the capital there's the Burton Building, Ann Street (1931-33), Montagne Burton on the corner of Dame Street and George's Street (now a Spar) built in 1930 with its distinctive colourful mansard roof and extensive vertically inclined glazing reinforcing a vibrant corner. Waterford city got its Burtons in 1937. One famous tiny Art Deco landmark in Dublin is the Leeson Street Kiosk built c.1930. This curiously small yet utilitarian structure contains a newspaper kiosk, a ladies' lavatory, a telephone booth and water-pressure station but it did it with panache. Grafton Street wouldn't be the same without Noblett's Corner, distinguished by a modern interpretation of a corner turret built in 1932 for Noblett's Confectioners.
Hotels
Hotels craved the glamour and modernity that an Art Deco appearance could furnish. The Clarence Hotel on Dublin's Wellington Quay is the best known. Other businesses vying for modernity wrapped themselves in Art Deco – the elegant Kodak Factory (1931) on Lower Rathmines Road and the Dunlop Building on Stephen Street – each selling romantic fruits of the era. In the West of the country there was Silke's Cash & Carry Wholesale (1935) on William Street in Galway, thinking big. Auto-emotive Naturally thrusting automotive companies wanted to be associated with Art Deco The Iona Garage and Taxi Company (1931) on Prospect Road/Whitworth Road in Phibsborough, the Automobile Association and Motor Union Insurance Company (1921) on Suffolk Street and Archer's Garage (1946) on the Corner of Sandwith Street and Fenian Street, Dublin are characteristic. Over the bank holiday weekend of June 1999, contractors working for the hotelier and property developer Noel O'Callaghan demolished the listed building for redevelopment. O'Callaghan later insisted he was unaware of the building's listed status, however it came to light that Dublin Corporation had informed planning consultants working for his company of the building's protected status four days before its demolition. The maximum fine of £1m was imposed for this illegal demolition and O'Callaghan was made to reconstruct the building.
Banks
Not deviating too much from their classical pretensions, banks started donning more dapper adornments. The best include the Allied Irish Bank (1940) on Lower Drumcondra Road, Dublin, the Provincial Bank- Allied Irish Bank (1924) on Richmond Street with its Art Deco inspired doorway, the ACC Bank (1941) on O'Connell Street Limerick with its Egyptian and Greek Revival motifs and Belfast's tour de force Bank of Ireland (1930).
The building is notable for its very strong vertical lines, culminating in a copper dome.
Public buildings
Schools such as St Mary's College of Domestic Science built in 1939 (now DIT Cathal Brugha Street), St Anne's Vocational School (1939), George's Quay in Limerick (now Limerick School of Art & Design) and the College of Commerce in Cork (1935) are charming Art Deco exemplars. The Alliance and Dublin Consumers' Gas Company (now the School of Nursing and Midwifery, TCD) on D'Olier Street built in 1928 is one of Dublin's, and indeed Ireland's, best known and loved Art Deco buildings. The GAS sign still dominates the front elevation. This showroom was used to demonstrate gas-fired products and give cookery demonstrations. Some libraries (Drumcondra (1937) and garda stations (Whitehall) now the State Pathology Lab) got in on the act. Hospitals, particularly TB hospitals, also adopted the Art Deco style as its clean-lines and smooth rendered walls suggested hygiene. Contemporary writing on the importance of patient access to free air and sunlight was represented in the concrete balconies on the upper floors. Good examples include St Camillus' Hospital (1933) on the Shelbourne Road, Limerick and the jazzy break-fronted St Munchin's Maternity Hospital (1960)on the Ennis Road Limerick (1955), both by Limerick architect Patrick J. Sheahan.
Even fire stations such as the Fire Station on Fr Griffin Road in Galway (1956), post offices like Rathmines Post Office (1934) and an ESB Transformer Station can be Art Deco-ed. The one on Dublin's Temple Bar by Vincent Kelly, built 1926-8 remains monumental.
Some religious institutions also appreciated the style. Central Buildings (c.1930) on O'Connell Street Limerick, commissioned by the Methodist Church (now the United Presbyterian and Methodist Church) and the famous Christ the King Church (1931) at Turner's Cross in Cork are excellent.
At home with Art Deco
These private homes tended to be less showy, and colourful than the public Art Deco buildings. They are characterised by their streamlined appearance with smooth white walls uninterrupted by cornices or eaves, flat roofs, horizontal orientation, and balconies.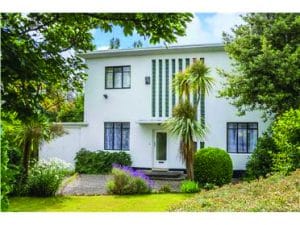 The relative affordability of the motor car allowed a new social class to get around fashionably, and saw the rapid development of areas such as Glasnevin and Foxrock from villages into fashionable garden suburbs. Foxrock gems include 'Annacrivey' on Kill Lane which was completed in 1950 as the home for its architect Anthony Johnson. It's a replica of 'Aghanloo' next door which he built for his parents. This smooth white box is jazzed up with a strip of vertical glass brick windows to the front flooding the hall, landing and stairs with light.
In Northern Ireland there's Bendhu House on the north coast of Antrim (c.1936). It came with sunken rooms, parapets, animal sculptures, cubes, squares, port-holes and cliff stairs. The locals called it "the house that was never completed" and it became the object of continual objections and controls. The house is, however, now revered as part of our architectural history by the types who used to object to it.
In Limerick the Art Modern Style, a strippeddown version of Art Deco, registered in residences designed by William Clifford Smith in Castletroy, Co. Limerick. in the late thirties. These included 'Yoma', 'Cooltara', 'Garryknock', 'Cooleen' and 'Sunning Hill'.
However, Dublin City Architect Herbert G. Simms gave public housing the most contemporary look such as Countess Markievicz House (1934-39). This U-Shaped four-storey complex on Townsend Street contains 170 flats and balconies overlooking the central courtyard with a playground.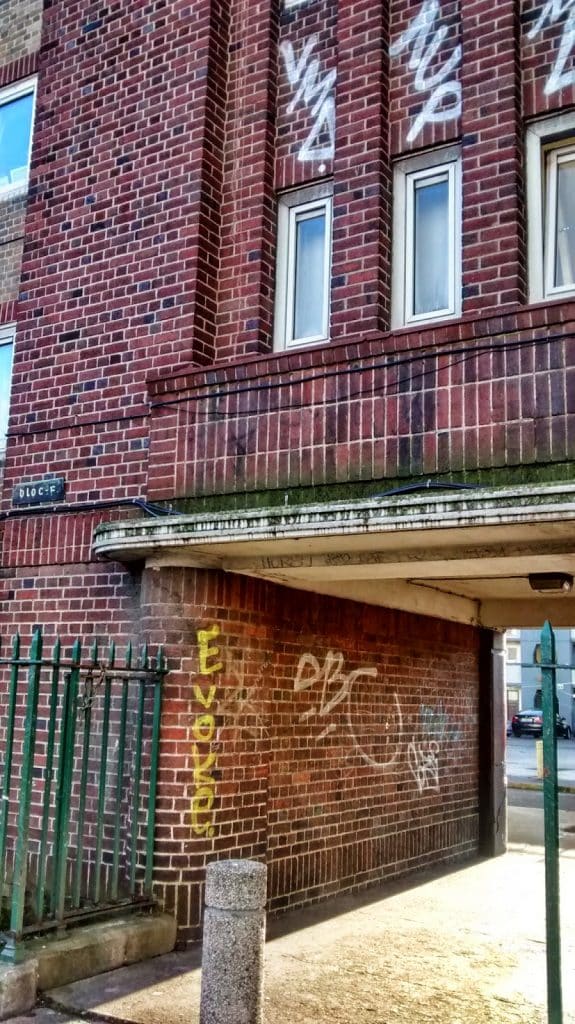 The best known Art Deco house would have to be 'Geragh' (1937) designed by Michael Scott as a home for himself in Sandycove, Dun Laoghaire. It sits confidently next to the Martello tower associated with another twentieth century icon, James Joyce, commanding great views over Dublin Bay.
Sadly one's of Ireland's first individual Art Deco houses, Balnagowan House on St Mobhi Avenue in Glasnevin (called Wendon until 1938) burned down in August of this year. Its V-shaped plan and fat roof gave this luxurious living machine a dramatic appearance. It was built between 1929 and 1931 to the designs of London architect Harold Greenwood. An Taisce's heritage officer Ian Lumley said the house was "very adventurous" for its day. "It's a real rarity in the Dublin context. The style of building was very conservative at the time and the modern movement or Art Deco didn't have very much impact, apart from in the construction of cinemas".
More than mere ornament
The Art Deco style embraced the new technologies, new discoveries and new forms of architecture. It didn't challenge our design palette the way Modernism or the later post-modernism styles did as it was an easy transition from Classicism. It is somewhat in vogue again, particular among a hipsterish cognoscenti and its furniture and trappings in particular are now more fashionable than Victorian and Georgian. Nevertheless Art Deco is not without intellectual scaffolding.
Emma Gilleece is a committee member of the Irish Chapter of DOCOMOMO.