We're in the middle of a housing crisis. But we didn't get there overnight. This government engineered the very crisis it found itself in and came up with its own grand plan to solve it. Or thinks it has.
But it is all part of a drastic disaster economics.
It involves what we have seen until now: people dying in the streets, children sleeping in hotel rooms, soup kitchens feeding hundreds of people, tenants being evicted after the homes they were living in were sold, an unprecedented increase in the number of suicide… But we may well see much more of this, for this government has essentially abdicated its responsibilities to the wolves.
Selling off assets when there is an acute shortage should be the last thing any government would want to do
Local authorities were sidelined
What started with Irish Water and the Local Property Tax is part of a larger scheme in which they are first suffocated of funds, then made redundant, policy by policy.
This is now what is happening with housing.
The implementation of the Social Housing Strategy is being hampered by significant infrastructural issues, which are not being dealt with quickly enough. That's according to Dr Donal McManus, CEO of the Irish Council for Social Housing (ICSH).
He outlines three critical issues – from the perspective of housing associations – that need to be
addressed: lack of sites for development; the urgent need for coordination of funding schemes for social housing; and the absence of development programmes for housing associations.
The most serious obstacle hampering implementation of the Social Housing Strategy is the failure to make enough sites available to housing associations, he says.
"There are over 800 sites in public ownership that could be assessed for social housing and transferred from local authorities to housing associations. Housing associations could then access private finance to deliver much-needed homes. However, this is not happening due to unnecessary infrastructural obstacles and delays.
Alan Kelly's Urban Regeneration and Housing Bill legislates such a move. Developers under previous bills were to surrender 20% of developments to Local Authorities. Not only did they bring it down to 10% in theory, in practice it now stands at virtually zero. Instead they will lease these premises to local authorities, retaining ownership. This means the already depleted stock will not increase.
Another recent Kelly announcement, a new tenant-purchase scheme, will exacerbate this. Under this plan, Social Housing is to be sold off at discounts of 40 to 60 per cent of market value. This does not make any logical or economic sense: selling off assets when there is an acute shortage should be the last thing any government would want to do.
Local authorities just lost the capacity to provide affordable housing at a local level. The statistics below illustrate that trend:
No funds for essential repairs either
Local Government lost the ability to provide new homes, but it also lost the capacity to repair vacant ones. Thousands of houses are sitting idle nationally, most for want of funding from central government.
The Essential Repair Grant was discontinued in 2011, when it reached its lowest figure at €92,000, down from nearly €52m in 2008.
One of the arguments advanced by Alan Kelly in favour of his new tenant-purchase scheme was that these costs would not be incurred by local authorities anymore, but this is small change on the value of state assets being sold at a loss in the first place.
Calls were made for the Local Property Tax proceeds to be allocated for these repairs, but these were instead diverted to Irish Water. Ironically, you cannot buy a house under the new tenant-purchase scheme if you haven't paid your water bill.
NAMA has a stranglehold
Thousands of houses were not built for lack of funds, thousands more remain idle for the same reason, and yet thousands more are in the control of Nama and are not released in the market or for social housing at a time we need it most.
The December 2014 survey on Unfinished Housing Developments noted that 4,453 vacant homes were then ready to be occupied, but starved Local Authorities cannot avail of them.
The report highlighted that:
"To date, demand has been confirmed by the local authorities for 2,121 properties that NAMA has indicated are potentially available (This relates to all developments and not just developments identified as 'unfinished'). A further 507 properties are currently being evaluated bringing the total that may be deemed suitable to 2,628".
So right in the middle of a housing crisis, we find that Nama is still to identify houses "that may be deemed suitable".
Its website states:
"As at end June 2015, NAMA had identified over 6,542 residential properties as potentially suitable for social housing. Of these, demand has been confirmed by local authorities for over 2,500 properties, of which 1,386 have been delivered for social housing use. Confirmation of demand is a matter for local authorities and is not something in which NAMA has a role".
Only 1386 units were delivered nationally, a trickle. And notice again the discrete disclaimer: Confirmation of demand is a matter for local authorities and is not something in which NAMA has a role.
In other words the government has ample supply, but will not feed Local Authorities any funds to purchase it from itself.
Local authorities are made the scapegoat of this government's non-policy on housing. The media toed the government line, and few if any asked the local authorities for their opinion when reports came out that "4000 Social Housing units offered by NAMA" had apparently been rejected by them.
The reality is evidently more complex and refusals usually stem from the government's own policy and frameworks on housing, as well as building regulations.
For example, South Dublin County and City Management Association offered the following insight in a statement to "The Dublin Gazette":
"Local authorities do not turn down available housing units unless there are strong reasons for doing so…Local authorities cannot simply accept units as they are presented. We must build sustainable communities in line with key government priorities, not just find quick-fix solutions to a complex problem…There were, however, additional factors such as a number of units not meeting standards or construction regulations…Some units had legal title and management issues. Other units were withdrawn by Nama during the process. Or in some cases, the cost of acquisition and leasing did not offer value for money".
Social Housing Allowances Slashed
The Government has withdrawn funds for developments and repairs, while separately attacking sections of society which need it most.
Rent supplement payments made by the Government have fallen substantially since 2010.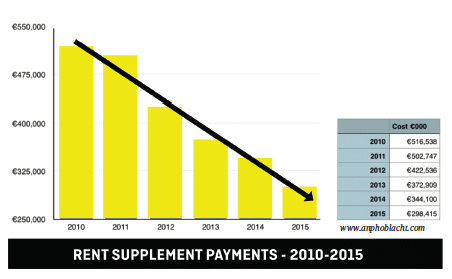 In 2014 spending on the payments amounted to over €344 million – a reduction of more than €170 million on the €516 million paid out in 2010. In 2010 over 97,000 individuals received the payment; last year this had fallen to just over 71,000.
Calls for increase of these rates were ruled out by the coalition, despite the pressing situation. And limits on rent supplement are in turn making the homelessness problem worse, but the Government deliberately chose not to address this, instead cutting €18m over the last year from homeless services in Dublin City alone, where in June 3,307 people were in homeless accommodation including 1,122 children.
Some units had legal title and management issues. Other units were withdrawn by Nama during the process. Or in some cases, the cost of acquisition and leasing did not offer value for money
With housing stocks at an all time low, it is proving very difficult for low income earners and households in receipt of Social Welfare allowances to follow rent increases.
Rents are inevitably on an upward trend and nearly back to 2008 levels.
We now hear that 500 "Modular housing units" are to be fast tracked at cost of €40m. Funding is not available for essential repairs, local authorities are suffocated, €18m is cut from homeless services in Dublin alone but Alan Kelly has magically found €40m.
4453 dwellings are complete and vacant in ghost estates (UFHD: Unfinished Housing Developments), but since these estates are in an unfinished state, they cannot be released.
4000 more are in need of essential repairs but again there is no funding available. NAMA was only provided €3.35m in Budget 2015 to address it.
Yet they were recently fixing developer properties lacking essential fire proofing to the tune of €100m.
We now learn that these modular homes will actually cost more than a normal house, coming in at €191,000 each. €18m has been cut from homelessness services in Dublin alone but the minister has magically found a total of €40m for prefabs.
Dublin City Councillor Michael O'Brien offered a better explanation: "utter shambles". He added: "had the Minister had a bit of foresight, the council could have used this €4.2 million in funding to begin to purchase houses in the area and this could have been done by now. The average house price in the area is roughly €150,000. This would have allowed homeless families who will be moved into the modular housing to be moved into actual houses and would have added housing to the council's housing stock rather than spending fortunes on temporary modular accommodation".
These first 22 modular homes will be constructed on a pilot basis with another 128 to follow shortly after under a fast-tracked procurement process, ie oversight will be non existent.
This is further privatisation. Public funds going to private developers (including a subsidiary of Denis O'Brien's Siteserv) for wholly unsatisfactory dwellings that will not be provided to Local authorities but leased to them, with further public money lining developers pockets as rents will be paid out via councils and welfare.
All trends lead to the same conclusions. Housing agencies, charities and left leaning parties have all highlighted the extreme urgency of the situation.
But instead the government relies solely on a market-led approach, exacerbates inequalities by slashing Social Welfare support, suffocates local authorities by withholding essential funds, and removes itself entirely from helping the most at need.