Background
Enda Kenny was born in Castlebar, County Mayo, in 1951. His maternal grandfather was a lighthouse keeper in Loophead, Co Clare. He was educated locally at St Gerald's College (De La Salle) and later attended St Pat's College of Education in Dublin and UCG and worked briefly as a primary school teacher. Kenny first entered Dáil Éireann in 1975 following a by-election due to the death of his father, Henry, who had risen to be a Parliamentary Secretary but died after a short battle with cancer. He played Gaelic football for his local club, Islandeady, of which he is now the president for life and is a keen supporter of Mayo Gaelic football team. His son Naoise won an All-Ireland hurling medal, while Henry won one for Mayo in 1936. He has been elected at every election since 1975 as a Fine Gael TD though he nearly lost in 1989 during the rod-licence dispute, and is the father of the Dáil.
He didn't have his first alcoholic beverage until the age of 28 – served unexcitingly in the Dáil bar. But he quickly became accustomed to the Leinster House drinking culture. His early parliamentary career was undistinguished but somewhat racily he spent many evenings on Leeson St. "You wouldn't expect him to be in the office before noon because he was probably only going to bed when the dawn was coming in", according to Ivan Yates. Former Fine Gael TD Maurice Manning said he and Kenny would "go to nightclubs and drink too much" when they were starting out in politics. History does not record which of them was wingman and too soon it was over. Kenny married Kerrywoman, Fionnuala O'Kelly, in 1992 and they have three children. The couple met in Leinster House where O'Kelly worked as a press officer for Fianna Fáil and was close to Charlie Haughey, so close that he could not be told she was dating your man, though he knew anyway. She later worked with RTÉ.
In the mid-1980s, he was a member of the Fine Gael delegation on the New Ireland Forum and later served on the British Irish Parliamentary Association. Kenny served as Minister of State at the Department of Education and Labour, 1986-1987. During his period as a TD he has served as party spokesperson on Education, Arts, Heritage Gaeltacht and the Islands, Western Development and Youth Affairs and Sport. His biographer Kevin Rafter described him as the man who came from nowhere, implying he had few policy achievements.
Kenny negotiated the Programme for Government with the Labour and Democratic Left parties before formation of the Government in 1994. He served as Minister for Tourism and Trade from 1994-1997 during the reign of that Coalition government, overseeing an unprecedented growth in tourism business, and Ireland's trade position internationally. He is credited with revitalising the Dublin city St Patrick's Day Parade and for bringing stages of the Tour de France to Ireland.
He held various offices within the party as well as serving as Minister of Tourism under John Bruton. In 2001 John Bruton resigned as leader of Fine Gael following a vote of no confidence. Kenny stood for the leadership, promising to "electrify the party" but Michael Noonan emerged victorious. However, Fine Gael suffered its worst electoral performance ever in 2002, losing 23 seats. Kenny stood again and defeated Richard Bruton, Phil Hogan and Gay Mitchell. Kenny pursued a populist line on immigration, street crime, paedophilia and homeowners' rights.
Under Kenny the Fine Gael Party agreed to enter a pre-election pact with the Labour Party for the 2007 general election. The so-called 'Mullingar Accord' was agreed in 2004. The Green Party also signalled support for such a coalition.
Kenny stood on a contract with the people of Ireland but lost an election that was there for the winning, after being outperformed by Bertie in an election debate. Fine Gael made large gains but the Labour Party, in particular, failed to deliver enough seats.
Negotiations between the three parties never took off and Ahern brought home an unlikely coalition with Greens and independents. That disastrous government brought in an ill-considered bank guarantee, with support from Fine Gael which later claimed – ineptly – that it had been misled; and NAMA.
Enda Kenny failed to capitalise on the government's stellar unpopularity and was led to table a motion of confidence in himself by Richard Bruton for the leadership. Nine members of the Fine Gael frontbench did not have confidence in Enda Kenny to lead their party – Simon Coveney, Denis Naughten, Olwyn Enright, Olivia Mitchell, Fergus O'Dowd, Michael Creed, Billy Timmins, Leo Varadkar and Brian Hayes. Nevertheless Kenny prevailed. It was only after the catastrophic IMF/EU bailout, the slow-motion resignation of the Greens from government and the start of the election campaign that Enda Kenny's FG started making gains in the polls, rebuilding the party, winning back 20 seats in the 2007 election and a further 25 in the 2011 election when Kenny led Fine Gael to an historic victory, with his party becoming the largest in the state for the very first time, forming a coalition government with the Labour Party. He subsequently became the first Fine Gael Taoiseach to be elected to a second consecutive term on 6 May 2016, after two months of negotiations following the 2016 election, forming a Fine Gael-led minority government. He is the first Taoiseach from Fine Gael since John Bruton (1994-1997), and the first Fine Gael leader to win government in an election since Garret FitzGerald in 1982. As he is well aware, in two months he will overtake John A Costello as the longest-serving Fine Gael Taoiseach.
---
Appearance
Ageing JFK, if the family had stayed in Ireland, meets 1970s Action Man. Very good hair and skin for nearly sixty-six. Michael Ring, his constituency colleague once noted that Kenny provided Fine Gael with a "nice fresh face" that "looked well on posters" but that may have been by comparison to Liam Cosgrave.
---
Manner
Decent, charming and only rarely arrogant, perhaps due to a key lack of intellectual gravitas. Like a sailor-doll who has watched too many cowboy movies. He has no fear of being corny. He likes to use his hands, and thumbs – usually up, and his propensity to high-five anyone he meets is well documented in the EndasHighFives tumblr account. Often appears to be controlling his breathing. A "punching gesture" made by Kenny as Mary Lou McDonald was speaking during a Dáil debate on the Budget in 2015 attracted public notice. Not very good on TV or in the Dáil, he is excellent in a hall, and in private.
He often looks like he is going to make a mistake, or fall over. He does a line in half-baked no-nonsense comments like "Paddy likes to know what the story is" and sometimes he postures like a slightly effeminate John Wayne: not long after his 2011 General Election success, our soon to be Taoiseach assured the masses: "I have no fear of Brian Cowen and I'm sure he has no fear of me".
Village predicted in 2011, on the cusp of his premiership that he would lack dignity in office, in a cover article titled "Leader or Eejit?'. But it was wrong. Kenny has conducted himself with as much dignity as any leader at home or abroad, and attracted international respect.
He's more or less done what it said on the tin, and he really didn't offer to do anything else.
He does on occasion say foolish things. In April 2015, Kenny told the Dáil a tale about a man with two pints in one hand. In July 2012, he said, "Generally when people speak to each other they use words". While he was addressing the US Chamber of Commerce in 2014, Kenny gave an open invitation for a chat on the phone, at least to bigshots or Americans: "If you got a problem, you have an issue or anxiety or concern or a proposition or a proposal I want to hear it. My number is a public number you can call me anytime".
Long ago, in September 2002, Kenny was accused of making racist remarks after he used the N-word  at a dinner attended by party members and journalists. During an anecdote about a holiday in Portugal, he said a Moroccan barman "with shiny teeth" had been asked why a cocktail was called a 'Lumumba' and replied it was named after "some nigger who died dans la guerre," referring to Patrice Lumumba, the assassinated Prime Minister of Congo. Matters were made worse when it emerged that several of Lumumba's relatives, including a son and several grandchildren, lived in Tallaght. A graphic description of a mugging he had experienced was given to the Dáil, in 2006, only for it to be revealed later that the incident had occurred in Kenya not Ireland. When asked about his stance on same-sex marriage by TV3 journalist Ursula Halligan, in 2015 he infamously nearly tripped over a flower pot.
Later that month, Kenny told a gathering of the European People's Party (EPP) in Madrid that he had been instructed to have the army guard ATMs during the economic downturn, and during last year's election he was recorded saying mad things about whingers from Castlebar. As recently as February he imagined in some detail, and later had to apologise for imagining, a meeting with Minister Katherine Zappone, in which she discussed her meeting with Garda whistleblower, Maurice McCabe. The Taoiseach said there were "many people who've been here before me for many years who have made mistakes". There certainly have been but it has nevertheless hastened his departure from office.
The foolishness seems to be an aberration, a quirk, and fortunately has done little real damage to the public or the body politic.
According to the Irish Times, a younger political operative who had frequent dealings with Enda Kenny stated: "He's like an embarrassing uncle at a wedding… Every time I met him it was all high fives and fist bumps. It was mortifying". But with the next breath, reported the newspaper, "comes a litany of admiring references: to the Taoiseach's energy; to his lack of ego; to his ability to motivate those he leads; to his political instincts".
---
Political philosophy
'Late Late Show' host Ryan Tubridy once asked Kenny why he wanted to be Taoiseach, three times. At the end of it all the nature of his ambition to lead the country was no clearer. Nobody's really thought to ask him what his philosophy is: it's obvious he'd just waffle on about business and fairness and families.
He is very keen on Trust and Truth and for a good while was keen on change, represented by a five-point plan which seemed for a good while to set him alight, though it is unlikely, from his performance over thirty years in opposition, or indeed from what passes for his vision, that he himself ever represented change. On its website which presumably was passed under Kenny's antennae. Fine Gael, a Christian Democrat party, describes itself as a "party of the progressive centre" which it defines as acting "in a way that is right for Ireland, regardless of dogma or ideology". It lists its core values as equality of opportunity, free enterprise and reward, security, integrity and hope. Dating back to John Bruton Fine Gael has somewhat unclearly seen itself as the party of the 'coping classes'. This has been used as a canopy for unfair or morally-hazardous, populism. In the opinion of Kevin Rafter, Kenny's biographer, what has given Fine Gael its recent strength is the fact that, following in the footsteps of Fianna Fáil, it has become a 'catch-all' party without any ideology. It stands for nothing and therefore excludes no-one. And yet Rafter believes that this lack of a definite set of beliefs is exactly what continues to undermine Enda Kenny's leadership.
It is an impoverished agenda but it is only fair in assessing Kenny to remember that these are his primary drivers.
On numerous occasions Kenny has dismally offered his own limited vision "that the country will become the best little country in the world in which to do business" by 2016. However, the genesis of the quote was in 2011 where during the election campaign he expressed a vision that went beyond that, and indeed he has often repeated the extended vision. For example, before announcing further austerity measures in Budget 2012, Kenny addressed the nation on television on the "challenges we face as a community, an economy and as a country": "I want to be a Taoiseach who retrieves Ireland's economic sovereignty. I want to make this the best small country in the world in which to do business, in which to raise a family, and in which to grow old with a sense of dignity and respect". The vision is broader but still folksy. There are better established indicators of the direction a politician takes a society. Village favours equality, sustainability and accountability.
---
Political Talent
Excellent with small crowds and in person. He certainly has the all-important "affability factor" that Bertie Ahern had, and that every Fine Gael leader since Garret FitzGerald has lacked.
---
Modus Operandi
Allegedly good at organisation and strategic delegation – Chairman not Chief. Last year's RTÉ One's 'Enda' documentary even had Pat Leahy elevating Kenny into some sort of ruthlessly clever and manipulating leader. He dispatched Richard Bruton's coup through machinations of Svengali Hogan.
For a while Village ran an Endawatch column. In the end there could be no column for there was simply nothing to watch. His minders keep him off the airwaves for the most part. In 2011 Kenny refused to participate in the three-way leaders' debate proposed by TV3, stating his unhappiness that Vincent Browne would chair the debate as Browne had made a comment on his show that Kenny "should go into a dark room with a gun and bottle of whiskey". Browne has long regarded Kenny as a lightweight wondering, a generation ago, what the likes of Kenny achieved as TDs and more recently being unimpressed on a long shared car journey by Kenny's grasp of economics. After pleading that it was sympathy with suicide-victims that kept him away, Kenny then stated that his schedule prevented him from attending the debate; and, absurdly that the empty chair could represent emigrants.
Very recently Kenny managed to outmanoeuvre the pretenders to his throne by vaguely saying he'll deal with them when he comes back from a good tour of America, but also expressing contempt for disloyalty.
---
Hinterland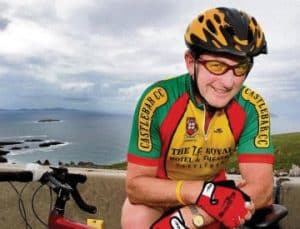 Kenny enjoys cycling, golf, hillwalking and the music of Bruce Springsteen. He has also climbed Mount Kilimanjaro for charity and cooked a meal for the RTÉ One show 'The Restaurant'. Of his wild Atlantic salmon main, the late Paolo Tulio said "It was overcooked and hard, I just couldn't eat it". The critics awarded the Taoiseach a score of two stars out of five.
---
Dodgy?
Not really. In 1996, after the Moriarty Report damned Michael Lowry he did claim that he was a man "of the highest integrity and honour" stating he very much regretted his departure from cabinet after the McCracken Tribunal revealed supermarket tycoon Ben Dunne had paid IR£395,000 for an extension to Lowry's home in Tipperary and that Lowry had evaded tax. On a number of occasions he has been pictured next to Denis O'Brien, Ireland's most powerful media owner whose organs tend to favour Kenny, although O'Brien was discredited by the Moriarty Tribunal. O'Brien has been a big funder of Fine Gael, though quite how big is unclear. Former Kenny favourite and Fine Gael 'handler' Frank Flannery received payments of €409,000 from Rehab over six years from 2008, and was forced to resign from its board and as a Fine Gael trustee in 2014 after it was revealed that the charity paid him to lobby the Government and that he was hanging around foxily in the portals of the Dáil to do so, used invoices from a dissolved company, Laragh Consulting Ltd, when being paid by Rehab for such services.
Kenny's instruction to the Secretary General of the Department of Justice, Brian Purcell, to make a late-night visit to the Garda Commissioner, Martin Callinan, leading to the resignation of both senior public servants and, under unfair pressure, his own long -time supporter, Alan Shatter, in mid-2014, remain shrouded in a fog of obfuscation.
Similarly, the way the Commission of Inquiry he announced to examine the purchase of Siteserv by long-time party supporter, Denis O'Brien, in mid-2015, was allowed to run into the sand due to its restricted powers and inadequate terms of reference bear all the finger prints of his senior handlers.
A large number of Tribunals has been instigated under Kenny's watch but, thought they indicate some sleeveenism – particularly in respect of the Garda – they do not suggest venality.
---
Legacy: examining Kenny's record as he heads for the hills
Likely to be viewed as little more than an improvement over predecessors who after all were the worst government in any rich country in history. History will forget his mistakes.
As is so often the case history will reward social change: Kenny facilitated equal marriage, Dáil gender quotas, recognition of Traveller ethnicity; and probable repeal of the eighth amendment, on abortion. In 2013 Kenny movingly apologised in Dáil Éireann on behalf of the State to the survivors of the Magdalene Laundries. He did not defer to the Catholic Church.
An important further legacy is that people like Kenny have kept Ireland safe from political lunacy like Trump, Le Pen, Wilders and Brexit. Nor is it imaginable that this conservative man would ever suffer a shower of Russian-hooker pee.
Kenny's strength has been the economy, though arguably he has like all his predecessors depended too much of foreign direct investment and underinvested in indigenous enterprise, and public services including the likes of Iarnród Éireann and Bus Éireann. Nor is Ireland prepared for the earthquake of Brexit or, despite some unnecessary fawning, the Trump Presidency.
As to whether he made Ireland good – or even the best – for business, with GDP growth last year of "26%", Forbes Magazine ranked Ireland fourth in the world for 2017 after Sweden, New Zealand and Hong Kong – out of 139 nations ranked on 11 different factors. Ireland came fifth for tax burden, nineteenth for Innovation, sixth for monetary freedom and tenth for red tape. Ireland actually topped the list in 2013 so we can concede that Kenny more or less hit his target.
Writing in this magazine in 2016 itself Patricia Callan, Director of the Small Firms Association wrote of the last government: "In its Programme for Government, no less than 25 small-business-specific commitments were identified. This recognition and focus in and of itself has been significant, and is justified, as the economic importance of small firms in Ireland cannot be overestimated… On balance, [the 2011-16 Coalition Government] has listened to the concerns of business and has put us on a sustainable path to future growth".
More generally Kenny and Noonan may be said to have turned Ireland's economy around after the profligacy of Fianna Fáil, though pundits have been less impressed since the IMF left town. Many of the measures implemented by Kenny governments were instigated by last-gasping Fianna Fáil but that does not detract from the success of their implementation.
The ESRI forecasts GDP growth forecast at 4.2 per cent in 2016 and 3.5 per cent in 2017. The monthly unemployment rate is 6.6% in February, inflation is 0.3%, property prices rose 8% last year and are continuing that trajectory. The Debt-to-GDP ratio is 77% of annualised GDP now (admittedly with distorted GDP figures).
General government deficit is minus 2.6 % of GDP. There is the prospect of a modest surplus in 2017 under current budgetary policy. The Irish economy is at or is very near to its potential level of output. By contrast: the Debt-to-GDP ratio rose from 23.9% in 2007 to 120.1% in 2012 before falling to 77% of annualised GDP now (admittedly with distorted GDP figures); the unemployment rate rose from 4.2% in 2007 to 14.8% in July 2012. In the first quarter in 2009, GDP was down 8.5% from the same quarter the previous year, and GNP down 12%. The Central Statistics Office estimated that 34,500 people left the country from April 2009 – 2010 but we now have net immigration.
In 2016 the average person in Ireland was worth €132,000 – €30,000 below 2007 levels, but €20,000 more than at the post-crash low point five years ago.
Over the past eight years Irish households have reduced their collective indebtedness by €57bn (to just under €160bn). However, it took less than two years to add that same amount of debt in the final years of the bubble.
The biggest economic failing was Kenny's premature claim to have secured a significant debt write down from his EU partners in June 2012 which proved to be untrue. His siding with the ECB and the Bundesbank against the struggling Greek people who put the radical leftists of Syriza into power was self-serving and opportunist and arguably undermined any prospect of Ireland getting some early relief on its enormous legacy of banking debt.
---
Too economic
Kenny's agenda is economics-driven. This has a downside. He rarely refers to equality, poverty or the environment and sustainability. Ireland's quality of life and happiness rate well under international scrutiny but our national infrastructure, especially for leisure – parks, swimming pools, leisure centres, public transport etc is poor, and one of the reasons for the ratings is the overrating of GDP per head , and our great, though diminishing, legacy of community and family life.
Ease of access to the Irish healthcare system is the worst of the 36 countries surveyed.
For example, the Irish health system ranks 21st of 36 in the 2016 Euro Health Consumer Index, the same as in the previous year, with longer waiting times for minor operations and CT scans, the report found. In 2011 Fine Gael claimed that its 'FairCare' plan – modelled on the reformed Dutch health service – would "cut waiting lists and end apartheid in our health service. With universal insurance, we'll offer equal access to all". In the end its governments have given up on universal insurance and it is not clear what model they are pursuing, if any.
---
Equality
Enda Kenny has never expressed a particular concern about inequality – it's not a Fine Gael issue. He is in particular not interested in equality of outcome, as distinct from equality of opportunity.
Unfortunately in Ireland the top 1% owns 15% of wealth; the top 10% owns 54% of wealth' and the top 20% owns 73%. The share of gross pre-redistribution income going to the top one per cent of earners increased from 34 per cent in 2011 to 39 per cent in 2015. And over half of the increase in total income (€21 billion) 2010-15 went to the top 10 per cent of earners. The bottom 50 per cent of earners got just six per cent of it. We're bad on wealth distribution; not quite so bad on (post-tax) income distribution.
Towards the end of the boom and during the downturn the Gini coefficient, which measures income equality, improved in Ireland, post-redistribution – through direct taxation and welfare. Nevertheless. the proportion of children living in consistent poverty in Ireland almost doubled during the economic recession from 6.3% in 2008 to 11.2% in 2014.
---
Environment
Climate Change
We emit twice as many greenhouse-gas emissions as the Swedish per head: at 16.7 tonnes per head; the UK for example is at 10, while the EU average is 11. Ireland makes the case for national climate delinquency, on the basis of our disproportionately high agricultural output. Speaking to reporters at the COP21 global summit on climate change in Paris, the Taoiseach singled out Irish agriculture, making a special case for it, which he said was being asked to meet unreachable targets. Kenny told reporters that the targets for Ireland needed to be "fair" and "sustainable", which is Kennyspeak for "meaningless' and 'unenforceable".
He went on to make the implausible argument that we as a nation are just too poor to shoulder our share of the burden. "Ireland was not in a position over the lost last decade to plan for the future in the way we would like. The recession had resulted in Ireland "not being in a position to invest in climate change mitigation and research".
As a result, not only has the overall emissions reduction target we need to meet in 2030 been cut from 40 to 30 per cent, but loopholes will allow burgeoning emissions from agriculture and transport to be offset by carbon sequestration and trading. We even wriggled out of obligations to save what's left of our peatlands, a significant carbon store.
Ireland is on course to breach EU target for 2020, largely due to recidivist inactivity by successive governments to curb emissions and there can be no confidence that we will meet the new 2030 target.
Water
The government bottled Water Charges, for political reasons. There is no sense that Kenny, or to be fair anyone in the political establishment, believes in the polluter-pays principle.
Planning
There has been no spatial strategy during Kenny's time as Taoiseach, reflecting his lack of interest in visionary planning.
---
Accountability/Political Reform
In one of his first acts in the top office, Kenny slashed his own pay by €14,000 (a reduction of 7%). The new government also decided to cut the pay of senior ministers. Among reforms implemented have been a reduction in the number of TDs, a Constitutional Convention albeit it one that got diverted, and an unsuccessful referendum to abolish the Seanad. Kenny's governments introduced advanced whistleblowers legislation, regulated lobbyists and did not increase fees for freedom-of-information requests. The legacy is good, but not as good as Kenny's promise of a clean slate.
---
Conclusion
Over the past five years, Kenny has displayed many of the characteristics that marked the career of his long term adversary, Bertie Ahern, including the ability to shake off, or at least postpone, controversies that would have caused terminal damage to other party leaders.
Yet the stars, and international factors, including a strong dollar and sterling, unexpected multi-national tax payments and the dramatic oil price collapse combined to see Kenny emerge as the architect of the fastest growing economy in Europe and a fistful of promises to simultaneously cut taxes, improve public services and recruit thousands of nurses, teachers and guards. His record on improving accountability is mixed. A lack of vision means that his legacy is almost exclusively confined to the economic, though he did address a number of important social issues.
He showed little interest in equality or the environment.
AJP Taylor described Winston Churchill as "the saviour of his country". Kenny is not quite that. He is a decent man who did a competent job in difficult times, particularly economically. That he lacked a vision or an interest in quality of life, the environment or equality may diminish his place in history. But among Irish Taoisigh, he has not been the worst.