The RHA's 185th annual Exhibition.
Review by Kevin Kiely
The current Royal Hibernian Academy president, Mick O'Dea, highlights the Academy as "exhibiting work that is innovative and representative of the broad spectrum of best practice from here and abroad".
The aspiration is admirable but should you bother to inspect the present show you will reveal it as a fiction. Hyper-inflated self-praise is a hallmark of RHA communication, artless as it may be . Perhaps more artful are the catchy titles for the artworks, a claim no doubt, to postmodernity.
Art markets are created for finance not excellence. O'Dea notes that 2014 saw a "28% increase in sales" and gravely proclaims that "Ireland's art investment has clearly turned a corner". He sees the gallery as "the perfect spotting ground for the aspiring and discerning collector". Amongst the sponsors are the gullible buyers or dealers. Better-known sponsors include AXA Insurance, the ESB, and galleries such as Adams, De Veres and Whytes, with their attendant vested interests, as well as the Ireland-US Council and the Irish Arts Review, edited and presided over by the elsewhere discerning  John Mulcahy.
The Academy niftily gleans a six-figure annual grant from the Arts Council and dispenses in-house prize money of €45,000 donated by the sponsors. The prizes in the main go to members in a comforting rotation scheme.
Many RHA members are coincidentally also members of Aosdána. The Aosdána ethos of collectivisation and cosy caucus prevails at the RHA.
Members mixed up in Aosdána include James Hanley, Veronica Bolay, Diana Copperwhite, Gary Coyle, Michael Cullen, Imogen Stuart (recently made a Saoi by the Aosdána gang), Martin Gale, Richard Gorman, Charles Harper, Gene Lambert, Alice Maher, Stephen McKenna, Carolyn Mulholland, Patrick Pye, and Barbara Warren. Most of its members receive the Arts Council annual cnuas of €17,180 to top up their takings.
Underpass II by Eithne Jordan RHA, sister of the movie-making genius, is probably the best of a bad lot in the show, with its Orson Wellesian bleak modernity though the catalogue does not record how she weathers the compromises of collectivisation  among the self-raised cream.
RHA members can, and do, exhibit up to seven works without any pre-selection process.
As to the rest, O'Dea is sanctimonious about open submission for non-members. They are permitted to present a maximum of three works and try their luck for inclusion at the annual exhibition. These artists totalled over 1,000 in 2015. Director, Patrick T Murphy bestows laureates at the eight Academy members giving five full days of their time to inspect the open submissions "not once but twice to select about 10% of the artworks that have been submitted". As if emphasising the effort of that second look, Murphy added "it is a rigorous and concentrated exercise".
The high point according to the press release, the exhibition catalogue, and the newsletter comes from a third category: invited artists. Tracey Emin's Wanting You – a neon fluorescent light: basically a snow-white heart and the text in pink. Limited edition at €110,000 per unit.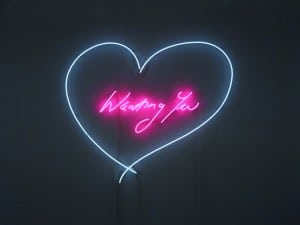 Emin, except for those afraid to admit it, is a joke on the art scene, a loud Fury purveying kitsch. But her offering to the distinctly provincial RHA is taken seriously as some sort of coup. Aidan Dunne stated that her work "seems quite at home" in Dublin. Does he not know you can get neon lights to order in better condition and a lot cheaper at any hardware supplier? Behind Dunne's tired praise in the Irish Times is hyperbole upon hyperbole ("probably one of the best ever") which does not reflect the realities of the Royal Hibernian Academy or its dinosaurs, its council, board, benefactors and staff.
Dunne's lazy approach often amounts to no more than blurb, with his praise for Martin Gale's Talking at Doonfeeny a nadir: putting "people in the picture…struggling in some way with the reality of living in the country". For the rest of us what we see is actually Gale's usual oiled-up photorealism – a pier wall, high tide, two windswept figures and a collie dog. Gale's daughter is a staffer at the RHA.
The novelty act besides Emin's neon is Martin & Henri Gibbins' 'recycled' Filthy Robot, looking like a Dr Who cast-off found in a junk shop, or the Tin Man gone wrong.
Dunne believes that in the academy: "portrait painting has survived the advent of the selfie". He could not be more wrong. Under the pervasive influence of Robert Ballagh, incidentally a staunch Aosdána merchant himself, the RHA purveys the ubiquitous school of photorealism in oils. The group includes Thomas Ryan who offers High Mass, St Kevin's in his perennial 'out of focus' oil-style. Carey Clarke is another dinosaur following the standard selfie-digital-portrait model. Clarke presents Professor Lonergan of TCD in this mode. O'Dea's Christina and Michael, a variation,  is typical of the crinkly-portrait school of photorealism. The doyenne of this mode is Anita Shelbourne, up with a morbid collage and acrylic of Maud Gonne.
My fantasy is that RHA members who do portraits adopt the fraudulent Giclée method. In other words: photographing the subject, then resorting to the use of inkjet printing directly onto a roll of canvas and making reproductions of the original two-dimensional artwork, photographs or computer-generated art. After a little moral wrestling the result might end up on the gallery wall as a canvas, framed or unframed. Whether most of the members can actually draw, paint or sculpt to any high standard is the great ne plus ultra of questions for the Academy.
Landscapes predominate under the influence of Sean McSweeney, "innate colourist", who is also present in the show. His itchy and scratchy school of art has been adopted by those who constantly cruise rural Ireland for predictable artsy stop-offs such as Roundstone in Galway and Ballinglen in   Mayo. This explains Pat Harris's presence with From Stonefield: a sea with a sliver of blurred green landscape and a big sky. Veronica Bolay, Joe Dunne, Charles Harper, and Donald Teskey aim the same time-honoured direction. One could easily interchange the names and mass-produce these landscapes for Tesco, or Poundstore. Other RHA old-timers present for the pretty-dead still-life school: particularly Stephen McKenna: Four Donegal Cloths; Hone: Still Life; and John Long: Two Peaches.
Photography at the RHA has always been monopolised by Amelia Stein whose Sheep Wire is post-Warhol. How brilliant to think of photographing yes sheep wire for a print edition of 10, framed or unframed. Abigail O'Brien's Paper Trail is a print showing shelves of dusty files which of course Dunne manages to find "compelling…as evocative of endlessly circuitous legal bureaucracy as Dickens's Bleak House". It is easier to associate Paper Trail with the immobilised RHA itself. Overall, the photography hits an all time low, especially Mella Travers Stealth mawkish, morbid, pseudo-Gothic in yet another limited edition. Framed or unframed.
The sculpture room is alive with pieces that look as if they were rough-hewn using crowbars and sledge hammers rather than anything as subtle as even a chisel. Eileen MacDonagh is sister sledge using limestone if you consider her Archimedes Gate. Marie Smith's swollen bronzes are unpleasant and their purported realism vague. Janet Mullarney's Giotto's Circle of papier-mâché and wire at the other end of the scale is kindergarten art for the school windowsill.  John Behan peddles his stock in trade Famine Ship with a price tag of €21,000, making it an expensive bathroom display for someone maudlin. Remco De Fouw's triptych of stone and glass is souvenir-shop standard.
Overall, the opening exhibition almost justified attendance to behold the members prancing about in robes, though tellingly wine is only available at exorbitant prices per glass – presumably accounting for the lack of a door policy.
Coming up to the 1916 centenary, the RHA promises an early annual show, to cash in, in March. It should pre-emptively convene a board meeting and drop the 'Royal' to The Hibernian Academy. HA after members' names and AHA after associate members' names would give a realistic perspective.
Anyway, expect more from the Daub-Daub, Dab-Dab and Drab-Drab schools in  the 2016 exhibition, unless original submissions can be sneaked past the RHA's assessors who remain in search of Caravaggio. •
The RHA 185th Annual Exhibition is open to the public on 26 May -9 August. Admission is free.