The nineteenth Six Nations tournament begins on February 3 but one man who won't feature is Simon Zebo. It was announced in October that Zebo will be leaving Munster at the end of this season and moving to Paris to play for Racing 92 in the French Top 14 league. The announcement of his planned move abroad resulted in Zebo being excluded from the November Tests series, and now his exclusion from the Six Nations Squad. Joe Schmidt claimed at the official launch of this year's championship that Zebo has been left out of the squad due to his form rather than the fact that he is about to leave the country, with prodigious Leinster young gun Jordan Larmour his preferred option as reserve. Larmour could well be a fullback great, but Zebo still has plenty to offer his national team as he is only 27 years old and in his prime.
The IRFU has a policy, which the current Irish management helped to devise, of only selecting home-based players. This is in part to safeguard provincial rugby and as a way of preventing the top players accepting lucrative contracts with foreign teams. This policy has only come into play in recent years, in part due to the struggles Ireland had with Johnny Sexton during the 2014 and 2015 Six Nations Campaigns when he played for Racing 92 – Zebo's home from June 2018. Sexton missed vital training sessions as he had to report back to Paris for the two rest-week periods during the Six Nations and to play club games in France: not ideal preparation despite the fact that Ireland was victorious in both of these campaigns. It is something Schmidt is wary of ever repeating.
Zebo is Munster's all-time leading try-scorer, and has become an established member of the Irish squad in recent years, scoring 9 tries in his 35 caps for Ireland. He played all but 5 minutes of the 2017 Six Nations Championship. There has been a clamour for Zebo to be brought back into the squad for the Six Nations but Joe Schmidt and the IRFU have stuck firm. There are a number of other players who ply their trade abroad who could easily be picked for the squad if the policy were to be scrapped, such as Donnacha Ryan at Racing 92, Tadhg Beirne at the Scarlets, Ian Madigan at Bristol and Marty Moore at Wasps.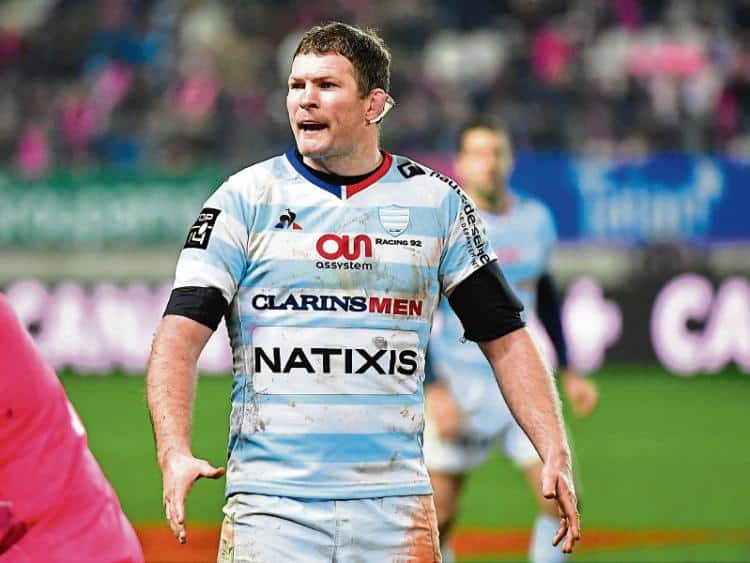 The policy appears to breach the legal requirement of Freedom of Movement and Residence for persons in the EU or, at the very least, its spirit. Freedom of movement and residence for persons in the EU is the cornerstone of the internal market and indeed of European Union citizenship, which originated in the Treaty of Maastricht in 1992. Today, the provisions governing the free movement of persons are laid down in Directive 2004/38/EC on the right of EU citizens and their family members to move and reside freely within the territory of the Member States. Restrictions are only permitted if they are a proportionate response to an inherent need in a sport. One need only look to how ludicrous it would be to impose the same restriction on soccer players to detect a lack of proportion.
Zebo, and all the other players who could theoretically be picked by Ireland if the IRFU's policy were to be changed, are being blocked from significant earning potential. While many people might not have too much sympathy for the players considering they are highly paid and get to enjoy sport for a living, it is worth noting that the Irish players will not receive match or training fees from the IRFU, but a Grand Slam win would see each of them receive a bonus of over €70,000. By excluding Zebo from the team due to his move to France, the IRFU are directly affecting his earning potential from winning, and also from additional sponsorship opportunities that come with being included in the national team. Remarkably, English players get a much better deal: they will earn £22,000 per game from match fees, training fees and image rights. This means that for any team member who appears in all five games will be guaranteed to be paid £110,000 each.
The result is that Zebo has been ruled out of international consideration and has now sacrificed any dreams he may have had to represent Ireland in the 2019 World Cup in Japan.
Ireland kick off this campaign against the French in Paris – a fixture we have only won three times in 46 years. A player of Zebo's quality and skills could have been the key to unlocking the French defence. In fact we can expect a fourth win to be added come 3 February – due to the current state of the French team.
In the long run the IRFU policy seems to serve Irish rugby well, irrespective of the EU Spirit. The top players are incentivised to stay in Ireland, their game time gets managed punctiliously and they are always made available by their clubs for training camps, no matter what time of year.
Another benefit for Irish rugby is the Prodigal Son pardon that is bestowed upon anyone who returns to an Irish provincial team – they can be immediately included for the national side. This can act as a major incentive as there are examples where individuals came back to Irish teams much improved from the time spent away from home in a different environment learning from new coaches and strategies. Tommy Bowe developed immensely from his time in Wales, and look out for Tadhg Beirne once he leaves Scarlets for Munster next season. He appears to have slipped through the cracks for Leinster, he has been nominated for European Player of the Year and has dramatically enhanced his performance level due to the freedom he is allowed in the Scarlets team.
Ireland look set to be the best placed team to push favourites England all the way in this year's competition. There won't be any foreign-based players in the English squad either, as they have a policy similar to the IRFU's, with the stated allowance being that they would pick a player in "exceptional circumstances". Their defence coach, Paul Gustard, has revealed England have introduced "military red-teaming" – a practice previously employed by the US armed forces – that involves an organisation instructing an independent group to improve its effectiveness by assuming an adversarial role to test its weaknesses.
England came to Lansdowne Road last March on the back of an 18-game undefeated streak only to be out- classed in all departments by the Irish. Eddie Jones had this to say after that defeat last year: "Everything was wrong with the preparation because we played like that. I take full responsibility: I didn't prepare the team well and we will respond in the future". Well, the future is approaching as Eddie and his side look likely to welcome Ireland to Twickenham on St Patrick's Day having won all four of their previous games in this competition, and looking to achieve a Grand Slam. Chances are that this year's championship will come down to England v Ireland on the final day, so make sure you keep your schedule clear for 2.45pm on 17 March.
When it comes to France's hopes this year, it is safe to say that the age-old adage that 'You never know which French side will show up' no longer pertains. The national side had lost 13 out of 21 games under Guy Noves, with seven wins and finishing with an embarrassing draw in November with Japan. These results were obviously not up to scratch, and the French Union decided to move on on December 27th – just over one month before the start of this year's championship. They have appointed Jacque Brunell, and we can safely say he is not the saviour French Rugby needs.
Some much higher-profile and better candidates were sought for both the head-coach job and assistant roles, but the French clubs – reflecting the country's complex relationship with the common good – were unwilling to let their coaches, such as Fabien Galthié at Toulon or Patrice Collazo at La Rochelle, be taken by the union. There is a considerable tug of war going on between the French Union and the clubs, most notably with the influx of foreign "mercenaries" who have been accused of moving to France for the considerable payday involved, and in the process blocking the pathway for young French players.
Jacque Brunell has come out firing, saying he wants to win now rather than build for the Rugby World Cup in Japan next year, a strange thing for a new coach to start off with when he could have bought himself some time. Watch out for some of their tyros, such as Castres scrum- half Antoine Dupont and Toulon fly-half /centre Anthony Belleau. As always the French have individuals with great talent, but won't have the kind of structured game plan that is now required in international rugby, and indeed life.
Scotland on the other hand have been on an upward trajectory since Gregor Townsend took over last May. They played some brilliant rugby in the November Internationals, as Gregor's attacking philosophy continues to improve their play when on the ball. They will benefit from only having had three players down in New Zealand with the British and Irish Lions, although Stuart Hogg had to come back early through injury. This means that the majority of the Scottish team got to enjoy a short summer tour, a proper pre-season and some decent rest. They will be a serious contender this year.
This will be Italy's nineteenth Six Nations Championship and this is one of the most well prepared squads they will have had in that time. National Coach Conor O'Shea has been getting heavily involved in the coaching for Zebre and Treviso and it has shown. We are just past the halfway stage of the Pro14 and they have already combined for nine wins – last season they only managed seven combined in the whole Pro12 campaign. Youth will be given a chance, with O'Shea and Mike Catt having one eye on developing depth for the Rugby World Cup next year in Japan.
Lastly, Wales also have an interesting selection policy coming into play next season for anyone not playing for a Welsh team: a player based abroad will need to have 60+ International Caps for Wales to be selected for the national team. This follows the example of the Australian Union, who brought a 60+ cap rule into play for overseas players in 2015. Wales enter this campaign with an injury crisis on their hands. Head coach Warren Gatland has eight front-line players missing for the opening match against Scotland on 3 February, including British and Irish Lions trio Rhys Webb, Dan Biggar and Sam Warburton.
While these are huge losses, the Welsh team will be in high spirits off the back of the Scarlets' progress to the Champions Cup Quarter Final – the first time a Welsh region has qualified in eight years. Warren Gatland is feeding off this, stating "You've got players with the confidence and self-belief they can compete with the best in Europe. That breeds confidence in the entire squad".
Ireland's chances must be diminished by the exclusion of the flair of Simon Zebo, the grit and passion of Donnacha Ryan and the heft of the bulldozing Tadhg Beirne. Whether or not the IRFU's ban on overseas players and players who have committed to play overseas is beneficial in the long run for Irish rugby, the short-term impact is that the national team is not in the strongest position to compete on an international level. Despite this, Village expects a well-coached Irish side to push England all the way, but to fall just short in a Grand Slam decider with a loss in the final game in Twickenham. As Britain distances itself from the EU, of all the 'home' nations it is Ireland that will lose most from non-compliance with the rules of the EU, on rugby at least.
Robert Neville