Employment in Ireland is often spoken about in terms of the economic recovery and falling unemployment rates. However, the real issue that needs to be addressed is job quality and the types of jobs that are being created. There has been increasing recognition that for many workers in Ireland and Europe employment has become insecure, with temporary and casual work increasing.
The FEPS-TASC Report, 'Living with uncertainty: the social implications of precarious work', sets out to map precarious work in Ireland, and the impact this type of work has on precarious workers' lives. This research involved 40 in-depth interviews with men and women living in Ireland, aged between 18 and 40, who work or had worked in temporary employment, were employed on a part-time basis with irregular hours and/or were hired on a self-employed basis.
There are many definitions of precarious work, as no agreed definition exists. However, for the purpose of this report, we are focusing on employment that is contractually insecure, which includes part-time with variable numbers of highly skilled people are now being locked into insecure employment. A number of sectors of the Irish labour market have a disproportionate share of precarious work. Eight sectors scored higher than the national average. Transportation had high levels of solo self-employment, human health was characterised by a high level of part-time work, and education had a high level of temporary work. The remaining sectors (construction, wholesale and retail, accommodation and administration and support) had two or more dimensions of precarious work at relatively high levels. "Other NACE sectors", which include occupations such as hairdressers, sports facilities workers and artists, scored high on all three dimensions.
To understand the effects of precarious work, we need to look at life outside of the workplace, like the house-hold situation and access to social supports and services. We need to examine the consequences of precarious work for quality of life because, even though the basis of contractually precarious work might be similar in different countries, the experiences differ as a consequence of the availability of public services and state subsidies – for example, universal healthcare or child-care. The following are our main findings in the report.
Precarious workers did not choose to be precarious
First, the report found that none of our participants chose to be in temporary and "part-time with variable hour" employment. Much of solo self-employment was also not entered by choice but interviewees were forced into this arrangement as a condition for their employment. Importantly, we discovered that many people are unaware that they are working precariously; there are many workers who are working without a contract, or who assume a rolling contract to mean permanency. This finding points to the need for employers to be up-front about contractual status.
Precarious workers cannot afford to be sick
The report found that precarious working conditions can have a negative effect on physical and mental health. On top of that, the majority of participants cannot afford to be ill. The burden of expense is felt in two ways: through no paid sick leave, and as well as the expenses of paying to see a GP and for medication, tests and follow-up appointments. This lack of support can result in having to make hard decisions such as whether to first buy food, or pay bills or rent. Medical cards and GP cards are means-tested and most precarious workers do not fit the eligibility criteria to obtain them even though they are not able to afford primary care services.
Precarious workers have difficulty finding stable housing
The housing crisis in Ireland affects families and individuals with very different backgrounds. However, the difficulties that people in non-standard employment encounter are even more pronounced, as they lack economic stability. Precarious workers are not left with any other choice but to rent, or if the option was available to them, to live in the family home. With tightening mortgage regulations, (which followed the economic crash), and soaring property prices, people working in non-standard employment are unlikely to be approved by any lending bank. At the same time, renting in the private market has become prohibitively expensive in the last number of years. This has resulted in bouts of 'hidden homelessness' for many of our participants, situations during which they have nowhere to live and are forced to sleep on friends' couches or stay with their parents.
Precarious workers postpone having families
It emerged from our interviews that having children was often challenging for precarious workers. While some decided to have children regardless, the majority of our participants continued to postpone childbearing. Postponement of childrearing amongst precarious workers is often not a choice based on individual preference. Instead, while precarious workers want to have children, their financial insecurity, directly related to their contractual insecurity, prevents them from becoming parents. For those who already had children, maternity leave and childcare are the most important issues that they face. It became clear through the interviews that maternity leave is challenging for women in precarious employment, especially for those who are on temporary contracts. First of all, the contract may be shorter than the actual leave. Likewise, for those who were on temporary contracts, maternity leave is a possible obstacle for the continuity of their employment.
Formal childcare is too expensive for participants who have insecure incomes and thus alternative arrangements are often necessary. In the most extreme cases, one of the parents has no other choice but to quit their job. Such a decision is usually not based on traditional gender roles, but on employment status. Based on the interviews, precarious work does not appear conducive to having a family.
Precarious work leads to insecure lives
Contract insecurity and wage unpredictability lead to workplace insecurity and create insecure and unpredictable lives. The lack of independence that precarious work entails often creates a situation in which many people must live with their parents and thus are unable to develop independent lives. Public benefits and support services, such as state access to free primary care services, accommodation, and some aspects of family support and childcare subsidies, are means-tested and often focused on low-income households. The means-tested assessment does not take into consideration contract insecurity and wage insecurity, and therefore precarious workers often miss out on benefits that could be vital to improving their quality of life. Based on these data, there is a need for government legislation that diminishes the negative effects of job insecurity, and social supports like universal healthcare and childcare.
Legislators and employers must consider the detrimental effects that flexible working conditions may have on an individual level, as well as on society as a whole. The insecurity and poverty associated with precarious work do not just affect one person, but can affect an entire family's well-being because they can lead to child poverty, mental health issues for the parents, and uncertain living arrangements. In short, precarious work can have detrimental consequences on the physical and mental health of all who are dependent on the precarious worker.
It is important to note that acquiring more work hours will only tackle one facet of the precarious work problem. For example, there are also temporary workers whose hours are not the issue but rather security of their contract. While some measures can possibly be taken to legislate for contracts, the state of precarity is not likely to go away. Legislators will have to consider the relevance of universal healthcare and childcare services for this population, as well as increasing the availability of social housing.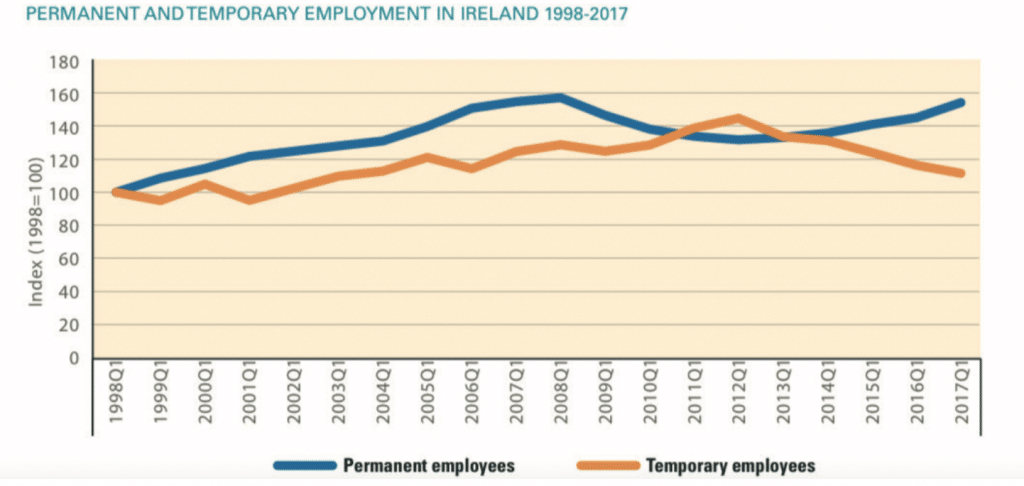 Sinéad Pembroke
The report is by Alicja Bobek, Sinéad Pembroke and James Wickham and is available on www.tasc.ie. FEPS is the Foundation for European Progressive Studies; Tasc is the Think-tank for Action on Social Change