'I deem as heroic those who have the harder task, face it unflinchingly and live. In this world, women do that.'
– James Salter
'I know too well those marvellous lips. By Allah, I'm not lying if I say I love sipping their finerthanwine delicious dew.'
– Hafsa Bint Al-Hajj Arrakuniyya about her lover Abu Ja'far – Twelfth century Granada
'All lovers wear my castoff clothes and jewels and gulp down my overspilt drink. I have raced with lovers at love's racetrack and beaten them all at my own pace.'
– Ishraqa al-Muharibiyya, pre-Islam
At a time when women from Arab and Muslim cultures are facing the dual oppression of gendered racism from without and sexism from within, Radical Love #FemaleLust pushes them centre stage and celebrates their self-expression on their own terms. Frustrated with the burial of female voices across history, we found inspiration in those that rang out loud and strong across the Arab world thousands of years ago.
Over 1000 years ago, women across the Arab world from Iraq to Andalusia were writing poems that read like the best Pop lyrics – succinct and sweet in their indignant pride and defiance, their passionate seduction and longing. The lust for love.
Mostly from the Muslim world of the seventh to the twelfth centuries, these women challenge preconceptions of faith, class, and the female experience long ago. They capture some of what there is to relish in this swirling and confounding life and living. Whatever external restraints were placed on these women, they retained a vitality and independence of spirit, a powerful tonic to these troubling times. The lust for life.
The lust for love and life was so apparent the show's title suggested itself.
To demonstrate the timelessness of the female energy so viscerally evoked in these words, an idea struck to ask female artists across the globe to use the poetry as inspiration for new work. With no more to go on than the individual poem they received in the post, 48 female artists from various cultures (half Arab or Muslim) created paintings, sculpture, photography and textile art. Moreover, they are just sublime.
Radical Love #FemaleLust is a dialogue between past and present, words and visuals, and between different faiths and cultures. Most but not all the artworks will show in Dublin and the artists featured include young Spanish, Turkish, Saudi Arabian, British-Iranian and Egyptian photographers, a Palestinian calligrapher, a Jamaican painter, four Syrian artists who've been displaced, an Irish sculptor and an English stained-glass artist.
It ran in London at the Crypt Gallery in February and at the Women of the World festival in May, and comes to Dublin's Gallery X on 65 South William St , 10-26 November. Donations to help cover expenses incurred in bringing it to Dublin are greatly needed.
All the beautiful artworks are for sale with profits split between the artists and Global Fund for Women, helping Syrian refugees.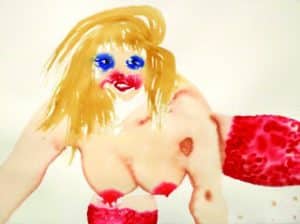 Poems showcased are from Abdullah al Udhari's collection 'Classical Poems by Arab Women', recently re-published by Saqi books with a foreword by Mona Eltahawy.
Radical Love #FemaleLust is curated by Róisín O'Laughlin