When paper tycoon Michael Smurfit told his wife Norma he was dumping her for a tall Swede and wanted a divorce, in a restaurant in 1985, "she threw a glass of wine over me and left". Apart from that all she ever does is good.
Michael Smurfit told the Irish Times a few years ago: "Norma was very feet on the ground. She was working-class people in London. She has very, very sound values and still has. She wasn't interested at all in material things to any great extent". Michael ruefully if despicably claimed "I was very lucky with my first wife [Norma] and probably a bit unlucky with my second [leggy Birgitta]". Norma's self-declared weakness is East Enders, though somewhat redeemingly she detests golf.
After she left school, Norma worked as a hairdresser for seven years on Regent Street. She later told the Examiner: "It sounds much more glamorous than it was. It was all pin curls and tight curly perms back then, and we were on 19 and 6 pence a week". Later, she claimed:
"I first got involved with charity work when I put together a group of women, mainly made up of Smurfit company wives, to buy mini-buses for the blind and Central Remedial Clinic. We called ourselves 'The Helpers' and began by raising money through coffee mornings and jumble sales, before we moved on to more ambitious events".
Norma went on to found First Step, registered at the hideous Smurfit office in Donnybrook, a not-for-profit to help start-up young businesses, especially by loans, but it was in effect superseded by State-owned Microfinance Ireland on whose board Norma Smurfit now serves. She is also on the board of Gaisce, the President's award and the Denis O'Brien-chaired National College of Ireland.  Norma Smurfit, who lives in Mount Merrion, also set up the Irish Youth Foundation and the Irish Arthritis Foundation.
The striking bronze sculptures titled 'Famine' (1997) were commissioned by Norma Smurfit, presented to the City of Dublin and installed on Custom House Quay in 1997. Subscribers of £750 are named in the quayfront stones below the piece.
Sculptor Rowan Gillespie said that he felt his memorial would not be complete until "the figures are crossing a sea of names, names cast in bronze and set into the cobble surround, thousands of names, names of those who have pledged to care".
Norma Smurfit is now proposing a €2m 'diaspora' pavilion for the west side of Merrion Square in Dublin.
Here's what happened. In 2014, conservation architects Howley Hayes and Associates drew up a conservation and management plan for Merrion Square premised in the idea that it is always best to improve something charming and fragile.
The park was overgrown, with more tunnel-like paths than it used to have, they noted. The vegetation, they declared, needed to be thinned out, and the old path network reinstated. They did not consider that an oasis from the traffic was a better amenity for people who use the city. There are no shelters in the park for the public even though it rains a lot — no bathrooms, and nowhere for park-goers to buy refreshments. It was time to spend some money.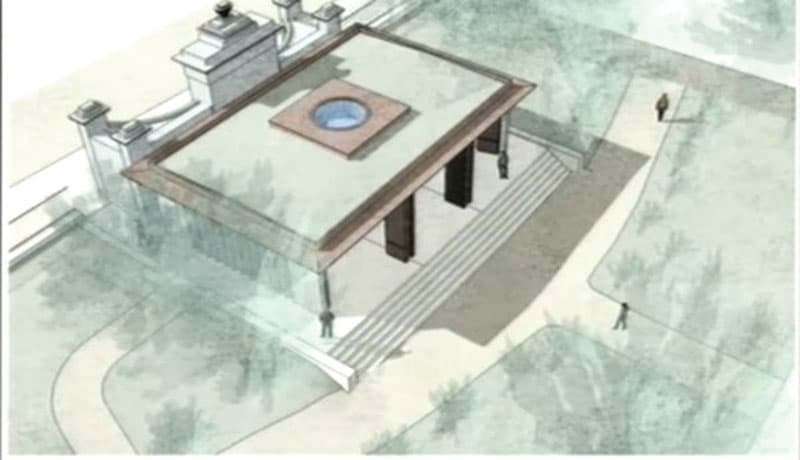 A pavilion-style shelter with tea-rooms and toilets was proposed. But now Norma Smurfit has refined the idea, with an international, charitable and success-celebratory thrust.
It has all prompted Mannix Flynn, a writer, member of elitist arts convocation, Aosdána, and an independent councillor, who labelled it an "elitist ego trip", to walk out of a generally supportive Dublin City Council local area meeting after Smurfit presented her plan for what was by now the 'Ireland Legacy' pavilion.
Its centrepiece would be a digital map of the world from which would radiate names of subscribers, all of whom would be charged €100 for their stake. It would also feature artistic imagery and quotations from Irish writers. Smurfit had originally wanted to inscribe the names of some of the Irish diaspora in a glass wall, though her Monaco-based ex-husband was not among them.
The money raised from the digitally-acknowledged would go to charitable causes around Ireland. "So the money that's raised from this initiative will make a lot of difference in the future". The building would replace the long-demolished nineteenth–century park-keeper's lodge behind the (long waterless) Rutland fountain. The new structure would be made of granite to match the memorial, as would the stone benches inside. A new entrance to the park, a third of whose trees have been removed in the last year in a bid to make the park's relationship with the historic buildings which surround it more legible, would be created opposite the National Gallery, either side of, and originally through, the fountain.
Fine Gael councillor Kieran Binchy claims it would be crazy to turn down a generous offer like Smurfit's for all this.
There is a history of big-thinking for Merrion Square. The government of Éamon de Valera proposed to demolish the "un-natural", ie tree-filled, parkland. These plans were only prevented from going ahead by the Nazi invasion of Poland. Later, the Catholic archbishopric wanted to build a proper cathedral there.
Moreover, it is not our almost irrepressible parks departments' only current interventionist adventure. Elsewhere the OPW is facilitating access for a proposed new Children's Science Museum from the National Concert Hall site into the underused and mystical Iveagh Gardens. On the other hand the Council's parks department is considering reinstating the wall and grass of the now-sterile former graveyard to Dublin's oldest parish church St Mary's, Wolfe Tone Park, removed by it in the nineteen-nineties to facilitate access from the Jervis Shopping Centre.
Merrion Square was laid out by the sixth and seventh viscounts Fitzwilliam whose estates stretched as far as Booterstown and Mount Merrion. The town houses and 12-acre garden were complete by the beginning of the nineteenth century. It was first opened to the public forty years ago. Dublin City Council concedes that "it remains one of the most intact and imporessive examples of a Georgian garden square in Dublin".
Dublin's City Development Plan provides that, as with other parks, Merrion Square is zoned Z9, "to preserve, provide and improve recreational amenity, open space and green networks". In general the only uses permitted are those associated with "public and private open space and privately owned sports facilities". This is unusually deferential to private agendas. "Community facilities, craft shops, crèches, cultural and/or recreational buildings, kiosks or tea rooms", public or private, are all excitingly possible.
The plans will go before the full council at its April meeting, to see whether they should move forward and should go out to public consultation.
Objective observers will fight to work out which is more well-meaning – Smurfit, Dublin's parks department or the city's supplicant councillors.
Citizens can make their views known to Councillors now, and to the City Council later.