I have spoken to Fred Holroyd from time to time. Holroyd worked with the British army and MI6 in Ireland, 1973-75, and has written a book about his experience 'War without Honour'. Incredibly, British spies are still meddling with his post.
Holroyd has furnished me with a photograph of an envelope he received from me. It contained an academic book about the origins of the Troubles, something that interests Holroyd. To protect the book from damage, it was placed inside a bubblewrap cover and then slipped inside an ordinary white envelope. Somewhere along the line someone pierced both layers of the package with what was undoubtedly a micro camera wand to see what dangers to the Realm lurked inside.
The misuse of precious resources
Moreover spendthrift paranoia like this and the decades-long Special Branch monitoring of Jeremy Corbyn and Diane Abbott compromises scarce resources.
Since Theresa May became home secretary in 2010 total police numbers in england and wales have fallen by 46,700 or 19.5%.
In contrast to this, the overall budget of the Single Intelligence account – which covers expenditure on MI5, MI6 and the government monitoring service GCHQ – rose to £2.63bn in 2015 up from £2.48bn in 2014; in 2010, it stood at £2bn.
As a result of these cutbacks, armed troops had to be placed under the con- trol of the police after the Manchester suicide bomb atrocity.
Meanwhile, MI5 is making excuses for its failure. One of these is that it is overwhelmed and under resourced. A fact shouted from the rooftops is that it requires 30 officers to place a single suspect under surveillance 24/7. Since there are approximately 3,000 such threats, it would require 90,000 surveillance officers to watch them all. Yet, despite this MI5 is still able to find resources to interfere with Holroyd's post; photograph its content; compile reports and send them to whatever departments analyses them. After this MI5 probably liaises with MI6 which in turn contacts its spies in Dublin to find out more about the threat posed by the sinister forces who sent a history book from Dublin. Holroyd's phone is probably also monitored. Since he is scrutinised daily, a fair estimation is that 10 working hours are consumed daily. Why?
The surveillance of Holroyd intensified after the pressure to reinvestigate the Kincora Boys Home scandal grew to the point where the Hart Inquiry into child abuse in NI was established. Holroyd's handwritten notes from his time in NI confirm that he had been told that Loyalist politicians were visiting Kincora for sexual purposes.
If Holroyd's post is being surveilled, other Kincora whistleblowers who have featured in recent editions of Village such as Brian Gemmell and Colin Wallace are probably being scrutinised too; not to mention Kincora survivors such as Richard Kerr and Clint Massey. If only 30 individuals are being monitored, that means about 300 man hours are being consumed daily.
This is only part of MI5 and MI6's misuse of time, energy and gold. They have both had to prepare for the Hart Inquiry and the Independent Inquiry Into Child Sexual abuse (IICSA) in London. Their only interest was to maintain the cover-up of their sordid role in a swathe of child sex abuse blackmail scandals. Officers would have had to talk to serving and retired officers to get a full picture of what went on; trawl through records; cull embarrassing documents; liaise with Home office and Foreign office officials and pull the wool over the eyes of senior politicians; engage with lawyers; consider PR and propaganda initiatives; and last but not least: coach their witnesses to lie to these inquiries. Tens of thousands of man hours must have been spent, and this will continue to be the case as the IICSA looks like it will last another decade.
An avoidable massacre
There is no doubt that the Manchester massacre could have been avoided. Amber Rudd, the Home Secretary, has stated that the bomber was "known" to the security services "up to a point". His mother told them that he had been radicalised. Two of his friends called the police hotline in 2012 and warned that he believed that "being a suicide bomber was okay" and that he was "supporting terrorism". He also made trips to Libya and, it now appears, Syria.
In addition to wasting time on Holroyd et al, MI5 has a lamentable record of eavesdropping on trade unionists and other civil rights groups. one of those placed under the microscope was that well-known threat to the realm, Jeremy Corbyn. It's anyone's guess how much of this nonsense is still going on at the expense of British taxpayers while Isis terrorists gambol back-and-forth from the Middle east.
The present Director-General of MI5 is Andrew Parker. He believes that MI5 is an honourable organisation. We will give him the benefit of the doubt and assume that all the recent child-abuse skulduggery has taken place behind his back. Will someone now please tell him that he should redeploy his troops from Holroyd et al to Isis terrorists.
The politics of the pirouette
The demons unleashed by Britain's destruction of Libya loom large in the story of the Manchester bomber. He had a Libyan background and was trained by Isis in Libya and/or Syria. Going back a few years, MI6 (which is responsible for overseas intelligence activity) failed to predict what was likely to happen in Libya when David Cameron was considering bombing Colonel Gadaffi's forces in support of the rebels. It certainly didn't impress this likelihood on him with sufficient force to prevent the bombing of Libya by the RAF. Chaos and civil war engulfed the country and created a haven for Isis.
Overall, recent British-Libyan history defies belief. Gaddafi furnished the IRA with arms, his agents had planted a bomb on an airliner which exploded over Lockerbie and shot a police officer dead outside the Libyan embassy in London. On the other side of the fence, the US and UK plot against Gaddafi and on one occasion bombed his family tent. Then suddenly it was time to be friends. Tony Blair was soon posing for the cameras with Gaddafi all smiles and handshakes while secretly MI6 was sliding details about Gaddafi 's opponents over to his spy chiefs in Tripoli.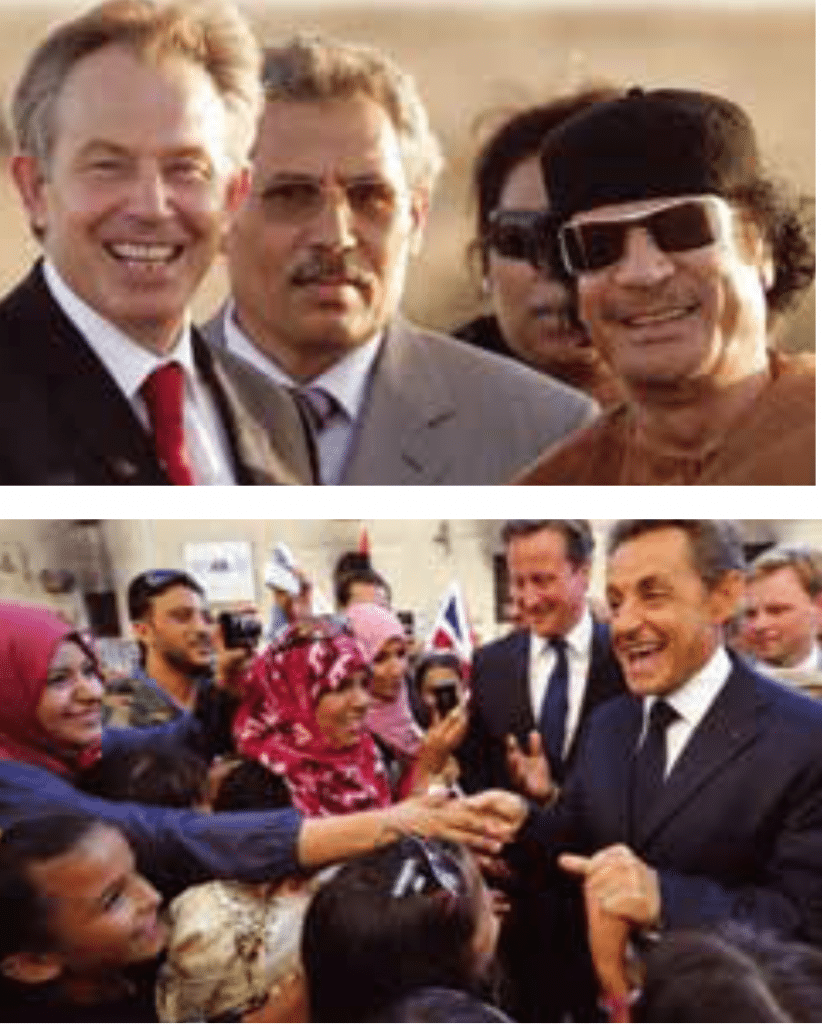 Move forward a few years and it was time for another pirouette. David Cameron dispatched RAF bombers to deplete Gaddafi's forces from the air while MI6 and the SAS lent support to anti-Gaddafi rebels on the ground. Anti-Gaddafi Libyans who were resident in Britain were allowed to travel home to fight with Al Qaeda groups including the father of the Manchester bomber. After Gaddafi was toppled, Cameron and President Nicolas Sarkozy of France visited Libya where they congratulated the insurgents calling them "lions". The problem is some of those lions are now biting the hand that once fed them.
Passing the buck
At the moment MI5 is doing what MI5 does best: pumping out propaganda. On the positive side, whitehall 'sources' are briefing a compliant British press that MI5 foiled five serious threats this year and is managing 500 investigations of 3,000 suspects. Even if this is true, it could have carried out more investigations if it hadn't been busy covering up its blackmail of paedophiles. On the negative side, blame is being heaped on the Internet providers who host radical websites.
Recruitment woes
Senior MI5 and MI6 officers complain that they cannot attract high-level recruits; moreover, that they have difficulty retaining experienced officers. Some of this is self-inflicted by old-fashioned narrow-mindedness. As of 2016 none of the senior officials in MI5 or MI6 are from minority ethnic backgrounds, according to diversity figures released by parliament's intelligence and security committee. In any event who'd want to work for organisations that have perpetrated such heinous crimes as Kincora, the murder of Patrick Finucane, and have colluded with Loyalist assassins.
The problems inside MI5 and MI6 are only going to get worse: new recruits will have no stomach to work for organisations that continue to divert scarce resources towards the protection of child molesters while children are literally being blown up by ISIS terrorists.
Joseph de Búrca