Forty years ago this month Margaret Thatcher sent Sir Maurice Oldfield, the former Chief of MI6, to Belfast to co-ordinate the activities of the various branches of British Intelligence in Ireland. Within a few weeks MI5 was reporting to Downing Street that he was a homosexual and an inquiry was launched to see if he had been blackmailed by the Soviets or any of Britain's other enemies. He was soon given a clean bill of health.
Kieran Conway, the former Provisional IRA Director of Intelligence in the 1970s, has confirmed to Village   that the Provos knew Oldfield was gay.
What, if anything, did the Soviet intelligence apparatus, the KGB, know about Oldfield's homosexuality? More significantly, if the KGB found out, what did they do with the information?
The answer is nothing despite the fact it could have destroyed him.  Such inaction makes no sense as Oldfield was reputed to have been a highly effective opponent of the KGB. The notorious MI6 traitor Kim Philby described him as an officer of "high quality" and "formidable" in his memoirs. 
In 2017 the Hart Report into child sex abuse published details of an MI6 document which revealed a "small collection of papers in file three which relate to the relationship [Oldfield] had with the Head of the Kincora Boys' Home (KBH) in Belfast". The "Head" of Kincora was "Warden" Joseph Mains who abused teenage boys at Kincora and elsewhere.
---
Joseph Mains, according to MI6 records he had a "relationship" and  a "friendship" with Oldfield.
---
PART 1: OLDFIELD AS A SECURITY RISK
---
A DANGEROUS ATTRACTION TO YOUNG MALES
Oldfield was in fact attracted to young males. The KGB could have ascertained this through routine surveillance or from its spies inside MI6 such as Kim Philby and George Blake who would have been on the lookout for blackmail material on their colleagues. There is, of course, a world of difference between being a homosexual and being attracted to underage males. However, back in the unenlightened 1970s and 1980s, few in politics would have  acknowledged this important distinction.  Incredible as it now seems, the mainstream print media routinely referred to the Kincora scandal as a "homosexual" one when it was nothing of the sort.
In the dark days of the 1970s and 1980s those who ran British Intelligence definitely viewed a homosexual in the ranks as a security risk. Hence, when Margaret Thatcher was told about Oldfield's sexuality, his security clearance was withdrawn while an inquiry was carried out to see if he had been compromised by the Soviets. It determined that he hadn't. However, inquiries into the loyalty of Kim Philby, another senior MI6 officer,  had failed to expose evidence of his true allegiance to the Soviet Union. Furthermore, MI5 and MI6 had let at least Anthony Blunt, Guy Burgess, Donald MacClean, John Cairncross, George Blake – all Soviet agents – run amok inside Britain's intelligence community for decades.
---
HER MAJESTY'S SPYMASTER 
Who was Maurice Oldfield and what was he capable of?
When 'The Troubles' erupted, Oldfield was Deputy Chief of MI6. He assumed control of Irish affairs because his Chief, Sir John Rennie, did not share the same experience as he in the dark arts of the secret world. Rennie, who had been a surprise appointment as Chief of MI6, had a diplomatic and propaganda background whereas Oldfield had participated in deception campaigns during WW2; fought terrorism in Palestine after it; monitored the flow of weapons and money to the communist guerrillas fighting the British in Malaya in the 1950s. And, if all this wasn't enough to square up to the IRA, he had a good idea of what it took to run a paramilitary campaign due to his knowledge of MI6's guerrilla campaign against Albania, something that happened in the 1950s during his stint as deputy chief of MI6's counter espionage directorate, R5. The Albanian campaign was a disaster. Most observers believe it was betrayed from the inside.
Oldfield was a tubby little man who waddled when he walked, often dressed badly and was allegedly afflicted with occasional psoriasis. He has become more famous than most of his contemporaries, probably because Alec Guinness drew on his bespectacled appearance for his celebrated portrayal of George Smiley for the BBC's production of John Le Carre's Tinker Tailor Soldier Spy. The glamour of the association with Le Carrie has eclipsed the true nature of Oldfield's character
When Rennie retired prematurely in 1973 after a drug smuggling scandal in Hong Kong involving his son, Oldfield finally secured the top spot he had coveted for so long. Once in the driving seat, he steered MI6 until his retirement in early 1978 under an appropriately misleading title, 'Head of the Foreign and Commonwealth Office, Research Department'. Under Oldfield, MI6 HQ continued to be what it had always been: a haven for criminals and the sort of place where a visitor would have been well advised to wipe his or her shoes on the way out of the building.
Oldfield's retirement as MI6 Chief was not to prove the death of his career: he re-emerged from his crypt to become Ulster Security Co-ordinator at the behest of Margaret Thatcher in 1979. By then too many intelligence cooks had congregated in NI and were spoiling the spy broth. Oldfield was asked to knock heads and streamline their work.
While he was in Northern Ireland MI5 discovered he was gay. An MI5 report submitted to Cabinet Secretary, Sir Robert Armstrong, on 31 March 1980 revealed that on 28 March Oldfield had after "some preliminaries" admitted he "had first been introduced to homosexuality at university and he admitted having engaged in homosexual practices, intermittently, up till the time of his acceptance of his Northern Ireland appointment. His relationships were, for the most part, with restaurant waiters and the like: he had none, he said, with (MI6) staff or agents". In other words, Oldfield admitted that he had engaged in homosexual activity throughout his career as an MI6 officer with random individuals. A copy of the four page Special Branch Report on Oldfield by Detective Inspector G Catherall is reproduced at the end of this article.
The MI5  report submitted to Armstrong also stated that MI5 had reviewed "his association with Communists before the War, his relationship with PHILBY and American doubts about him". The "PHILBY" referred  to here is, of course, Kim Philby. Philby wrote about Oldfield in his memoirs, My Secret War (1968) describing him as a recruit of "high quality" and "formidable".
Oldfield died the following year.
On 23 April 1987 Margaret Thatcher told the House of Commons that "reports were received which caused [Oldfield's] positive vetting clearance to be reviewed. In March 1980, in the course of that review, he made an admission that he had from time to time engaged in homosexual activities. His positive vetting clearance was withdrawn".
---
MI5'S ULTRAS EXPOSE OLDFIELD'S HOMOSEXUALITY
Thatcher's hand had been forced by MI5's ultra right-wing (the 'Ultras') who had leaked a story to The Sunday Times  that Oldfield had propositioned a man in a toilet in a pub in Northern Ireland while drunk during his tenure as Security Co-ordinator. The story was probably not true – more likely a blend of lies and some elements of truth –  but it served a dual purpose: it revealed Oldfield's homosexuality in a manner which obscured the Ultras' role as the source of the story. Oldfield's sexuality had in fact been discovered by the Special Branch in London where he had landed himself in a few embarrassing situations (as shall be described below).
After the yarn about the pub was published, Thatcher confirmed he had been gay. Next, rumours were circulated he was a traitor controlled by the KGB.
While the Ultras may have genuinely believed Oldfield was a KGB mole, they might also have been motivated by revenge because he had interfered with their plots against the British Labour Party in the 1970s, many of whom they believed were pro-Soviet.
Village  has spoken to a former intelligence officer who served in Northern Ireland in the 1970s who believes MI5 was assisted by the RUC  Special Branch in leaking details about Oldfield's homosexuality to The Sunday Times  and  a journalist called Chapman Pincher for both of these reasons and a third one:  because Oldfield was interfering with the activities of  MI5 and the FRU.
---
"IF SIR GAY WAS NOT WORKING FOR THE KGB FROM YEARS BEFORE HE BECAME HEAD OF THE BRITISH SECRET SERVICE, THEN SOMEBODY IN KGB HEADQUARTERS SHOULD BE SENT TO SIBERIA"
These rumours and additional information supplied by Provisional IRA sources in Ireland inspired the article  Arise, Sir Gay  which appeared in the Phoenix in Dublin on 8 May 1987. It was written by journalist Frank Doherty. It is reproduced below in full:
"The refusal of the Russians to deal with the Provos on intelligence matters is becoming more explicable in light of Maggie Thatcher's admission that Sir Gay Maurice Oldfield was a sex pervert who haunted public toilets, although as she did point out he only did it 'from time to time'.
In the late 1970s the Provos approached the Soviets with the offer of information about a number of specific things, to wit: Activities around the RAF defence radar at Bishopscourt; what was happening at the signals station being built by the MoD at Divis Mountain, and methods of communications used during covert operations and bomb countermeasures in places like South Armagh. Such information, obtained at ground floor level, so to speak, was regarded by the Provos as being of immense value to the Russians who could not watch British troops under operational conditions at such close quarters as the IRA in South Armagh.
In return, the Provos sought assistance from the Kremlin in acquiring arms from the Middle East, and possibly from Col. Gaddafi, whom they perhaps mistakenly believed had had his arm twisted by the Soviets to stop supplying the IRA in 1976. They also sought assistance in cracking a secure British communications system codenamed SONGBIRD of which they had many recordings they were unable to decipher, having unsuccessfully hawked the tapes around a dozen electronic laboratories in the US.
Much to the surprise and annoyance of the Provos, the Russians said 'niet' to the offer. Since Maggie's brave admission in the Commons about her favourite spy's perversion, the Provos are less puzzled about the KGB's failure to take up their offer. Why talk to the beggars at the door when you can sit inside and converse with the master?
If Sir Gay was not working for the KGB from years before he became head of the British Secret Service, then somebody in KGB headquarters should be sent to Siberia. However, all the signs are that he was an enthusiastic agent of Mother Russia since at least the end of the war, just like his close friends, Anthony Blunt, Kim Philby and Tom Driberg. This may not be revealed in the British media for some time  – after all they were almost three years behind the Phoenix in exposing Sir Gay as a homosexual molester of under-age boys – but it will emerge eventually.
The key name is that of Alexander Sandor, codenamed RADO, a KGB officer who ran Joe Stalin's wartime spy-ring in Germany from a Swiss base. Towards the end of the war, Swiss counter-intelligence uncovered the Russian spy ring, codenamed LUCY. Sandor ended up in Paris, from where he was to be repatriated to the great socialist homeland. He managed to convey to a lurking British spy that he wished to settle in the West, and when his plane landed in Cairo, where Sir Gay was British espionage chief, Sandor was taken for a two-day interrogation and at the end of this, Oldfield cabled London that he felt the poor devil should be sent back to the arms of Uncle Joe Stalin. He was, and got a nominal 10 years jail sentence for dallying with the British. The sentence was nominal since, as happened in those days in Russia, he was never seen or heard of again.
The parallels between this incident and a similar attempted defection by a KGB officer in Istanbul, which Kim Philby nobbled, are startling. But this is by no means the only thing which points to Sir Gay having an arrangement with the KGB. During the French Indochina war in the early 1950s, in which Sir Gay had a hidden hand, the perfidious Viet Minh spread stories that Sir Gay was sneaking into the jungle areas of Malaya to molest native children. The Russians quickly killed such stories and all that remains of them is a vague reference in his biography to his fondness of meeting common people in Malaya.
During his time in the North, Sir Gay, who learned to drive with difficulty but gave up after the war, would be driven in his official car from his flat at Stormont Castle to the Culloden Hotel, Hollywood, or the Royal Hotel in Bangor. From thence he would take taxis to Newtownards, Comber, Downpatrick or Newcastle for a relaxed afternoon (vodka and tomato juice) ogling at young boys or flashing in public toilets. His favourite excursion day was Wednesday, when school half-days brought a surfeit of children onto the streets. It was on one such expedition that he was arrested in March 1980 by uniformed RUC men from the Golf Division, responding to a 999 call, in the toilet of the Highwayman pub in Comber.
A favourite trick of the old bugger's was to discuss nervous illness with a prospective victim. He would then drop his trousers to expose the psoriasis which he had on his lower legs. By a remarkable coincidence, Sir Gay's seduction technique bore a starting similarity to that of a local pederast, with whom the spy chief became friendly, although probably not intimately so. The local had fought in the Spanish Civil War and had received a flesh wound in the buttock from a fascist bullet. At an appropriate moment, he would invite a suitable person to inspect his war wound, usually in a public toilet.
Sir Gay spent much time around East Down, playing the organ at Down Cathedral and socialising in the home of a priest. He also had his picture taken in the choir stalls of the cathedral by Colin Creighton, owner of the Down Recorder, a local weekly, the only time he had allowed himself to be photographed since he got his second gong from Her Majesty in 1976 (when the pic of him which turns up in all newspapers was taken).
Sir Gay's shyness about cameras had less to do with his fears of an IRA assassination than with preserving his anonymity for his weekly excursions around County Down – and his forays to a house in Donaghadee where he met unfortunate inmates from the Kincora Boys Home". (Phoenix 8 May 1987 page 6.)
---
THE INCREDIBLE BLAKE ESCAPE
Phoenix articles were typically half a page long so there was little room to develop other points such as the disastrous MI6 Albanian operation unravelled by the KGB of which Oldfield was a part.
Another point that could have been included was an account of the spectacular ease with which the MI6 traitor George Blake managed to escape from a high-security prison in London in October 1966. Oldfield was the Deputy Chief of MI6 at the time. Blake scarpered with assistance from an Irishman, Sean Bourke, who hailed from Limerick and had no experience as a jailbreaker. Once outside, Blake managed to escape one of the largest dragnets ever deployed by the British security and intelligence community. He did so with the assistance of a few more inexperienced amateurs and eventually made his way to the Soviet Union.
Anyone intent upon portraying Oldfield as a KGB-controlled agent could have speculated that he might have oiled the wheels of Blake's escape because he – Oldfield – was under orders from Moscow; moreover because Blake knew he was a fellow traitor and might expose him if he was left rotting behind bars for too long.
---
OLDFIELD AND PHILBY
Another black (or red) mark against Oldfield is that it was a discussion he had with Philby that tipped Philby off that the FBI suspected that someone in the British Embassy in the Washington Embassy was a traitor. The tipoff enabled Philby to watch out for Donald Maclean who later fled to Moscow with yet another traitor,  Guy Burgess. Philby wrote in his memoirs how the KGB had been keen to find out who was the focus of the FBI's inquiries in Washington.
"But it seemed, after my talk with Oldfield, that I had stumbled into the heart of the problem. Within a few days, this was confirmed by my Russian friend in London. After checking with [KGB] headquarters, he was left in no doubt that information from the FBI and my own referred to one and the same case [i.e. Donald Maclean.]"
---
WAS OLEG GORDIEVSKY, RECRUITED BY MI6 IN 1974 WHILE OLDFIELD WAS CHIEF, ACTUALLY A LOYAL KGB OFFICER ALL ALONG WHO HAS BEEN MAKING A FOOL OF MI6 FOR THE LAST 45 YEARS? 
The MI5 inquiry into Oldfield cleared him because he had been involved with a number of MI6 successes against the KGB. The most important apparent success of his tenure was the  recruitment of Oleg Gordievsky of the KGB as a British agent. He was recruited in 1974 while Oldfield was Chief. He is deemed to be the most significant agent MI6 ever ran inside Soviet Intelligence. Gordievsky was originally approached by Oldfield's operatives while he was stationed in Denmark. Happily for MI6, he was later sent as KGB chief to London, albeit in 1982 after Oldfield had died.
In 1985 Gordievsky's apparent role as a traitor to the Soviet Union was passed to Moscow by the infamous Aldrich Ames, a Soviet agent inside the CIA. Gordievsky was ordered back to Moscow in 1985. He was advised to defect and stay in London but returned to Moscow on 22 May 1985. On arrival, he was – or so we are led to believe –  taken to a KGB safe house outside Moscow where he was drugged and interrogated yet did not admit his treachery. He must be one of the few spies in the history of espionage who achieved such a feat. After this he was placed under "house arrest" and close surveillance. The phrase "house arrest" is one Gordievsky used himself to describe his plight. Yet somehow in July 1985 he managed to slip the net and make an escape as dazzling of that of George Blake. In Gordievsky's case, he gave the relays of KGB watchers on his tail the slip while jogging and took buses and trains to the Finnish border via Leningrad. So much for his house arrest. In fact he had been allowed out of his house to signal MI6 to activate his escape plan by carrying a British shopping bag. Details of the escape plan had been kept hidden inside a book in his residence which the KGB had failed to uncover.
He then crossed the border in the boot of a British diplomatic car, a Ford saloon, driven by two MI6 operatives. There were two such cars both of which were driven from Moscow. One of the cars picked up the elusive Gordievsky without being noticed by their KGB tail and put him in the boot.
The border guards at one checkpoint brought trained dogs over to the vehicle but the animals were apparently distracted by crisps and a dirty nappy and did not sniff out Gordievsky.  In all, the two British cars passed through five checkpoints. Charles Powell, a senior Foreign Office mandarin who was centrally  involved has said, "It is a remarkable story. If anyone wants a really good read of a spy story, this is better than any fiction".
---
THE CASE FOR OLDFIELD'S LOYALTY TO THE CROWN
There are, of course, many counter-arguments to the theory Oldfield was suborned by the KGB. For a start, the KGB favoured the Official IRA who were the enemies of the Provisional IRA; and that alone would provide a perfectly plausible explanation for the KGB's reluctance to co-operate with the Provos. Indeed, during the late 1980s, the KGB was arranging for Official IRA volunteers to be trained by the North Koreans.
In addition, Kim Philby, not Oldfield, could have betrayed Alexander Sandor to the KGB after he arrived back in the Soviet Union.
Philby was also well placed to betray the Albanians.
If Oleg Gordievsky – who is alive and well and living in the UK –  was not a cunning KGB agent who has been making a fool of MI6 for upwards of 45 years, it would certainly put Oldfield's name in the clear. However, if Gordievsky was a KGB plant who acted in tandem with Oldfield, it would represent a coup far greater than the recruitment of the Cambridge Ring which consisted of  Philby, Burgess, Blunt, Maclean and Cairncross because Oldfield and Gordievsky got away with it.
Gordievsky is still living a life of luxury in the UK at tax payer's expense. So far Premier Putin has not sent anyone to assassinate him (although Gordievsky has claimed an attempt was made on his life by a UK-based Russian businessman he knew who supplied him with allegedly poisonous Xanax for his insomnia). Instead of assassination, the Soviets under Mikhail Gorbachev were kind enough to let his wife Leila join him in England six years after his defection. This despite the fact she was the daughter of a KGB officer herself and had worked as secretary for the KGB chief at the London embassy. The couple broke up nonetheless after their reunification.
---
PART 2:  THE LIFE AND CRIMES OF A BRITISH SPYMASTER
---
TORTURE AND ASSASSINATION AS TOOLS OF STATECRAFT
Irrespective of whether Oldfield was a loyal servant of Her Majesty or the best kept KGB secret agent of the Cold War, it is clear he was a vile human being. He entertained colleagues at his club with stories about beating Jews in Palestine and ducking their heads in buckets of water. Oldfield referred to them as "snipcocks".
MI6 also engaged in torture and assassination when it suited them, something Sir Dick White, Chief of MI6 1956 – 1968,  and Oldfield were prepared to acknowledge in the right surroundings.  Before his death, Oldfield disclosed to his friends that MI6 had recommended the murder of President Gamal Nasser of Egypt by pumping the contents of a canister of nerve gas into his office. This is not something the British Government cares to recall now as it excoriates the Russian Government for its alleged used of Novichok on British soil in 2018.
Sir Dick White too admitted the plot against Nasser, to his biographer, Tom Bower, during Bower's research of White's career for a biography of the spymaster which he would publish in 1990 under the title The Perfect English Spy. White told Bower that he had been "in overall charge" of a variety of anti-Nasser schemes which ranged from the nerve gas plot, to a military coup and even the recruitment of a hit squad. Ultimately, the plotting came to nothing (p191).
---
OLDFIELD'S LETHAL SUPPLY OF POISONOUS DEATH TABLETS
The gas MI6 had in mind to assassinate Nasser was undoubtedly developed at a facility called Porton Down. Peter Wright of MI5 described how he once went there for a demonstration of a cigarette packet which had been fitted with a poison tipped dart by the staff of the Explosives Research and Development Establishment: "We solemnly put on white coats and were taken out to one of the animal compounds behind Porton by Dr Ladell, the scientist there who handled all MI5 and MI6 work. A sheep on a lead was led into the centre of the ring. One flank had been shaved to reveal the course pink skin. Ladell's assistant pulled out the cigarette packet and stepped forward. The sheep started, and was restrained by the lead, and I thought perhaps the device had misfired. But then the sheep's knees began to buckle, and it started rolling its eyes and frothing at the mouth. Slowly the animal sank to the ground, life draining away, as the white-coated professionals discussed the advantages of the modern new toxin around the corpse". ('Spycatcher', p162)
The fact that the poison was disguised as a cigarette makes a nonsense of persistent British Government claims that that Porton Down was only ever used to develop antidotes. Quite clearly, it was a place where assassination devices were manufactured.
Oldfield's close friend Anthony Cavendish, also a former MI6 officer, has written about how Oldfield sanctioned the death of one of his own agents while he was in charge of MI6, an incident Cavendish remembered "particularly well".
Oldfield had been asked for a direction about the use of a lethal tablet which MI6 was in a position to smuggle to a source who "if he broke under interrogation, would bring about the deaths of several other SIS agents with whom he had been working. Despite his strong religious convictions, Maurice took the only course he could". (See Inside Intelligence by Cavendish at page 5)
The tablet was undoubtedly manufactured at Porton Down. The scientists at the facility also tested chemical weapons including anthrax and the plague on approximately 21,000 soldiers between 1939 and 1989 without their knowledge. Interestingly, in the letter sent to Charles Haughey in 1987 warning him of an MI5 assassination plot against him, the anonymous author warned Haughey that MI5 had access to anthrax. See Village March 2018.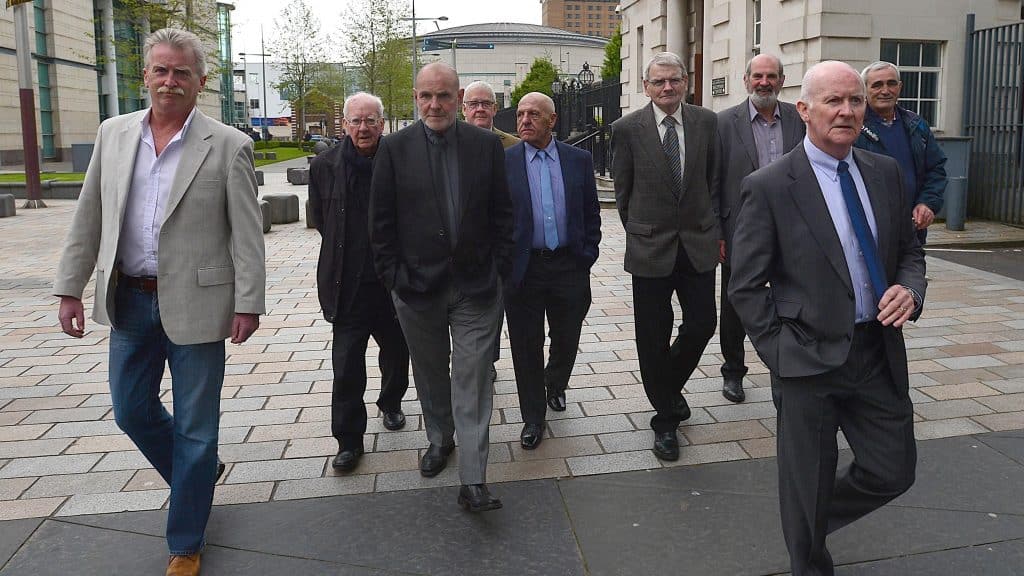 Dick White was centrally involved in the internment fiasco of 1971 – Operation Demetrius – and the torture of some of those swept up during it. White had learnt all about torture and psychological manipulation during WW2. Oldfield, who had started out half-drowning Jews in buckets of water, was Deputy Chief of MI6 at the time. The experience of the Hooden Men who were tortured in Northern Ireland could not have happened without their sanction.
---
AN ALLEGEDLY "DEVOUTLY RELIGIOUS MAN"
Oldfield's admission about Nasser highlights a Dr Jekyll and Mr Hyde dimension to his character. Despite his knowledge of MI6 murder plots and plenty more besides, he nonetheless managed to present himself to his friends and family as a devoutly religious man.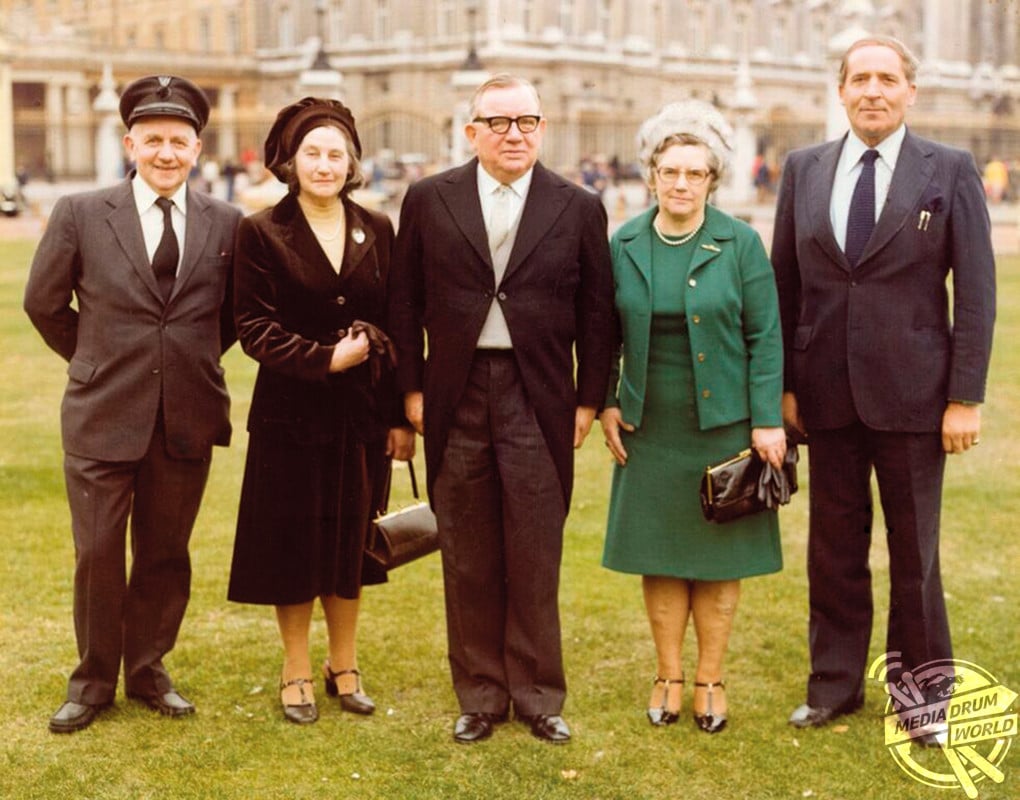 After the MI6-Littlejohn scandal (which involved the employment by MI6 of two Scottish brothers who claimed they had been given orders to assassinate IRA leaders in Ireland; attack Garda stations and rob banks), he assembled the unsettled secretarial staff at MI6's HQ to solemnly assure them MI6 did not employ assassins. This was only the visible top of the iceberg of deceit. In reality when push came to shove there was no depth that Oldfield and White would not plumb for Queen and Country.
---
OLDFIELD'S 'ROUGH TRADE'
Chapman Pincher was a British journalist with friendly links to the intelligence community  – some would say far too friendly – and an array of contacts inside Whitehall. He described how in 1985 at a "dinner in Grosvenor House …  Sir David McNee, the Metropolitan Police commissioner, had told me that Oldfield had been suspended from secret work after Scotland Yard officers had reported his involvement in homosexual activities. His behaviour, which would then have barred him from service in MI6, was not detected until he had retired as MI6 chief in 1978. Courageously, he had come out of retirement at Mrs Thatcher's request to become security supremo in Northern Ireland, and McNee had been so concerned by what he was then told about the 'rough trade' visiting Oldfield's London flat that he informed the Home Secretary [Willie Whitelaw], who alerted Mrs Thatcher".
Pincher received confirmation of Oldfield's proclivities in 1986 from Sir Michael Havers, one of his Establishment sources or "oysters". According to Pincher the "most delightfully indiscreet oyster I ever met was Michael Havers, the Tory Attorney-General for many years and, briefly, Lord Chancellor. He had a healthy sense of the ridiculous which made him deride excessive secrecy, but he also derived peculiar pleasure from breaking the secrecy rules with which he was so deeply involved. Among many leaks to me, perhaps the most extraordinary was his detailed confirmation — while we were shooting pheasants in 1986 — of the Official Secrets scandal surrounding Sir Maurice Oldfield, the former Chief of the Secret Intelligence Service, MI6…I took no action until Havers told me that Oldfield had confessed his folly to him and had admitted having falsified his positive vetting form over many years when asked about his sex life. He also told me that the Prime Minister had withdrawn Oldfield's security clearance and suspended him from his intelligence job, though he had been allowed to continue, briefly, after inquiries had shown that he had not been blackmailed and had promised to restrain himself".
In his book Traitors: The Labyrinth of Treasons – which went to print shortly before Thatcher's statement about Oldfield in the Commons – Pincher revealed that "I have known of Oldfield's staggering duplicity – for that is what it was – for several years and have been diffident about revealing it because he was a friend.
But the indisputable facts of the case are being commonly discussed by very senior officials who were involved with it and who have made them known to me in order to have them put on record. … Oldfield, a man of charm and erudition, was a lifelong bachelor. Former close colleagues of his whom I have consulted say they were unaware of his homosexuality, as were their wives, who are usually perceptive in this respect. Some believed that his reason for not marrying was because he suffered from psoriasis, which embarrassed him when it flared. His homosexuality, which was clearly compulsive, came to official notice only following his retirement from MI6 in 1978 and during his appointment a year later to an intelligence post in Northern Ireland, which he took up at the request of the Prime Minister, Mrs Thatcher. Oldfield's new duty was to serve as co-ordinator between the Royal Ulster Constabulary and the Army, which were in conflict. He required rigorous personal protection, not only because his job made him a prime IRA target, but because there had already been an attempt on his life in October 1975 when an IRA assassin hung a 30 lb bomb in a holdall on the railings below his London flat [at Marsham Court]. The bomb was spotted and defused within a few minutes of its set time to explode". (p111)
---
OLDFIELD'S COLLECTION OF PHOTOGRAPHS OF "NUDE YOUNG MEN"
Oldfield had been provided with 24-hour protection by Scotland Yard. According to Pincher, the detectives who were watching over his flat at Marsham Court became concerned by the number, frequency and type of men visiting it. "Those callers included waiters of various nationalities and young men who, the detectives deduced, had nothing to do with intelligence. One of them, whom they described as a hobo, had to be barred from the property because he was so persistent at demanding entry. Some of these men were traced, and the detectives' inquiries convinced them that some were homosexual and functioned as male prostitutes". (112) Oldfield lived within easy reach of Piccadilly Circus where "rent boys" – also known as 'Dilly boys' – were sexually available to adult predators; his flat was also close to Victoria Station, another notorious locus for the exploitation of teenage male prostitutes.
Pincher also reported that the police kept a "closer watch and questioned the porters at the apartment block, who disclosed that the men had been in the habit of visiting the flat over several years, while Oldfield had been Chief of MI6, and to such an extent that the porters themselves had become suspicious. They recalled that Sir Maurice had returned one night scratched and bruised, as though he had been in a fight. He told one of the porters that he had fallen, but this was thought to be an unlikely explanation. While in the flat alone one of the detectives found books and magazines about sexual perversions with photographs of nude young men. The policemen put in a report to the Head of the Special Branch suggesting that Oldfield might be a security risk. The situation was then reported to the Metropolitan Commissioner, Sir David McNee, who was so perturbed that he called on the Home Secretary, William Whitelaw". (112)
Pincher also revealed that there had been "concern that Soviet counter-intelligence might be aware of the situation, but there was no evidence that Oldfield had been subjected to any kind of pressure. Because he undoubtedly was the best man available for the Northern Ireland post, he was interviewed on the Government's behalf by a senior Minister. In the most direct language he was told that his unfortunate sexual habits were known, but as they appeared to have led to no harm, he could continue with his work in Northern Ireland, provided he gave a solemn promise that he would curb himself throughout his tenure. Oldfield, who made no denials, promised to do so and seemingly caused no trouble before he had to leave on the grounds of serious ill-health in 1980".
---
THE "YOUNG MALE LODGERS" IN OLDFIELD'S WASHINGTON APARTMENT
Oldfield's proclivities, however, had in fact been the subject matter of speculation  – if not well-known to his colleagues in the intelligence community  – for decades.
Dick White cooperated with the British author Tom Bower, the author of his biography. White had assigned Oldfield to a plum posting in Washington in 1960. According to Bower, a number of senior CIA figures would claim "they had suspected he was a homosexual 'within weeks' of his arrival but assumed he had been 'vetted and cleared in London'. The reality was that he had lied about his sexuality on three occasions during the course of security checks making a 'nonsense of positive vetting'."
According to Bower, in  'Washington, [Oldfield] would even be summonsed by Denis Greenhill, the minister in the embassy, and cautioned about the presence of young male lodgers in his apartment. One was an American Marine, the son of a CIA officer; another was an Iranian lecturer. Oldfield – "the chief pontiff of positive vetting" according to some – laughed off any suggestion of impropriety". (317)
Dick White acknowledged to Bower that although he had noticed Oldfield's "effeminate mannerisms", he was unaware he combined "regular attendance at his church with a secret quest for 'rough trade'. Once, he had asked Oldfield about allegations that he was homosexual and had accepted his denial. But his judgement was protective and flawed: "Maurice was over-involved in his work and obsessive. He needed a good wife [..] to get a complete change of subject in the evening".  (p317)
As it happened, a potential bride somewhere was spared a life of neglect for Oldfield had contemplated a lavender marriage to conceal his true sexual orientation.  According to his close friend Anthony Cavendish, he "worried constantly" that as a bachelor he was a "natural target" for black propaganda and had once suggested to Cavendish "half seriously" that his life would be "so much easier and more pleasant" if Cavendish could "find a wife for him". His excuse for not looking for a bride himself was because he "just did not have the time to devote to that sort of pursuit" on account of work.
---
THE ASTONISHING HYPOCRISY OF MAURICE OLDFIELD
As a gay man, Oldfield should have done his best to protect other homosexuals inside MI6 and the Foreign Office but he didn't. After Thatcher revealed that he had been a homosexual, David Owen, a Labour Foreign Secretary in the 1970s, expressed his outrage as he knew that Oldfield had had a gay individual dismissed from MI6 because he was potentially vulnerable to blackmail. There are too few details to assess how important this individual was and the loss his dismissal occasioned to MI6. However, it is something that should be noted for further research should an opportunity present itself to find out more.
---
PART 3:  OLDFIELD, THE KINCORA CONNECTION
---
OLDFIELD'S FRIEND AT KINCORA
The mainstream British media has buried its head in the sand when it comes to the connections between MI6, Oldfield and the Kincora Boys' Home scandal for decades.
The Kincora scandal involved the rape of neglected working-class children and orphans who had been taken into care by Belfast City Council and sent to Kincora and a string of other deplorable institutions such as Williamson House and Bawnmore. Terrified youngsters were dangled as bait for twisted Loyalist paramilitaries, Unionist politicians and other assorted perverts. The victims endured years of rape and degradation at the hands of multiple abusers in a string of care homes and hotels in Belfast including the Park Avenue, the Europa and the Queen's Court in Bangor. A lifetime of debilitating psychological pain followed: some victims committed suicide; one Kincora boy, Stephen Waring, threw himself into the night sea from the Liverpool-Belfast Monarch ferry in November 1977.
An important admission made by MI6 at the Hart Inquiry in 2016 has been ignored by the mainstream UK media. Judge Anthony Hart carried out a lightweight and deeply flawed inquiry into Kincora and other care homes in NI. Hart was gullible and naive but not dishonest. He unearthed  and – to his credit – published hitherto unknown information that was embarrassing to the British Establishment. Some of the new information related to an MI6 officer referred to as 'Officer G' by Hart. This officer stated that having "examined four ring binders with material relating to Sir Maurice Oldfield, including the 1980 MI5 investigation" in preparation for the Hart Inquiry it had emerged that, "The relationship [Oldfield] had with Kincora Boys' Home (KBH) in Belfast and subsequent 'rent boy scandal' is, in my view the only remaining potential sensitivity in the papers. The sensitivity being that [Oldfield] may have a link to (by association through his friendship of the KBH Head) of the alleged crimes at the boys' home. Given the current climate surrounding similar cases, it may at some point emerges as an issue". (Chapter 28, Paragraphs 619.)
Hart also noted that paragraph 5 of the MI6 review paper contained the following comment: "More worryingly is the small collection of papers in file three which relate to the relationship [Oldfield] had with the Head of the Kincora Boys' Home (KBH) in Belfast".
Hart concluded that this was not evidence of MI6 involvement in Kincora because Officer G had made a mistake and was merely referring to allegations about the relationship Oldfield had had with the "KBH Head". (620)
However, neither MI6 nor Hart quoted any contemporaneous report alleging a friendship between Oldfield and the Warden of Kincora, Joseph Mains, the only man who fits the description of "KBH Head".
Moreover, the Hart report seems to indicate that Hart was speculating about what the MI6 officer meant. If Hart contacted Officer G at any stage after he had finished giving his evidence to clarify what the position actually was, Hart did not make this clear. The overwhelming likelihood is that he did not bother.
Nor is it clear whether or not Hart actually reviewed the "collection of papers" linking Oldfield and Kincora.
---
RICHARD KERR AND MAURICE OLDFIELD AT KINCORA 
Richard Kerr was sexually abused at Williamson House at  the age of eight by Eric Witchell, an Anglican lay monk, who was a friend of Joe Mains. Witchell was later jailed for abusing other boys at Williamson House, where he had been headmaster. The abuse of Kerr started one night after Witchell visited his bed. "I was on my side, I had a teddy bear. I was biting into that while he had his hand down my backside and fumbled around". [Belfast Telegraph, February 2015]
Full rape commenced later. At Kincora, Kerr was forced to have sex with Mains in a hotel, a guesthouse, and in the shed at the back of Kincora which "had a chair and a mattress in it, that's about all". At 16 Mains found him a job at the Europa Hotel in Belfast where the abuse continued in the hotel's bedrooms.
While at Kincora, he had once walked into a room while Mains was engaged in a discussion with someone he later recognised from photographs as Oldfield along with other men in suits. Mains jumped up and ordered him to leave the room forcefully.
All of this adds credence to reports that were in circulation in the early 1980s that Oldfield personally interviewed some Kincora boys who were brought to him at an MI6 safe house in Bangor during the 1970s.
---
JUDGE HART CONTRADICTS HIMSELF OVER OLDFIELD
There is an obvious error in paragraph 607 of Chapter 29 of the Hart Report where it is stated that: "As we have explained, Richard Kerr has alleged that he was sexually abused by Sir Maurice Oldfield". This is not so. Emphatically, Kerr has never made any such an allegation. Incredibly, at paragraph 159 of Chapter 26 the following appears: "Kerr did not know at the time who Oldfield was, he says, and does not suggest that he abused Kincora boys."
This absurd and egregious error on the face of the Hart Report has never been corrected.
---
OLDFIELD'S VISITS TO NORTHERN IRELAND "BETWEEN 1974 AND 1979"
Throughout his report, Hart refers to MI6 by its alternative acronym, SIS. Like MI6, Oldfield was given a clean bill of health by the Hart Report: "The Inquiry has examined all the material held by SIS relating to Sir Maurice Oldfield as described by SIS Officer A in his statement of 8 December 2016 and found nothing to indicate that Sir Maurice Oldfield ever visited Northern Ireland before he took up his appointment as Security Coordinator in October 1979. (624) This was yet another serious error on the part of Hart. An Englishman who worked at Lisburn British Army HQ where MI6 was based in the 1970s has told Village that he recalls at least one visit to Belfast by Oldfield while he was Chief of MI6.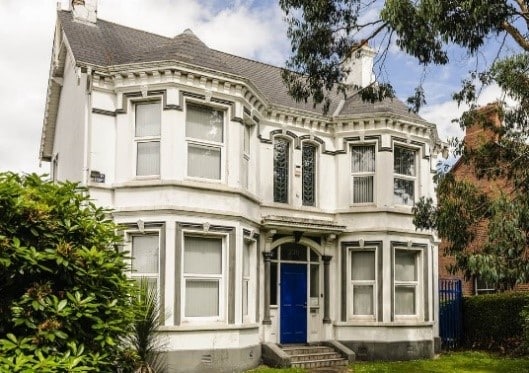 Hart was aware of his identity yet failed to call him as a witness. In addition, a partially declassified MI5 telegram makes reference to the fact – as Hart put it – MI5 was 'aware of allegations that the police suspect' that Oldfield was involved in the Kincora scandal. Crucially, the part of the MI5 telegram which Hart published explained that the suspicion was "that Sir M. Oldfield was involved in the Kincora boys home affair in the course of occasional visits to Northern Ireland (associated with his job) between 1974 and 1979″. How can this admission of "occasional visits" be squared with Hart's conclusion of none at all?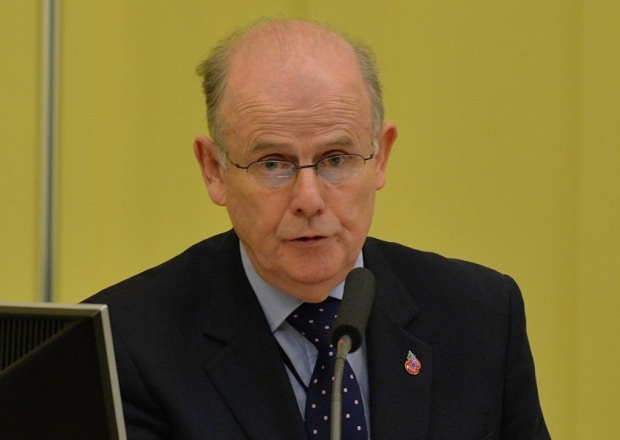 Hart's core finding about Oldfield was that: "Having reviewed all of the evidence we are satisfied that the allegations about Sir Maurice Oldfield's connections with Kincora have no substance". (625)
More details about the failure of the Hart Inquiry can be found by clicking the Judge Anthony Hart tab/button at the end of this story.
---
THE TREATMENT OF OLDFIELD COMPARED TO THAT OF JOHN IMRIE OF MI5 AND PETER ENGLAND OF THE NIO
On 23 April, 1987, Margaret Thatcher exploded her Oldfield bombshell in the House of Commons stating that, "reports were received [in 1980] which caused his positive vetting clearance to be reviewed. In March 1980, in the course of that review, he made an admission that he had from time to time engaged in homosexual activities. His positive vetting clearance was withdrawn. By this time he was already a sick man; he finally ceased to serve as Security Co-ordinator in Northern Ireland when a successor took over in June 1980; he died in March 1981".
Ken Livingstone MP (and future Mayor of London) noticed a discrepancy in the way John Imrie of MI5 had been treated compared to the mauling Oldfield received after the exposure of his sexual predilections in 1980. Oldfield was pushed to the side-lines by Thatcher after she discovered he had confessed to having been a homosexual. How could this admission have cost him his "positive vetting" i.e. his licence to operate within the intelligence community, Livingstone wanted to know. It was not homophobia since Imrie, a convicted flasher who approached men in toilets, and had been quizzed about Kincora, managed to retain his job and achieve promotion. Perhaps the explanation is that Oldfield had become an enemy of the ultra-right-wing faction that controlled MI5 and held Thatcher in their thrall whereas Imrie was presumably well got with them, especially after his service for them in Northern Ireland. Oldfield had enraged the Ultras at MI5 by interfering with their plots against Labour Prime Minister Harold Wilson.
Livingstone brought the Oldfield-Imrie discrepancy up in the House of Commons on 8 March 1988.
"Will the Prime Minister take time in her busy day to reconsider the statement that she made to the House last year about Sir Maurice Oldfield?" Livingstone asked her. "Will she consider the inconsistency of the withdrawal of his positive vetting while no action was taken against Mr Peter England, a deputy secretary in the Northern Ireland Office, and Mr JL Imrie, an assistant secretary at the Northern Ireland office, following investigations into the buggery of young children at the Kincora boys' home? Is she not disturbed that Mr Imrie has taken no action against the newspaper that named him and his activities four weeks ago, although he continues to work for the government in the Ministry of Defence? Can she assure the house that she is convinced of Mr Imrie's innocence? If not, will she now finally concede a genuinely independent enquiry into what went on in the home in Kincora, irrespective of the damage that may do to MI5 when its role is exposed?".
Thatcher replied: "I have nothing further to add to the statement that I made on Sir Maurice Oldfield in the House. I note that the Honourable Gentleman uses the privilege of the House to name people who are unable to answer back".
Thatcher's answer was patently absurd. In the first instance, Peter England was dead and could not sue so parliamentary privilege was a red herring. Secondly, the whole point of Livingstone's question about Imrie was to highlight the fact that Imrie's name had appeared in The Sunday World yet he had not sued the paper. Thatcher, who had practiced as a barrister, surely knew that newspapers did not enjoy parliamentary privilege for stories that did not arise from an exchange in parliament.
Imrie was also named twice by Private Eye  in 1988 in connection with Kincora. He never sued.
More details about Imrie can be found by clicking the Imrie tab/button at the end of this story.
---
IRA INTELLIGENCE LEAKS TO THE MEDIA ABOUT OLDFIELD
As indicated earlier in this article, the IRA knew about Oldfield's private life long before Chapman Pincher wrote a word about it. Their knowledge probably dated back to their surveillance of him prior to the assassination attempt at Marsham Court in October 1975. Republican sources had been circulating rumours about him to journalists in Ireland in the 1980s. In 1983 some of this gossip surfaced in The Phoenix magazine in Dublin. In a piece entitled The Curse of Kincora  the magazine included a strong hint about Oldfield's sexuality: "Now a lot of dirty linen is being washed in public, and the background to the purges in British intelligence in Northern Ireland, and perhaps some details of the private life of Sir Maurice Oldfield, the Ulster Security Coordinator and former MI6 chief, seems likely to emerge.  Bachelor Oldfield's dislike of all women except his aged mother was so notorious that The Sunday Times  included mention of it in an obituary". (Page 3, 18 February 1983)
---
PART 4:  OLDFIELD AND THE DARK ART OF BLACK PROPAGANDA
---
OLDFIELD, DR GARRET FITZGERALD AND BLOODY SUNDAY DIRTY TRICKS
There was no end to the dirty tricks Oldfield was prepared to deploy, especially in relation to Ireland. The Troubles brought out the sly and cunning exponent of the art of black propaganda in him. MI6 worked hand in glove with the Information Research Department (IRD), Britain's then black propaganda machine. Both MI6 and the IRD were departments of the Foreign Office.
Arguably, the greatest IRD coup in Ireland during Oldfield's time in MI6 was to inveigle Dr. Garret to become a member of the so-called  ISC Study Group (ISCSG) on Ireland. It was run by a man called Brian Crozier. In 1994 Crozier published his memoirs, 'Free Agent: The Unseen War 1941-1991',  in which he admitted that he had run propaganda campaigns for MI6 and the CIA.
Garret FitzGerald would become Minister for Foreign Affairs in February 1973 and served as Taoiseach twice in the 1980s. As a member of the ISCSG, Fitzgerald contributed a chapter to Crozier's 1972 book, 'Ulster Debate'. It formed part of the IRD's propaganda offensive to exculpate the Parachute Regiment after Bloody Sunday and much more besides.
In his autobiography, Crozier revealed his close friendship with Oldfield. It is inconceivable that Crozier did not report back to Oldfield on what FitzGerald did, said and thought at the meetings of the ISCSG and on its fringes. Crozier's insights into FitzGerald may have informed British negotiations in the run up to the Sunningdale Agreement. Oldfield was central to the process leading up to the conclusion of the Sunningdale Agreement, even flying to Dublin on at least one occasion. In addition, the Crozier-FitzGerald link may help to explain what Oldfield's friend and hagiographer Richard Deacon had in mind when he described the 'comprehensiveness of certain of [MI6's] intelligence reports' Oldfield was able to furnish to Whitehall after he became MI6 Chief in 1973.
FitzGerald was certainly not taciturn while in British company. On the contrary, he was a regular visitor to the Embassy in Dublin where he once supplied information – since declassified by the UK's National Archives – about  Charles Haughey and the Dail's Public Accounts Committee to British officials. (See Village May 2017.) He was also a source of information about Jack Lynch. Ambassador Robin Haydon drew up a secret profile of Haughey in 1980 which contained a passage speculating about the cause of Lynch's resignation. "This reasoning [about Lynch's departure] was confirmed or at least echoed in conversations I had with … Garret FitzGerald and many others. It is probably the truth or as near as we are likely to get to it".
While FitzGerald was happy to disclose his involvement with the Bilderberg Group, the Trilateral Commission, British-Irish Association and his support for Irish membership of NATO in both of his autobiographies, there is no mention of Crozier or the ISCSG anywhere in either of them; nor indeed in any of his writings. Hence, it is not clear what FitzGerald discussed with Crozier and how long the relationship lasted.
The introduction to Ulster Debate, which was written by Crozier, solemnly explained that "the Institute commissioned four of the five studies that appear in this book and convened a Study Group with the object of considering each of the papers and producing constructive suggestions".
Like all good propagandists, Crozier spun a good yarn: "The guiding principle of the Study Group was realism. The outcome is a guide to the Irish problem and proposals that respect the facts and possibilities of a dangerous and delicate situation. Each paper is a separate contribution. It does not necessarily reflect the view of the other members of the Study Group".
Unfortunately, the 'guiding principle of the Study Group' was not 'realism'. Some of the more risible allegations in the book included:-
The claim that on 13 December 1971 the IRA "hi-jacked a Canadian aircraft but were apprehended". (p140);
A claim that Catholics in Belfast had marched in favour of internment on 13 March 1971. (129);
That on 10 March 1971 a "feud between the Officials and the Provisionals broke out into open violence. There were murderous street battles in which it was estimated that 40 to 50 members lost lives". (p129) However, not a single soul died on 10 March. Six people in total died during March 1971 of whom four were British soldiers;
That Cathal Goulding was leader of the Provisional IRA (p136). Goulding in fact led their sworn opponents, the Official IRA;
Lord Chalfont, a former FCO minister, referred to the Mini-Manual of the Irish Guerrilla (surely an IRD forgery) which contained "a characteristic attack on the Catholic priesthood" by the IRA which described the Church as "the enemy in our mists, the vipers nourished by the fruits of our sweat, the black beetles eating away at our very sustenance". This absurd quote can only have been included to undermine the IRA in the eyes of Catholic Irish-America;
That FF (i.e. Jack Lynch and Des O'Malley) had rendered the Republic a safe haven for the IRA (p60);
FitzGerald was not the only high-profile dignitary to extend his prestige to the publication. Professor JC Beckett of Queens University and Prof FSL Lyons of Trinity College did so too, alongside Lord Chalfont.
 The real purpose of Ulster Debate was to portray Britain in the best light possible in America and elsewhere. It was distributed throughout the world by British Embassy and consulate staff.
One group that emerged well out of Ulster Debate was the Paratroop Regiment. According to Ulster Debate, on 2 October 1971 a "paratrooper gave his life in an effort to save some children". (p135) No one died on 2 October 1971, let alone a paratrooper, although a soldier did save a child in similar circumstances on another occasion.
An allegedly "clear" account of Bloody Sunday; one that could be relied upon "beyond doubt", was tendered by Lord Chalfont: the IRA had been responsible for starting the violence of that dark day and the soldiers were the victims of unwarranted IRA propaganda.
Chalfont argued that, "When the IRA used the mobs as shelter for ambushes and snipers, sooner or later a tragedy of that sort is inevitable. When this happens another weapon in the armoury of terrorism comes into its own – the weapon of propaganda. The action of the security forces in London was the subject of unceasing IRA propaganda …and much of it was swallowed whole in sections of the British press".
In Ulster Debate Garret FitzGerald described Bloody Sunday as an "aberration" that had caused an "astonishing" rift between the UK and Ireland which had traditionally been "basically friendly".
FitzGerald argued that, "against this long-term background the present unhappy state of Anglo-Irish relations can be seen as an aberration. An almost total – and unprecedented – failure of communications between the two countries, especially after the Derry shootings, created a momentary mutual hostility that is uncharacteristic of their normal complex but basically friendly relationship with each other. That this could have happened in the face of the means of mass communications now available is astonishing and indeed deeply worrying. Past experience suggests, however, that in time the misunderstandings caused by such communications blockages will be dissipated". (p73)
FitzGerald referred to "the events of Londonderry" on page 78, whereas on page 73 he described the city as "Derry". Did someone edit his work?FitzGerald also used Ulster Debate as a platform to attack the Republic's failure to contribute to the defence of Western Europe by refusing to join NATO.
---
SNOOPING AND SMEARING: OLDFIELD AND CHARLES HAUGHEY 
More details about Oldfield and MI6 plots against Irish politicians, especially Charles Haughey, can be found by clicking on the Charles Haughey tab/button at the end of this story. Declassified UK files also demonstrate that Oldfield's spies were also spying on Haughey and reporting to Thatcher about his plans for Anglo-Irish meetings in 1980. Other sources – including Oldfield's biographer and friend – have revealed that Oldfield spied on Haughey with the aid of a senior Garda officer.
---
PART 5: AFTERMATH 
---
THE DEATH OF JOSEPH MAINS
Joseph Mains was sent to prison after his conviction for sex abuse at Kincora. He kept his mouth shut about his links to British Intelligence while behind bars and went to his grave without letting the world know what he knew. On the other hand, his co-conspirator William McGrath gave a large hint to Chris Moore, author of a book on Kincora, that the intelligence services had been involved in exploiting the paedophile network which revolved around it before his death. The real truth about Oldfield's involvement with Kincora has yet to emerge. It is unlikely in the extreme that the Independent Inquiry into Child Sex Abuse (IICSA) in London is going to do anything about it.
The truth about Oldfield's relationship with Kincora, not to mention his practice of blackmail, assassination and black propaganda, will continue to gather dust in files in MI6's archives in London as long as callous and dishonest people run the British Government and its intelligence services.  The grotesque Jeffrey Epstein scandal hints that they are still prepared to let paedophiles exploit children – in this case young girls – for nefarious purposes. In so far as Epstein is concerned, the best case scenario for the British police, MI5 and MI6 is that they were utterly incompetent. Sir Alex Younger, the present Chief of MI6, and others in the intelligence community, bemoan the fact they have difficulty in attracting high quality recruits to join their  respective organisations. They have only themselves to blame. What self-respecting, normal person would want to become part of organisations with sordid histories such as those of MI5 and MI6?
---
OLDFIELD KEPT PAPERS ON COLIN WALLACE IN HIS LONDON FLAT
Colin Wallace worked as a PSYOPS officer at British Army HQ at Lisburn where he learnt about the plight of the boys at Kincora. In the 1970s Wallace, General Peter Leng, Capt. Brian Gemmell, Roy Garland, Valerie Shaw and many others tried to halt the abuse but were thwarted by MI5 and MI6. Wallace was pushed out of his job by dirty tricks perpetrated by Ian Cameron of MI5 in 1975 and framed for manslaughter a few years later. He served a prison sentence after dishonest evidence was presented by the prosecution at his trial. His conviction was eventually overturned and his good name restored to him. The Wallace Scandal ranks in the same sinister league as the injustice meted out to The Birmingham Six and Guilford Four.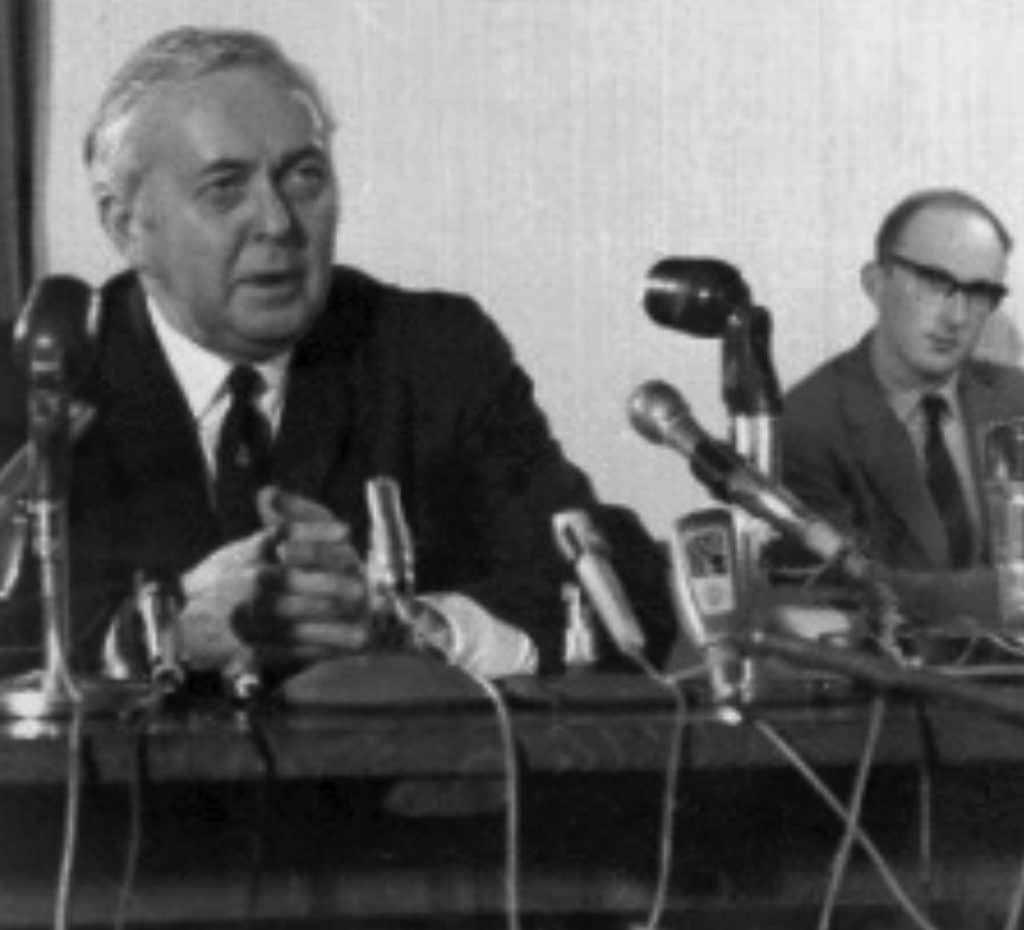 More than anyone else who had served inside the intelligence community in Northern Ireland, Wallace posed a threat to the Kincora child rape exploitation operation which was still running while Oldfield was serving as NI Security co-ordinator during late 1979. The scandal finally erupted in the press – the Southern Irish press, not the British – in early 1980. The Irish Independent can be rightly proud that if not for its courageous journalist Peter McKenny, the rape and torture of children might have continued for decades. When the police searched Oldfield's flat in 1980 they found papers relating to Wallace. The odds must be high that Oldfield was concerned about what Wallace knew about him and his links to Kincora.
---
DID OLDFIELD'S CONSCIENCE GET TO HIM AT THE END?
At some stage before Oldfield's death in 1981, Tam Dalyell MP learnt that Wallace had been framed and maltreated from no less a figure than Oldfield himself. Dalyell (famous for having roasted Thatcher over the sinking of the Belgrano) was a friend of Oldfield. Perhaps Oldfield's conscience at all the harm he had done during his life was eating away at him as his health deteriorated. He died on 11 March 1981.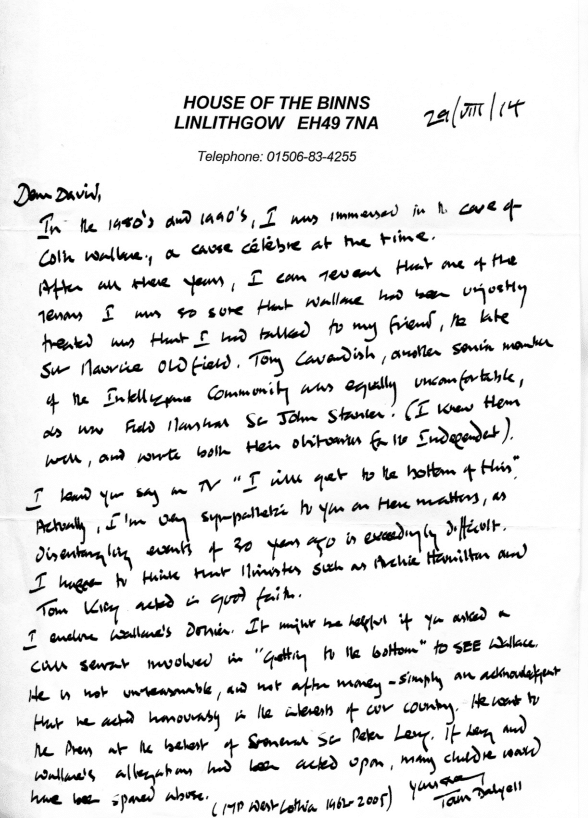 Oldfield also expressed regret in his last years about the way MI6 had thrown the Littlejohn brothers (see e.g. Wikipedia for further details) to the wolves. Oldfield had left them go to prison in Ireland despite the fact they had worked for MI6, something he had denied as part of a propaganda operation he had overseen in the international media to portray the brothers as liars and pure criminals. The Littlejohns were certainly criminals but they had been telling the truth about their connection to MI6. There is even evidence that attempts were made by MI6 to assassinate Kenneth Littlejohn in Holland after his spectacular escape from Mountjoy Prision in Dublin in March 1974.
Oldfield, a chain smoker, had been a friend of another addict, the CIA's infamous James Jesus Angleton.
The pair had worked together while Oldfield had represented MI6 in Washington where Angleton worked for the CIA. Incredibly, both men saw themselves as devoutly religious individuals. Towards the end of his life Angleton began to realise the murderous and blood-soaked catastrophe that it had really been. David Talbot, author of monumental The Devil's Chessboard has described Angleton's last days. He may as well have been writing about Oldfield.
"But as he crept towards death in 1987, Angleton was less bound by the loyalty oaths of the past, and he began to talk about his career with a surprisingly raw clarity. By then, his lungs were cancer-ridden from a lifetime of incessant smoking, and his sunken cheeks and receding eyes gave him the look of fallen saint. The Catholic Angleton had always needed to believe in the holiness of his mission. And now, as he faced the final judgement, he felt compelled to make confessions, of sorts, to visiting journalists, including Joseph Trento. What he confessed was this. He had not been serving God, after all, when he followed Allen Dulles [Director of the CIA]. He had been on a satanic quest.
"These were some of James Jesus Angleton's dying words. He delivered them between fits of calamitous coughing – lung-scraping seizures that still failed to break him of his cigarette habit – and soothing sips of tea. "Fundamentally, the founding fathers of U.S. intelligence were liars," Angleton told Trento in an emotionless voice. "The better you lied and the more you betrayed, the more likely you would be promoted … Outside of their duplicity, the only thing they had in common was a desire for absolute power. I did things that, in looking back on my life, I regret. But I was part of it and loved being in it."
"He invoked the names of the high eminences who had run the CIA in his day – [Allen] Dulles, [Dick] Helms, [Frank] Wisner. These men were "the grand masters," he said. "If you were in a room with them, you were in a room full of people that you had to believe would deservedly end up in hell."
Angleton took another slow slip from a steaming cup. 'I guess I will see them there soon'."
The last words here are left to Oldfield's friend Anthony Cavendish who described in his memoirs, Inside Intelligence, how as "the years go by, the lies take over from the truth and morality accepts the other demands which are made on an [intelligence] officer to get the job done" and that "theft, deception, lies, mutilation and even murder are considered if and when necessary".
---
THE NOVEMBER 1979  SPECIAL BRANCH REPORT ON MAURICE OLDFIELD