Last September Village described how the UK's intelligence services conducted a near-decade-long smear campaign during the 1970s designed to undermine Charles Haughey. It failed at every turn and crashed to earth when, in December 1979, Haughey became Taoiseach.
Haughey's Fianna Fáil party lost the general election which followed, in June 1981, albeit with a healthy 45.3% of the vote and every prospect of regaining power in the short term. In the meantime, Haughey repaired to Inisvickillane, the island he owned a few miles off the Dingle peninsula, to relax and enjoy a holiday with his family. As Leader of the Opposition, he did not enjoy the same level of protection he had been afforded while serving as Taoiseach. Last month Village described how, during this holiday, MI5 helped the Loyalist terror group, the Red Hand Commando (RHC), in a failed attempt to blow up Haughey's yacht, The Taurima II, in Dingle Harbour. The RHC was then led by the notorious serial killer and paedophile John McKeague who was an MI5 agent.
Haughey regained power in early 1982. During this period there are concrete signs of further British plotting against him. These episodes will be passed over in this article but should be noted to register the incessant nature of the anti-Haughey scheming by elements of the British Establishment.
Haughey lost power again towards the end of 1982 and would not regain it again until 1987. As before, the level of security surrounding him dropped a few notches. This month Village will assess the 'UVF Warning Letter' which emerged out of the blue last December from the vaults of the National Archives alerting Haughey to yet another plot against his life. According to it, MI5 had asked the UVF to assassinate him in 1985.
MI5's desk killers
SMITH AND JONES
By way of introduction, it is essential to place the practices of the men who commanded MI5 during the period 1979-1987 under the microscope and ask if they were capable of conniving in the murder of a senior political figure such as Haughey.
Sir Howard Smith served as Director-General (D-G) of MI5, 1979-1981. He was an old Irish hand who had served as the UK representative to the Northern Ireland ( NI) Government (UKREP) 1971- 1972. Put simply, he was London's political and intelligence supremo in NI for the duration.
Smith was a racist and an advocate of political assassination. Declassified CIA records confirm that US President Eisenhower ordered the murder of Patrice Lumumba, PM of the Congo. Lumumba was duly assassinated in a joint CIA- MI6 operation in 1961. Smith, then a senior of cial at the FCO with responsibility for the Congo, was central to the scheming. On 28 September 1960, he circulated a memo to the Foreign Office in which he explained he could see "only two possible solutions" to the situation: 'The first is the simple one of ensuring Lumumba's removal from the scene by killing him. This should in fact solve the problem, since so far as we can tell, Lumumba is not a leader of a movement within which there are potential successors of his quality and influence. His supporters are much less dangerous material'.
The MRF – a highly secret British military surveillance and death squad – emerged under Smith's watch in NI, albeit it was the brainchild of Brigadier Frank Kitson.
Smith was also in control during the early infiltration of Loyalist paramilitary gangs and the first wave of collusive assassination of Nationalists.
William McGrath was the Housefather at Kincora Boys Home and a British agent. Declassified NIO and MI5 files demonstrate that British officials knew that he was raping boys yet they did not intervene. The British files also show that the Chief of MI6, Sir Maurice Oldfield, was a friend of the 'head' of Kincora, a description that better fits Joseph Mains, the Warden of Kincora, than McGrath. Yet another file indicates that MI6 had an agent inside the home. (See Village passim 2017.) Is it possible that Howard Smith – the overarching intelligence supremo of NI in 1971 and 1972 – did not know all about MI5 and MI6's exploitation of the paedophile and pederast vice ring that preyed on the boys at Kincora and other homes in NI?
Smith left NI in 1972 and later served as a Deputy Secretary at the Cabinet Office in London with responsibility for Intelligence before he decamped to Moscow to serve as Britain's Ambassador to the USSR. He returned to the UK in 1979 and became D-G of MI5.
Christopher Andrew, the rather dignified official historian of MI5, has described how Smith was perceived inside MI5 as someone who had a "distaste' for some of the operations that were carried out while he was D-G. One of Smith's senior officers resented the manner in which "he kept far away from A Branch and left it all" to his deputy John Jones, who was a former Director of A Branch (surveillance and blackmail). According to Andrew's source, Smith regarded "it all as dirty work".
Unfortunately, Andrew does not reveal what any of this 'dirty work' entailed. What could have been more distasteful than the activities Smith had already undertaken in NI? Perhaps he no longer had the stomach for the type of sordid intelligence operations he had set up as UKREP. By the time he became D-G seven years later, Kincora, for example, had become a multi-layered compound of evil: paedophiles were being allowed to rape children as young as eight so that an abuse network could thrive and act as 'honey trap' for Loyalist paramilitaries who were being recruited and directed to murder people; all of which was being covered up by the police.
MEET THE NEW BOSS, SAME AS THE OLD BOSS
Not surprisingly, MI5 failed to turn over a new leaf after Smith retired in June 1981 and John Jones slid across onto his seat.
Jones commanded MI5 during the infamous MI5-FRU murder programme in Belfast. The FRU was a secret unit of the British Army. The joint programme was created to eliminate Republican targets in NI. It used UDA frontmen (masquerading as the 'UFF') as proxy assassins.
John Jones was a repeat offender: under his watch MI5 also oversaw the RUC Special Branch's Special Support unit (SSU) shoot-to-kill programme of the early 1980s. This was the programme that was investigated by John Stalker, the Deputy Chief Constable of Manchester, and led to a campaign of vilication against Stalker in the British media which effectively destroyed his career.
Jones was also involved in the running of Freddie Scappaticci of the Provisional IRA as an MI5 agent. Scappaticci's codename was 'Stake Knife'. He was recruited by MI5 in 1978 while Smith was Deputy D-G. By 1980, Scappaticci had risen to become a key member of the Provos so-called 'Nutting Squad' or internal security department. As of early 2018 Scappaticci has been arrested in England for his part in 18 murders. If he spills the beans, a lot more about MI5 under the command of Smith and Jones will emerge.
John McKeague of the RHC was murdered under Jones' watch by INLA gunmen who were RUC Special Branch agents. The RUC Special Branch was controlled by MI5. McKeague was murdered after he threatened to expose what he knew about the Kincora Boys Home scandal. Had he spilled the full tin of beans, he could also have exposed MI5's involvement in the RHC plot to murder Haughey in Dingle in 1981.
Against this background, it is not in the least fanciful to suggest that MI5 was capable of plotting its second murder attempt against Haughey in 1985.
SIR ANTONY DUFF, ANOTHER D-G OF MI5 IN GOOD STANDING WITH THE DIRTY TRICKS DEPARTMENT
John Jones was replaced by Sir Antony Duff in 1985. He kept:-
• the MI5-FRU murder machine oiled and humming efficiently, and;
• Scappaticci in place to pursue his campaign of kidnap, torture and murder, and;
• Maintained the Kincora cover-up.
Declassified UK Government files show that Duff also covered-up the rape of boys by Peter Morrison MP, the then Deputy Chairman of the Conservative Party, who later became Margaret Thatcher's private secretary and a knight of the realm.
Duff was also in charge of MI5 during the campaign of vilification directed at John Stalker who was probing MI5's role in a series of shoot-to-kill operations conducted by the RUC's SSU.
Part 2
IS THE 'UVF' WARNING AUTHENTIC ? 
'Alex Jones' of MI5
The purported UVF Warning Letter that emerged from the National Archives last December is dated 5 August 1987. It was written on UVF headed notepaper and signed by Captain W Johnston, the nom de guerre employed by the UVF at the time. It purported to emanate from the 'M.U.' unit of the UVF, presumably Mid Ulster. It was posted to Haughey a few months after he became Taoiseach again in 1987. It reads as follows:
Dear Mr Haughey
Colin Wallace, Fred Holroyd were telling the truth when they revealed that British Int were behind killings, kidnapping and a smear campaign against yourself.
MI5, MI6, assisted by the S.A.S, used our Force 1972 to 1978 and 1985.
We were given photographs of I.R.A. men, given explosives, information to where intended victims were and when to carry out attacks. We killed 17 men on information supplied by British Int. MI5 were double crossing us all the time we were working with them.
We executed some of our best men believing them to be traitors. Jim Hanna was killed as a result of information given to us by MI5. Hanna was totally innocent and we killed one of our best volunteers.
They supplied us with detonators which they had set to explode prematurely. The Miami Showband, Somerville & Boyle, the Desertmartin, Johnstons Farmland, Vol Logan, Vol Simpson his body was never got. In 1985 we were approached by an MI5 of officer attached to the N. I.O. and based in Lisburn, Alex Jones was his supposed name. He asked us to execute you, and supplied us with the following details.
Your cars, aerial photographs of your house, your island home on the Kerry coast. Details of your trips into Farranford [sic] Private Airport, photographs of your plane. Photographs and details of your private yacht.
We refuse to do it, we were asked would we except responsibility if you were killed, we refused.
British Int are going to supply a spoon of Anthras Foort [sic]) and Mouth Disease, Fowl [sic]) Pest, Swine Fever, and Jaagsikpi a fatal disease in sheep to anyone who will release it in Eire. They plan by doing so to destroy Eire economy and to make Eire Government increase border security. We have no love for you, but we are not going to carry out work for the Dirty Tricks Department of the British
Capt W. Johnston
DID MI5 DOUBLECROSS THE UVF ?
Did MI5 and the UVF collude in a string of assassinations as the letter claims? A string of official British inquiries have since confirmed that UVF- State collusion did indeed take place. Interested readers should consult 'Lethal Allies' by Anne Cadwallader (2013); 'A State in Denial' by Margaret Urwin (2016); the books of Martin Dillon including 'the Dirty War' and Sir John Stevens' book, 'not for the Faint-Hearted'.
The Miami Showband atrocity – which is referred to in the UVF warning letter – involved the murder of members of the then hugely popular Miami Showband. It was perpetrated by members of the Mid-Ulster UVF, some of whom perished while placing a bomb in the rear of the band's van. The vehicle had been halted at what purported to be an UDR check-point. Harris Boyle and Wesley Sommerville, two members of the UVF, set about placing the bomb in the rear of the van but it detonated prematurely killing them. According to an RTÉ investigation, the explosives had been supplied by Robert Nairac, a British undercover operative. Band members Stephen Travers and Des McAlea survived the attack. They were present when a man dressed in a British Army of officer uniform with a "crisp, clipped English accident" joined the surviving UVF members and ordered them to wipe out any living band member. Luckily, Travers and McAlea managed to escape with their lives.
The bomb was presumably set to detonate an hour or more after the trigger was switched on. It is conceivable that it could have exploded almost immediately once triggered. Equally there are many reasons as to why this could have happened by accident. However, all that is signicant here is what the authors of the letter believed happened, and it is entirely credible that they could have developed just such a belief.
WAS THERE SIMMERING RESENTMENT WITHIN THE UVF AT THE MURDER OF JIM HANNA ? 
Jim Hanna, the UVF volunteer referred to by name in the letter participated in a string of atrocities in the early 1970s and was murdered in April 1974. It is suspected that his assassin was William 'Frenchie' Marchant, a fellow UVF member and RUC Special Branch (i.e. MI5) agent. One rumour put into circulation in Loyalist circles to justify Hanna's execution was that he was an informer. While he certainly had some sort of a relationship with British Intelligence, so too did Marchant and many others in the UVF.
Marchant was part of the UVF gang that car-bombed Dublin and Monaghan in 1974. There are multiple indications of MI5 involvement in the 1974 atrocities. Inside Loyalist circles one member of the Dublin and Monaghan gang told the Loyalist terrorist Michael Stone that Nairac had supplied the explosives for the attacks. ('None Shall Divide Us' page 245). So why did Marchant – a probable British agent – kill Hanna, another probable agent? The murder could easily have left a bitter anti-MI5 taste in the mouths of Hanna's friends and admirers in the UVF.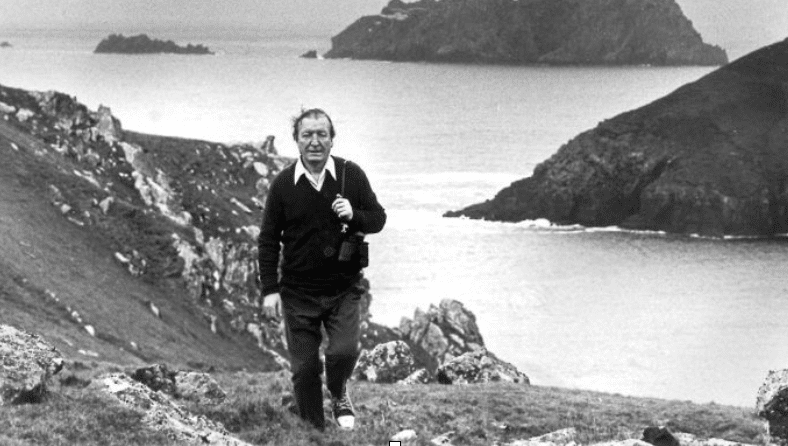 WAS HAUGHEY PLACED UNDER A BRITISH MICROSCOPE ? 
The letter also claims that MI5 supplied the UVF with details about Haughey's habits and movements. Did the British keep such a file on Haughey ?
Declassified files now indicate that the UK compiled a large dossier on Haughey. The officials at the Dublin Embassy hoovered up any morsel of information about him they could find as is apparent from a profile the British Ambassador furnished to the Foreign Office in 1980.
In addition, declassified British Embassy cables demonstrate that senior politicians and government ministers including Conor Cruise O'Brien (Labour), Erskine Childers (FF) and Garret FitzGerald (FG) were among their sources on Haughey. (See Village May 2017.)
Meanwhile, in the shadows crafty MI6 officers burrowed for information too. MI6 had, for instance, recruited a member of the staff at the Old Shieling Hotel in Raheny to monitor Haughey in the 1970s. The hotel was owned by one of Haughey's friends, Bill Fuller, and Haughey occasionally dropped into it on his way home to Kinsealy.
In the mid-1970s, MI6 attempted to recruit one of Haughey's secretaries, Sally Ann Egan, who worked in the private office at his home, Abbeville, as an informant. She reported the unsolicited approach to him, received his thanks and kept her job. (See Village September 2017.)
Since the September article, Village has come into possession of two documents confirming anti-Haughey plotting by MI6 and information that another member of his staff, had spied on him for MI6 at Abbeville.
There are even indications that Haughey's family was targeted. In Dingle, a man we will refer to as 'CO', a bearded Scottish boatman and marine engineer, who was employed by Haughey to render Inisvickillane habitable, may have spied on him too. The work 'CO' conducted was physical and demanded his continued presence on the island transporting building materials, setting up hoists and pulleys and installing generators. He soon became a regular guest around the family camp fire. One day he disappeared, never to return, nor make contact again; leaving the family to wonder if he had been spying on them all along.
Indeed, the information gathered about Haughey may have been included in the "massive" dossier passed to the RHC in 1981 to assist their plot to blow Haughey up in the summer of 1981. (See Village February 2018.) Against this background of intrigue, it is possible to appreciate why Haughey was alert to and resentful of any aircraft that flew over his island.
In addition, irrefutable proof of British espionage against Haughey has emerged from Britain's National Archives. Declassified files reveal that on 24 April, 1980, NI Secretary Humphrey Atkins, wrote to Thatcher stating"you will, I expect, have noted two recent intelligence reports that throw some light on [Haughey's] approach" to Anglo-Irish affairs.
DID MI5 HAVE ACCESS TO BIO-WEAPONS ? 
The UVF warning letter also referred to the potential release by MI5 of an array of bio-weapons in the Republic. It is worth noting that the exact word used in the letter was that MI5 was ''going' to engage in such activity if it could find a Loyalist willing to transport the substances across the Border. This implies that this was a live operation in 1987. MI5 did indeed have access to a witch's cauldron bubbling with all sorts of lethal substances in 1987.
Peter Wright of MI5, who spent a lot of time in NI, wrote 'Spycatcher' in which he divulged some unsettling details about a team of scientists based at a complex known as Porton Down who worked with MI5 and MI6. He revealed that at the start of the Suez Crisis, MI6 had "developed a plan, through the London Station, to assassinate [Egypt's President] Nasser using nerve gas. [British PM Anthony] Eden initially gave his approval to the operation…".
Wright also described how he once visited Porton Down for a demonstration of a cigarette packet which had been fitted with a poison tipped dart by the staff of the Explosives Eesearch and Development Establishment: "We solemnly put on white coats and were taken out to one of the animal compounds behind Porton by Dr Ladell, the scientist there who handled all MI5 and MI6 work. A sheep on a lead was led into the centre of the ring. One flank had been shaved to reveal the course pink skin. Ladell's assistant pulled out the cigarette packet and stepped forward. The sheep started, and was restrained by the lead, and I thought perhaps the device had misfired. But then the sheep's knees began to buckle, and it started rolling its eyes and frothing at the mouth. Slowly the animal sank to the ground, life draining away, as the white-coated professionals discussed the advantages of the modern new toxin, around the corpse". (162)
The scientists at Porton Down undoubtedly had the capacity to manufacture Anthrax and Foot and Mouth disease, not to mention other deadly biological agents mentioned in the Warning Letter.
THE WARNING LETTER CONTAINS NO FLAW BUT THAT DOES NOT PROVE ITS AUTHENTICITY
There is nothing in the letter that even remotely indicates it is a fraud. On the contrary, many of its key assertions are accurate:
Collusion between MI5 and the UVF took place;
Robert Nairac was a link between MI5 and the UVF;
Jim Hanna was murdered in dubious circumstances;
A'massive'dossier on Haughey was accumulated by the UK;
MI5's had access to bio-chemical weapons;In addition:
the RHC did attempt to kill Haughey in Dingle in 1981 while they were led by an MI5 agent, and;
MI5 was commanded throughout this era by men who routinely engaged in political murder.Haughey certainly treated the letter gravely: he ordered a special investigation; his personal security was stepped up; a naval team examined his new vessel, the Celtic Mist, for any signs of interference; and the security for his ministers was doubled.Yet none of this established that letter is authentic and that there was a plot to murder Haughey in 1985. Unless further evidence emerges, readers will have to rely on gut instinct in assessing its validity.The combination of these strange events, and the extraordinary mystery of the sinking of Haughey's yacht, the Taurima in 1985, which we will return to in the next edition, may have unnerved the UVF and prompted them to alert Haughey in 1987 in case a further plot was in the works for which they would be blame. And, as it happens, yet another Loyalist anti-Haughey plot was in the works in 1987. This was something that the UVF almost certainly knew about from the gossipy Loyalist paramilitary grapevine. Indeed, they may even have been asked for weapons to assist it.Village will examine this plot and the strange goings-on surrounding it, including the involvement of a military "contact" stationed at RAF Aldergrove who assisted the UDA plotters, next month.Joseph de Burca