Listen up around what they're at
Villager likes nothing more than a shafted preposition. Most of the articles that come in to this magazine are from academics writing 'around' their subjects. They go into Village's file of death along with cover letters for CVs that sign off cheers.
So he was thrilled to see the Irish Times say of Nama that is lending €384m to allow developers to "build out projects".
Zagantagonism
It's been a bad month for Rugby schools. Paddy Jackson, the Kiely's set-to, the illicit publication of the letter from Eunan O'Carroll. And now Frank Armstrong.
The editor and half the Champagne socialists/ environmentalists whose whimsies fill the pages of Village have been taken aback by young Armstrong and his piece in the current edition ripping apart Gonzaga College, alma mater to non-conformist and unbulliable egos of all sorts, from Ranelagh right as far as Bray.
Hypocrisy on Equality
Talking of which it was amusing to see Michael McDowell bemoaning inequality – "the rich getting far richer" in the Sunday Business Post where he ties down an, unpaid, column. When he had power he was largely an agent for liberalism – and inequality, even claiming the economy "demands inequality in some respects". In 2004 he told the Eonomist Survey of Ireland that he "sees inequality as an inevitable part of the society of incentives that Ireland has, thankfully, become". He was quoted by The Economist magazine as offering a robust defence of the gap between rich and poor in Ireland. And he told the Irish Catholic that "a dynamic liberal economy like ours demands flexibility and inequality in some respects to function". It was such inequality "which provides incentives".
He said: "As far as I am concerned liberal politics and liberal economics go together. In a liberal society, equality of opportunity is an equal opportunity to become unequal. A society which legislates and controls in every way to create some sort of mathematical equality just doesn't work". In his pomp he believed: "Driven to a complete extreme, the current rights' culture and equality notion would create a feudal society".
McDowell sat at the Cabinet table for a decade while the country was run – to disastrous long-term effect – in the interests of elites and cartels, including the legal one he still feeds off. McDowell pulled the plug on the Citizen Traveller campaign when it dared to be controversial. He delayed and censored the reports of his department's own inspector of prisons, Judge Dermot Kinlan.
Dodgy Donegal
There is still no sign of a date for the High Court case being taken by Michael McLoone, former County Manager in Donegal, represented by barrister Michael McDowell, over a 2014 Village article titled 'Dodgy Donegal Planning', alleging improper behaviour in Donegal County Council's treatment of planning matters. Nor is there any sign of the Department of the Environment's report into the activities detailed in the impugned Village article, though it has been promised for years.
Loughinisland threats
Village has received correspondence from the Hawthorns, Ronnie and Hilary saying they will take legal action over the naming, in these pages, of Ronnie as chief suspect for the Loughinisland massacre in 1994 when six Catholics watching a world cup match were gunned down in a pub. The Hawthorns' concern vacillates between defamation and privacy. But they seem to be having trouble getting anything beyond a few emails together.
Colgan threats
And Michael Colgan has apparently initiated proceedings against Village for "defamation of character", though Village hasn't been served with anything so we're not really sure. Colgan alleges a recent editorial implied he was guilty of serious crimes and rape. Village claims it was accusing him of harassment.
Unthreatening
After all that hassle Villager often wonders if it isn't better to just say nothing. Then you can become as popular as William and Kate, Royal heirs in waiting, who have literally never saidanything anyone can remember.
Kith and Quinn
Villager never gets cross, never raises his voice. But he hates those Quinns. Complaints by Sean Quinn jnr and his wife Karen Woods about a recent failure to pay some of their €100,000 annual living expenses should be seen in the context of a "scheme of misappropriation on a grand scale", the High Court has been told.
Some €10m has been extracted from a company in India "and we don't know where that has gone", Barry O'Donnell SC, for the special liquidators of Irish Bank Resolution Corporation, said. Documentation from India and Hong Kong showed "a scheme of misappropriation" was executed, over time and especially in 2010, at the instigation, and for the benefit, of members of the Quinn family.
The transactions at issue "have never been explained" and while the family maintain they had no idea what was going on, that is "wholly implausible", he said. This, and the fact Quinn and his wife are receiving close to €100,000 annually in living expenses, was of concern to the bank and it was "imperative" the matters were addressed. Villager absolutely begrudges them their 100k. If he had his way the radical left would have picketed the likes of the Quinns instead of faffing around harassing water-meter installers. And he wants to know where Peter Darragh Quinn, a nephew of the bankrupt former billionaire, on the run five years after an arrest warrant was issued for him, is.
Ireland biggest environmental mess by a landslide
In July 2008, the Court of Justice of the European Union (CJEU) ruled that Ireland had failed to carry out a proper assessment for the 70 turbine Derrybrien wind farm which was built in the early 2000s. The Government has yet to carry out the assessment on the site. The construction work on the wind farm led to a 2km landslide in October 2003, which the Commission itself has called "environmentally devastating". The incident caused 450,000 cubic meters of peat to slide down the mountainside, which was washed into the local river systems.
The European Commission has now requested that the European Court (CJEU) slap Ireland with a minimum fine of €1.6m euro, as well as a daily penalty of a just over €12,000 if Ireland does not fully comply by the date of the Court's ruling. The final decision on any potential penalties rests with the Court, whose ruling will be binding.
The construction of the controversial wind farm by Hibernian Wind Power – a wholly-owned subsidiary of the ESB – led to the removal of large areas of forest and extraction of peat up to 5.5 metres deep on the top of the Cashlaundrumlahan Mountain.
The landslide destroyed the ecology of a 20km section of a nearby river system, killed around 50,000 fish, affected the water supply to nearby Gort and caused damage to the Loch Cutra Special Areas of Conservation site.
The CJEU has previously hit the Irish government with a €1.5m fine in 2012 for its failure to put sufficient standards on environmental impact assessments in place as outlined under the EIA Directive.
The Directive states that impact assessments must be carried out by certain public and private projects likely to have a significant impact on the environment before construction begins. Developers take note…
Ireland's environmental pillar noted: "Any fines are just the tip of the iceberg when it comes to expenses incurred by the Irish people for environmental damage in our country".
Not Macron
In 2009, Ireland was given a target to cut its emissions of global warming gases to 20 per cent below 2005 levels. The Taoiseach said this failure would lead to significant fines, which it is estimated will run into hundreds of millions of euro.
If there were any doubt that the government isn't serious about climate change Leo Varadkar's response to the moral obliquity and oncoming fines, allayed it: "The Luas Cross-City is now open to passengers. There will also be a focus on the North and the all-island economy, improving infrastructure over the next 10 years, building a motorway to connect Dublin and the Border counties to Derry and Letterkenny, and also examining the Dublin to Belfast rail line": more roads and some studies about public transport. How very Albert Reynolds!
Where are you, ICTU and the Green Party?
Predictably, nobody has paid any attention to the lead story in the last edition of Village, that the UK will aim to trade into Ireland while shirking non-Customs Union or Single Market standards, notably on labour and the environment.
Our house out of order
The UK's Brexit bill may have broken international environment law, according to the UN whose compliance committee is considering a complaint alleging the British government breached the inconvenient Aarhus convention by not consulting the public over its withdrawal bill.
May not happen
Theresa May has opened a new front with with Brussels by saying that EU citizens who arrive during the post-Brexit transition period must not have the same rights as those who came before. It's been assumed there'd be a 'status quo' transition period until December 2020, permitting free movement and citizens' rights for those who move to the UK in that period.
Rules for new EU migrants could include mandatory work permits, requirements to register on arrival and restrictions on access to benefits, which would not apply to EU citizens who moved to the UK before Brexit.
May or may not
Dublin and Cork will not have their first directly elected mayors for at least six years, the Minister for Local Government, Eoghan Murphy, has confirmed.
The Minister, Eoghan Murphy, told the Dáil the plebiscite asking voters in the two cities whether they want an executive mayor is now likely to take place in June 2019, to coincide with the local elections that year. Villager spots a proportion between the number of years projected before the first mayoral election and the probability of the incumbent Minister for Local Government being a candidate for the position.
Controlled democratic assembly
It appears that UCD's ubiquitous and dynamic Politics Professor David Farrell was the key man in deciding who were the four "academic experts" who were invited to address the Citizens Assembly on the issue of referendums.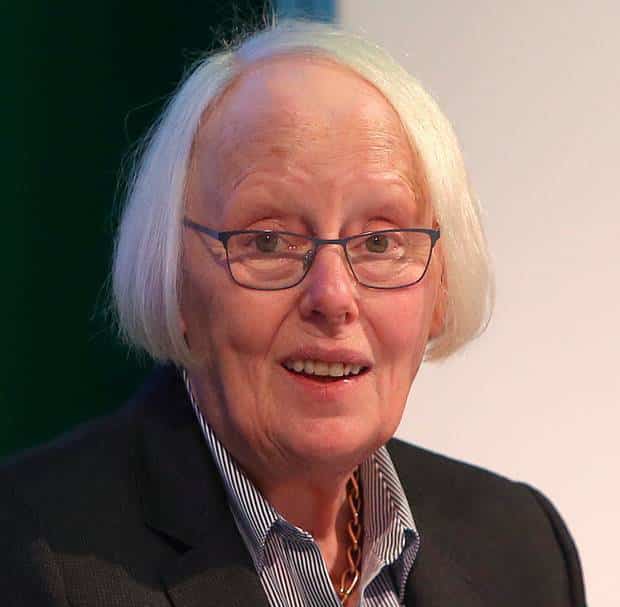 By such control is the always progressive agenda of the 'People's' Assembly guaranteed, Regrettably the Council of Europe's 'Code of Good Practice in Referendums', was not considered, although Professor Anthony Coughlan of these pages had drawn the attention of Judge Mary Laffoy to its significance noting that it had been favourably referred to by Supreme Court Judges Susan Denham and John Murray in their judgment in the 2012 McCrystal case.
Boaled over by Southern fish and chips
The annual release of documents from the National Archives last month indicated that after Peter Robinson of the DUP had been arrested for public disorder in the Republic in 1986 after some some 150 loyalists crossed into the County Monaghan village of Clontibret,
Ian Paisley and his friend Desmond Boal, journeyed across the Border onto enemy terrain to come to Robinson's aid. They reached Slane where Paisley was spotted cowering in his car on his own by children while Boal was off purchasing chips and a fizzy drink for him, in a nearby chipper.
What the National Archives do not reveal is that Paisley had recaptured his mojo by the time he reached Dublin and was greeted by members of Garda Special Branch. By now he was full of jocular bonhomie, booming that he hoped that the Garda would make sure that Robinson was put behind bars for good this time. Of course there was an element of bluster and humour to this and in reality Paisley wanted to help secure Robinson's release. Or did he?
Paisley and Robinson would fall out badly in later years. Robinson would push Paisley out of office as first Minister of Northern Ireland after his short spell as first Minister, much to the annoyance of Paisley and his family who still seethe with indignation about what happened. Perhaps the fall-out between the first ministers dated back a lot further, perhaps even to back that trip to Dublin after Robinson's arrest.
Quarts in pint bottles
Dublin City Council continues to face unprecedented pressures to allow high and clumsly buildings particularly hotels in Dublin's historic core.
1. PORTOBELLO HOTEL
Plans for a 178-bedroom hotel in Dublin's Portobello are in doubt after a flood of objections have suggested it is "far too big". So far it has received almost 60 objections, MKN Property Group and Tifco have sought permission for the €40 million six-storey hotel at Portobello Harbour on the Grand Canal.
2. ST STEPHEN'S GREEN HOTEL
A former Loreto hostel on St Stephen's Green, Dublin, No 77 St Stephen's Green was sold by the Loreto nuns almost a year ago for €7.55 million. It now has planning approval to convert it into a luxury 81-bedroom hotel, and is for sale for in excess of €16m.
Solicitor Barry McGrath overcame considerable opposition from the Department of Foreign Affairs, the Office of Public Works and the Irish Georgian Society before receiving approval for the hotel.
The original Georgian house will have eight suites along with a range of graceful reception rooms. A former chapel will be converted into a distinctive restaurant and bar, while the planned new nine-storey block to the rear will accommodate 73 guest bedrooms, each with average floor areas of 22.5sq m.
3. GRAND PARADE/DARTMOUTH SQUARE
Despite objections Dublin City Council has granted permission for extension to the Carroll's Building, a protected modernist structure. Overscaled and inappropriate, the developer, Hines' own images show how it looms over the architectural conservation area of Dartmouth Square in Ranelagh.
4. DAME STREET, MERCANTILE HOTEL
The Mercantile Hotel plans to expand by 100 bedrooms in a €20m scheme that butchers the roofscape with dissonant chimney-removing mansards and pours out over Dame Lane near the Stag's Head pub.
Literally crawling
Near to home, indeed at home,Villager worries where the editor will find another derelict room if demolition of the Ormond Hotel which adjoins, and until recently leaked into, the Village office, goes ahead. The editor says people are a "crawling" all over the dilapidated and long-closed hotel, apparently pricing the demolition preparatory to an overscaled development for which a company controlled by Queen's Park Rangers Malaysian owner, Tony Fernandes has planning permission. Village will be ready.