Spit on fingers
Who is that shorn and beardless gent on the streets of Dublin 2? Why it's old Michael Fingleton heading off to the Banking Inquiry to undo some of the unfairness done to him by the media. Without the beard and hat you might confuse him with an honest person, or a competent one, or one who wasn't largely responsible for the worst bank in history, one which cost Ireland €5.4bn. If you look carefully you can still tell it's him from his watch and his pot (in which he keeps his €27m pension) and  his barefacedness. The only way – unless he opens his mouth – you know what he is capable of is from his moustache. The tragedy is that the disguise means that the citizenry don't get to exercise their expectorant rights as is so temptingly the prerogative with Ahern, Cowen, Fitzpatrick et al on the mean streets of wised-up Ireland.
Going to Town?
Village is reinventing itself. That could mean it's quietly selling out or changing. But unfortunately as far as Villager is concerned, it doesn't. It's just going to concentrate more on getting out there, and marketing. The Board have been ensconced for the last week in bonding and brainstorming sessions with relays of men with clipboards. Apparently even the name is up for grabs. Ideas have included Incite, Town, Village Eye, Angle, In Fairness, Magwell and New Village (Villager especially liked that one. He could become New Villager. On the other hand, where would he go in a magazine called 'Town'?).
Joint the dots, lads
The latest tax defaulters' list shows Ireland's most ostentatiously and oleaginously corrupt man, lobbyist Frank Dunlop, made a settlement with the Revenue totalling €429,198 for under-declaration of income tax and VAT. Now where did he get an income that would tax at that amount?
Turns on terms
Rory Mulcahy SC is to look into Gerard Convie's allegations of planning corruption in Donegal, The terms of reference for a 'review report' [by god is this not an Inquiry or Tribunal] expressly allow the Minister, slippery Alan Kelly, or his successor not to publish its findings, and exclude An Bord Pleanála from the scope of the 'report'. Lack of clarity and too much discretion to malleable ministers is what you get when, as here, an investigation is 'non-statutory' ie the Minister's civil servants has made up its workings as he has gone along.
It is not clear if it will address impropriety or just 'bad practice'' though if it does not address impropriety it is possible that Convie whose allegations have already been actionably pooh-poohed by a Minister, leading to a payment to Convie, may consider he has again to return to court to defend his name as a serious complainant in view of the fact he has raised allegations that indubitably are about corruption or impropriety.
Convie worked in Donegal County Council as a senior planner for nearly 24 years. He has claimed, in an affidavit opened in court, that during his tenure in the Council there was bullying and intimidation of planners who sought to make decisions based exclusively on the planning merits of particular applications and that planning irregularities were perpetrated by named officials at the highest level in the Council. He claims these included former Manager Michael McLoone – who has initiated defamation proceedings against Village magazine – as well as named county councillors. Convie had a list of more than 20 "suspect cases" in the County.
Don't mention the 'local produce' thing

Is Ballymaloe relish in McDonalds' burgers not a sellout? For McDonalds like.
RIAI Graby train leaves station
What a year in the Royal Institute of the Architects of Ireland (RIAI). Last September saw a fractious AGM, followed by resignations en masse from the board due to governance issues and dark clouds gather around veteran 'CEO for life' John Graby. At the AGM Graby defended his position of keeping his remuneration package confidential from the treasurer and the RIAI Board, his employers. One in a long list of remarkable revelations on the night was the untendered payment of €500k for services, to his son's company Bluebloc over a five-year period. Under questioning from the floor, Kathryn Megan (RIAI deputy CEO) confirmed that the organisation did not have a procurement policy. The official account just released states "The Deputy CEO also advised that the current procurement policy is based primarily on the requirement to obtain value for money. The RIAI had a detailed Procurement Process".
Less than 12 months on from the AGM, and two days after publication of an external governance review, Graby announced his retirement from a role he inhabited for 28 years having turned 70 over the summer. Apparently contracts with Bluebloc will not be renewed and joint roles held by Graby as CEO and statutory Registrar of architects, are soon to be separated and advertised separately. RIAI President Robin Mandal recently said the RIAI was beginning "a new spring".
The jingle jangle – of cash

Meanwhile, architects are having to adapt to the "new reality" and grow business in the most unlikely of surroundings. Whispers in social circles are that architect-about-town Neil Burke Kennedy has attended meetings in Mountjoy Jail. The client? Tiernan O'Mahony, jailed ex-Anglo Irish Bank Executive and failed financier. Apparently he is keeping busy in lock-up by working with his architect, planning a 15,000 sq foot €3m home for when he is released. Mr O'Mahony certainly does not work on a small scale. He still holds the record for the largest ever Irish corporate cash loss. His International Securities Trading Corporation (that he set up after leaving Anglo in 2005) left investors nursing losses of €820m. It made Anglo look frugal.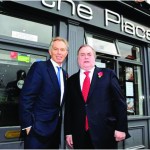 Bambi no more
As Britain's Labour Party was pushing ahead with electing Jeremy Corbyn (someone who at least wanted to do things differently), John Prescott, former Deputy Prime Minister, had occasion to reprimand his former boss, Tony Blair. Blair had denigrated a lurch to the left and said people who said their heart was with Jeremy Corbyn should "get a transplant". Lord Prescott declared these comments were "unacceptable", that he should "calm down" and that Labour was all about heart and head.
Prescott recently denied claims he pushed Linda McDougall, now wife of former Labour MP Austin Mitchell against a wall in 1978 with sexual intent, saying she was "built like a bloody barn door" and that the "f***ing house would have fallen down" if he had done so.
Though Two Jags is no paraclete, he still, at 77, manages to look younger than New Blair who is only 62 but has been wizened by evil.
Not over
Villager doesn't like queens and for a long time didn't like the Queen of [now what should I call it?]. But she salvaged herself with just the right amount of smiling, bowing and Gaeilge on The Visit. The loyalist Daily Telegraph headlined the day she surpassed Victoria's 23,226 days with 'The longest to reign over us', as if that were a good thing. For Villager if anyone reigns over you (or your waves), you're in trouble. Indeed you're not really living in a democracy which depends on equal rights for the citizenry, not equal rights with someone over them.
Great writers' light
"Whatever spark or gift I possess has been transmitted to Lucia", James Joyce once said of his troubled daughter, "and it has kindled a fire in her brain". CJ Jung, who treated Lucia for apparent schizophrenia, agreed, describing father and daughter as "two people going to the bottom of a river, one falling and the other diving". Dancer, writer, musician; Lucia Joyce was a talented and courageous woman. Her father spoiled her, sang to her, but only when he had time. He worked all day and then, on many nights, he went out and got blind drunk. The family was evicted from apartment after apartment. By the age of seven, Lucia had lived at five different addresses. By thirteen, she had lived in three different countries. At 20 she was jilted by Samuel Beckett, a year older and an acolyte of her father. Lucia was incarcerated by her brother Giorgio and forced to remain in psychiatric hospitals for 50 years until her death in 1982. Her time in Ireland during the 1930s – in particular in Bray, County Wicklow – was one of her few moments of freedom. Many of her writings, including a novel and letters of communication with James, have since been suspiciously destroyed. Working from what remains of Lucia's writings, 'Medicated Milk' is a film by Aine Stepleton that tries to understand who she really was, what happened to her, and why her story is important to us now. It has been playing in the Tiger Fringe Festival in Dublin.
Gulag?
Villager recommends newly-released Russian-language movie 'Moscow Never Sleeps' directed by Dubliner Johnny O'Reilly, part-funded by the Irish Film board with some funding from ex-pat Russian, Leonard Blavatnik, whose net €25bn made him 'Britain's' Richest Man in 2015.
O'Reilly, who has written the odd article for Village, excelled himself when he managed to get dramatically cut off during a recent morning news programme on the regime-friendly 'Life News' TV channel after he mentioned fellow Russian Director, Oleg Senstov, had been imprisoned for political reasons. O'Reilly explained to Villager "the worst that could happen is I could be arrested and deported and that would be great for the movie".
Villager follows up with the goss

O'Reilly's movie is an exuberant celebration of sexy Moscow, a sort of 'About Adam' with added Russian hoods.
Incidentally dreamboat Stuart Townsend who starred in that moodfest to Dublin is now living in Costa Rica and seems to have dumped his Hollywood career in favour of US TV dramas (his Facebook page says he is a student of life), just like Charlize Theron dumped him. Theron has been dumped by Sean Penn who was dumped by Madonna who dumped Guy Ritchie who married model Jacqui Aynsley in London since Village last went to press.  Photographs of their neck warts and hairy lips to follow.
Villager becomes the Torygraph
Even for the passionless, Isis is revolting: the antithesis of civilisation. It seems to appeal to an atavistic viciousness in humanity. And it and its mates comprising hundreds of thousands of sadists have time on their side. And they only have to get lucky once –let alone serially. Hundreds of thousands of people who perpetrate ever more barbarous tortures for sport and who'd be delighted to bring nuclear winter to much of the world seems like a bet civilisation could well lose.  And the paranoia that a Syrian refugee-turned host-nation bomber could induce across Europe is daunting. ISIS knows how to propagandise and its message is clear. It is also already clear that it must be stopped. The risks it poses are of such an order that extraordinary responses are required. Certainly it is utterly naïve wittingly to promote, by retransmission, their propaganda. The Indo recently introduced a video of dynamitings in Palmyra as "never before seen footage" as if it was the new Bond movie.
At the least Villager suggests a (voluntary) worldwide media blackout of ISIS video horrors.
Equally dangerous
Ditto, incidentally, and for the same reason – that he is ineffably dangerous and foolish: Donald Trump.
Systemic inequality
Some of the richest areas of Dublin are getting among the highest allocations of special-needs supports for schoolchildren, data published by the Irish Times show, highlighting a deep inequality in the education system. The ability of middle-class parents to get a diagnosis of disability for their children via private doctors gives them an edge over less-well-off peers who face long waiting lists for an assessment of needs by the public health service.
Primary schools in Dublin 6 (Ranelagh/Rathgar etc) got an hour of additional teaching support for every 5.6 children last year, whereas those in the more working-class areas of Dublin 9 (Beaumont/Drumcondra etc) and Dublin 11 (Ballymun/Glasnevin) got an hour for every 11 children. Just one of eight areas which received an allocation above the national average was on the northside (Dublin 1).
Renua and Flat Tax
Emblematic of the dearth of serious ideology in Ireland, Renua's latest think-in threw up the idea of a flat tax, and Declan Ganley to promote it as a "great disrupter" that "would create a huge buzz that would attract international business and finance to Ireland". What would happen to the disrupted, and do businesses really like buzz? In Villager's experience they prefer hum to rattle.
Smart
So Ryanair is overhauling its uniforms as part of its provocatively named 'Always Getting Better' programme. And changing its garish yellow interiors, creating healthier menus and changing its seats. Together with the end of the klaxon and new baggage policy it'll scarcely be recognisable as CryinAir. Apart from the sexism, environmental profligacy and clownings of cheapness supremo, Michael O'Leary, it might as well be Aer Lingus, though much more profitable: its guidance is for €1.2bn profit for 2016. Village once ran a DIY column on how to do damage to Ryanair, legally. Best answer: bring large numbers of spiders on to your flight and release them before takeoff; and stick chewing gum on the seat. Some hatreds never go away.

Making Ireland look good
Marine Le Pen's French National Front topped a recent poll on first-round voting intentions for the 2017 Presidential election. It's been running 12 town halls since last year's municipal elections and weirdly, bearing in mind its ugly populism, seems to specialise in cutting spending, admittedly often of do-good antagonists like human rights NGOs.  Meanwhile the acceptable face's Jew-hating Daddy, Jean Marie, has been expelled from the party he founded and is to start his own party which will be modelled on the Waffen SS.
Overdoing Stanislavski
Why do so many 'Love/Hate' actors get convicted of crimes relating to drugs and violence?
Always wrong
Irish Farmers' Association President Eddie Downey has called for action at European level, and in particular from well-loved EU Agriculture Commissioner Phil Hogan, to safeguard the incomes of farming families following the elimination of milk quota and the predictable collapse in milk prices. Ever deferential Minister for Agriculture Simon Coveney duly said he will be engaging with his counterparts in other Member States in the coming days to discuss proposals to provide further assistance to farmers including for a rise in the EU intervention price for milk.
The price collapse reflects the sage predictions of the European Milk Board, a federation of dairy farmers with member organisations from 13 countries, which in April said it was likely that the market would not be able to cope with significantly expanded production in a reasonable way. "Chronic price collapses are inevitable, the next crisis is on its way", EMB president Romuald Schaber said.
On the other hand the terminally unwise  Irish Farmers Association (IFA) estimated the ending of quotas would create 9,500 extra jobs in Ireland, and upwards of €1.3bn annual additional export revenue.
The Examiner of 17 March reported: "'Ireland aims to be the world's fastest-growing dairy producer when the cap on milk production is lifted by the EU in two weeks', said Agriculture Minister Simon Coveney. He rubbished fears that the ending of the milk quota system in the EU after more than 20 years would mean a surge in production, depressing the price and leaving farmers in trouble.
'We cannot pretend that what is happening in the EU means that prices will collapse'. he said. "This ignores what is happening outside the union, in other continents such as Asia and Africa, where we are seeing dramatic increases in dairy consumption, and Ireland will be looking to expand to export outside the EU", he said betting his reputation on it.
Fracktious
Pat Rabbitte famously said fracking would be a game-changer in Ireland, though he commissioned a report on it and the EPA duly delegated most of it to CDM Smith, which has lobbied for fracking in the US.
In recent years Americans have been hearing that the United States is poised to regain its role as the world's premier oil and natural gas producer, thanks to fracking.
Whatever about the dangers of local pollution and the fact that gas generates unsustainable CO2 emissions and preempts development of renewables, after four years of record supply, America's natural gas output is showing signs of weakness as producers retreat amid tumbling oil prices. Gas production from the seven largest U.S. shale basins fell 0.6 percent to 45.1 billion cubic feet a day in August from a month earlier, the biggest drop since March 2014, the US Energy Information Administration (EIA) said recently.
The government's forecasts signal the collapse in crude oil prices, which have plunged by about half over the past year, is reverberating for natural gas.
Four of the US's seven shale gas fields are already in decline and production from the top seven fields will underperform EIA's forecast by 39% from 2014 to 2040. By 2040 production from shale gas fields other than the top seven will be about one-third that of the EIA forecast. Approximately 130,000 additional shale gas wells will need to be drilled by 2040 to meet projections, on top of the 50,000 wells drilled in these plays through 2013. Assuming an average well cost of $7m, this would require $910bn of additional capital input by 2040. And play a not insignificant role in facilitating runaway climate change.
Why, Nama, just why?
Rumblings from the North suggest governance at Nama may reward much more stringent scrutiny. It sold €5.7bn of property loans in Northern Ireland for €1.6bn – a 72 per cent discount – to US investment fund Cerberus in controversial circumstances. But more generally, why does NAMA often insist on divvying out so many of its portfolios in such large bundles that only vulture funds, often advised by grasping former delinquent developers and their acolytes ,can afford to bid for them. And why is it still offering such big discounts on par value when the market for the rest of us seems to have entered an unpleasant boom.
Project Arrow comprising some €8.4bn worth of non-performing Irish and British loans secured mostly against property, is currently being sold by the agency. Mick Wallace TD, a developer by background, has legitimately questioned why it is deemed appropriate to sell the portfolio in one go given the loans are non-performing. Presumably smaller purchasers would be better disposed to 'working through' the loans with the borrowers. Than giant vultures.
Foster care
As Villager was getting ready for his post-deadline snooze Northern Ireland's first minister, Peter Robinson, walked out of Stormont's devolved, power-sharing government because the Assembly was neither being suspended by the British Government nor adjourned; and Arlene Foster was moving to take over from him (no loss). Villager is aware that this might serve as a cue for some of the dormant thugs in the North but reflects that the quality of the governance in the North is so low that it might be a relief.
He returned to his torpor. •