1. Background
Five years ago Dublin City Council engaged consultants to devise plans for a €20 million segregated cycle path along the Liffey from Heuston Station to the Point, now the 3Arena. At one stage there were 13 different route options but the options are now down to two. Over a number of years and following detailed examination of potential routes by independent consultants, a route along the North Liffey Quays was chosen as being the best option for the proposed Point (Depot) to Phoenix (P2P) Cycle Route. A public consultation process in 2015 confirmed overwhelming support for this option. The Option 7 design proposal is a re-affirmation of the compelling reasoning behind the riverside route, combining as a dedicated public transport corridor, over its full length.
We urge all Dubliners, Dublin City Councillors and Dublin City business people to get behind this iconic proposal for Dublin's City Centre and recognise the important benefits it will bring for Dublin City.
---
2. The Importance of a full-length Riverside Cycle and Public Transport Route
The prioritising of a riverside cycling, walking and public transport facility will unlock this congested and often dangerous transportation route so that public transport gets to perform at optimum level and cycling works for families, commuters, shoppers and leisure cyclists alike. Dublin City also needs to move beyond viewing the Liffey as simply a transport corridor. The original concept of reimagining of the quays over the full length from the Point to the Phoenix Park will make this real, while simultaneously:
Increasing mobility for the city's growing population
Bringing more people into the city centre through a dedicated public transport corridor
Improving air quality and reducing noise pollution
Improving the health of all Dubliners
Improving the public realm
Boosting the local economy
Boosting tourism
Attracting workers who see cities with a high quality of life
---
3. Dublin City Centre Needs Greater Access for More People
Dublin City Centre businesses need to play to the city's strengths. By supporting proposed Liffey Route Option 7 businesses can ensure that more people can, and will, visit the city centre. The proposed Liffey route prioritises the movement of people rather than vehicles into the centre. It does this by prioritising public transport and cycling along Dublin's north quays, and the LUAS tram. The numbers of potential persons carried by the various transport systems is outlined below:
Bus – There are about 100 to 110 services carrying up to 8,000 passengers, per hour. This can be at least doubled with an improvement in the proposed bus infrastructure.
Bicycles – The proposed separated cycle facility along the River Liffey will enable safe and easy passage for cyclists, with an expected peak hour movement of over 1,500 cyclists and likely to grow. At present the Liffey route, despite its perceived dangers for cyclists already channels over 5,000 cyclists per day.
LUAS Tram –The Luas, operating along its existing spine parallel to the Liffey on a 4-minute frequency, will carry up to 4,200 people per hour.
So, between Public Transport and Cycling Provision the proposed routes can carry over 22,000 people per hour. This compares to the potential of Car Traffic – A single inbound lane of car traffic coming into the city centre carries approximately 600 cars per hour. With an average occupancy of 1.35 per vehicle that equates to approximately 800 people per hour.
These figures clearly show why support for the proposed initiative, makes sense for the viable economic future of our City Centre.
---
4. Accommodating LUAS and the Impact on Car Traffic
The full cross-city Luas tram system will be operational in late 2017. Besides enabling many more people to travel to the city centre, it will undoubtedly have a limiting impact on the movement of private vehicular traffic. Overall road space is limited, and the capacity of the quays to carry cars will be reduced.
At first glance the diversion of car traffic off a section of the quays between James Joyce Bridge and Fr Mathew Bridge (Church St) seems counterproductive, but this proposal can facilitate private vehicular traffic and deliveries to reach their desired destinations easily. Optimum routing and street design can be agreed at the detailed design stage.
Traffic surveys have shown that traffic along the north quays divides into roughly three thirds when heading eastwards. One third diverts northwards, one third southwards, and one third continues along the quays, as through-traffic with no city centre destination. The diversions proposed for vehicular traffic support these existing movements, and further likely changes at detailed design stage should enable easy access to all city centre commercial car parks.
At the same time these proposed changes will discourage unnecessary vehicle journeys through the already congested city centre, freeing up limited road space for Public Transport and necessary journeys.
---
5. The Liffey is More than a Transport Corridor
The River Liffey is the principal artery and provides the most famous and arresting vistas of the city.  The Liffey has been celebrated in prose, poetry and art. It is the city's ineradicable core. Its 18 bridges are essays in the evolution of the City. The improvement of the public realm along this route recognises this prime status, and the provision of better cycling and walking facilities along this route will encourage greater use of this historic spine, protect its primacy and beauty, and provide a further tourist attraction.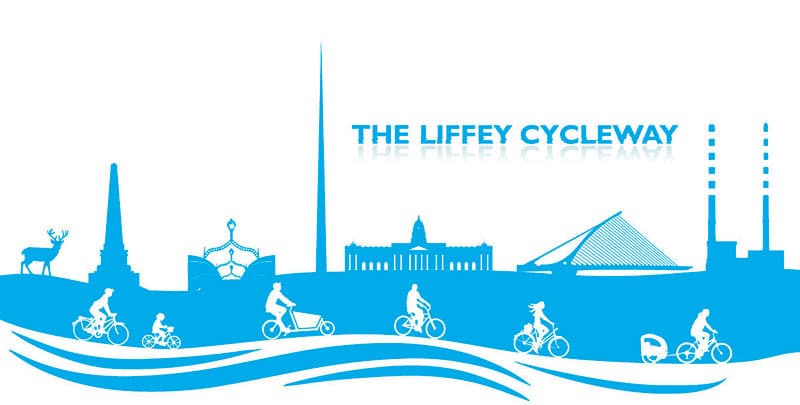 The area is home to many thousands of Dubliners, and the provision of a more pedestrian- and cycle-friendly environment will lead to a safer city for residents, as well as promoting their mobility. It is home to many businesses, restaurants and cafés, and the improvements proposed by this initiative will support them. This is borne out by multitudes of studies throughout Europe and the US. Cycling is good for business!
---
6. The Wider Context
Dublin is way behind other European cities in moving to a more people-friendly and higher-mobility city. Other cities have worked assiduously to manage vehicular traffic in their centres and to prioritise facilities for public transport, pedestrians and cyclists.
Projects like this attract foreign interest and investment, and for health. They generate the sense of a dynamic, vigorous, modern, civilised and youthful city.
Increased cycling and walking is also a vote for cleaner air, less pollution, and our elusive Climate Change targets.
The City Council has narrowed the options to two:
Option 7 proposes to divert private vehicles off the Liffey between James Joyce Bridge and Church St, because of heritage restrictions and the lack of road space to accommodate all modes.
Option 8 proposes to keep all traffic along the North Quays by building an expensive cantilevered 'boardwalk' for cyclists, and introducing a Stop/Go traffic light at the major pinch point to give buses priority over private vehicles.
Option 7 is opposed by some local representatives in the Stoneybatter area. Opposition to the plans has come from chairman of Stoneybatter Pride of Place, former Labour TD Joe Costello, who claims the restrictions along the North Quays "will cause mayhem at the junction of Blackhall Place, North King Street, North Brunswick Street, Arbour Hill and Stoneybatter". It is also opposed by major car-park owners, and by large city-centre businesses. Option 7, or potential variations of it are actively supported by a number of City Councillors, and by Dublin Cycling Campaign.
Option 8 is strongly opposed by cycling advocates, as it adds extensively to the cost of the project, will cause conflicts between cyclists and pedestrians, is of poor-quality design in areas proposed to be shared with pedestrians, and most importantly, is unlikely to be used by commuter cyclists, because of the awkward manoeuvres required.
Dublin Cycling Campaign is developing options based on Option 7, particularly improvements in the public realm in the Blackhall/Stoneybatter area.
It is time to develop a transport scheme for the long-beleaguered Liffey that will transcend private interests in the public interest and serve the city for a generation, not just a year or two.
Dr Paul Corcoran is chair of the Dublin Cycling Campaign