Leinster Rugby has just completed a historic European Cup and Pro 14 double, becoming the first Celtic League team to do so in the same season. This comes on the back of Ireland completing a Grand Slam as part of a third Six Nations win in the last five years. It is a golden era for Irish Rugby, and especially for Leinster. With a blend of top Irish internationals, young locals coming through the Schools system, quality foreign imports and a talented coaching staff, the future remains encouragingly bright for the province.
Leinster's unique provincial production lIne
Leinster is the only team in a major professional sport to have a home-grown production line systematically providing so many top quality players. Every year more and more talented young players break into the Leinster team. This season will be remembered for the brilliance of James Ryan, the power of Andrew Porter and the electric shimmying of Jordan Larmour. The year before, Joey Carbery was the one setting the fans on fire. Before him it was Garry Ringrose, whose performance levels for club and country are taken for granted though he is only 23.
Leinster complements this youthful exuberance and quality by bringing in a handful of foreign imports who become leaders by example and finesse the overall culture of the province. Examples of tone-setting foreign imports are Felipe Contepomi, (2003-9) Rocky Elsom in 2009, Brad Thorn in 2012 and Isa Nacewa, just retired, who was ever present for all four of Leinster's Heineken/Champions Cup final wins.
By winning this season's European Cup, Leinster join Toulouse as the second club to have won the cup four times, in Leinster's case achieved over just nine years. It has to be mentioned that another foreign import has had a massive impact – Senior Coach Stuart Lancaster. The former English National team Head Coach has been praised for helping elevate Leinster to its dominance.
The only other professional sports team that plays at the highest level and has a home-grown system with an ambition to rival Leinster's is Athletic Bilbao – in soccer. Athletic Bilbao has an unwritten rule that it will only sign players who were born in the Basque Country, or who learned their football skills at a Basque club. In a sport that is increasingly ruled by extortionate transfer fees, this unwritten rule seems to be working, as Athletic Bilbao are one of just three teams to have never been relegated from the top flight of Spanish football, the other two are Real Madrid and Barcelona.
The Irish and English Systems compared
Leinster's success can be attributed to a decision by the Irish Rugby Football Union in the mid 1990s. When Rugby Union decided to turn professional in 1995, the IRFU was faced with a choice – to either fund provincial teams themselves or allow the existing rugby clubs to remain the top tier of Irish Rugby, run by owners and boards that the IRFU would not have much control over.
There were calls to enter existing rugby clubs such as Shannon and Garryowen, something that would have created a number of "super clubs". Instead, in a masterstroke, the IRFU decided to use the provincial structure to create four professional teams for European and domestic competitions. The top Irish players sign "central contracts" with the IRFU, meaning that the IRFU coaches can dictate when these players play for their provinces; how many minutes they play; and when they must take rest periods during the year.
This contrasts with the current set up of the English clubs which have impatient and wealthy owners funding them, and therefore do not emphasise resting of their top players. Aviva Premiership clubs are financially reliant on qualifying for European competitions, and set an unsurprising premium on avoiding relegation. Nowhere is the distinction in the treatment of top players more evident than in the number of games played by two of the stars of the 2017 British and Irish Lions tour. England forward Maro Itoje started eight out of Saracens first nine matches this season after playing 34 games the season before. He is only 23, but even a young man has found it tough to perform at the level he could while having to play so many games.
Leinster playmaker Johnny Sexton, on the other hand, was gradually introduced back into the Leinster team following the Lions tour to New Zealand. By the time he was eased back into Leinster at the start of the season, Itoje had played five games.
This month, Ireland face a summer series consisting of three test matches away to Australia. England will be travelling to South Africa for a three-test series. Following this series, top Irish players like Sexton, Conor Murray and Captain Rory Best will probably be given the month of September off, before being caressed back into club rugby in October. A top English player, like Itoje or his club mate Owen Farrell, will be needed by their team and therefore their studs can be expected to be tearing up the pitch throughout every minute of Saracens' September and October games.
The Turnabout
There was a period between 2013 and 2016 when Irish rugby suffered at the hands of big-budget teams from France and England. From 2013 to 2017 Irish Rugby had no finalist in any of the European Cup finals, as the richly financed Toulon won three trophies in a row from 2013-2015. It took a while for the Irish provincial system to generate sustained success. Ulster won the Heineken Cup in 1999 but Irish fans had to wait until the mid-Noughties to see another success, with Munster winning in 2006 and 2008. Leinster took this success to a new level with wins in 2009, 2011 and 2012. This meant Irish teams won five out of the seven finals from 2006 to 2012. With the present success, it seems like the Irish system has now been constructed to last for many years to come.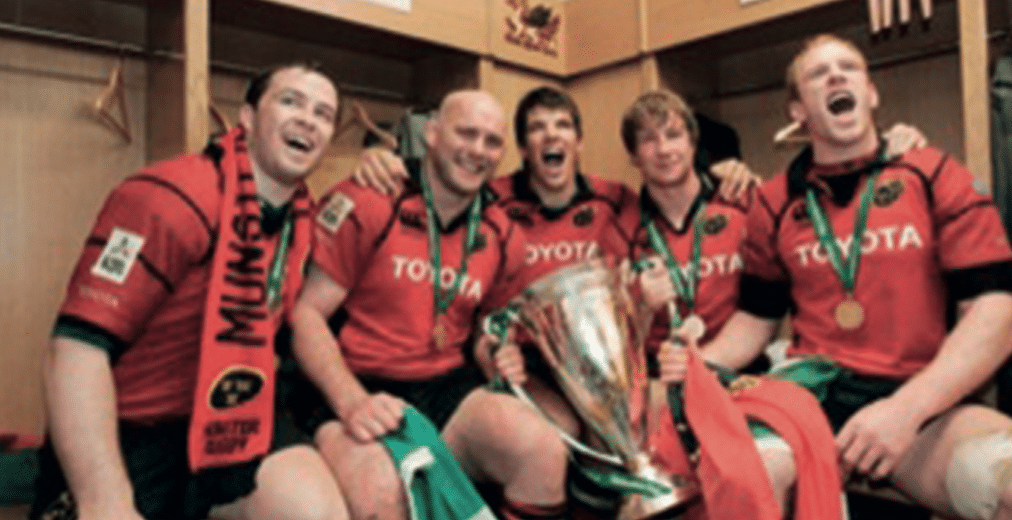 An eye to the future: will money talk again?
The recent success of teams such as Toulon and Saracens derives from being bankrolled by tycoons who can afford to lose millions per year in pursuit of success. Ominously, this feature looks set to extend to, Paris-based Stade Français. Stade Français which has recently been flexing unprecedented financial muscle. Its new owner, Hans-Peter Wild, is a billionaire, allowing it to recruit like a Premiership football team.
It spent €700,000 to steer French International Second Row Yoann Maestri away from a pre-contract with La Rochelle, and has reportedly spent close to €800,000 to buy French Centre/ Wing Gaël Fickou out of the final year of his Toulouse deal. These fees are unheard of from one club in a single recruitment period, but it has not stopped there. It is reportedly prepared to pay Bordeaux more than €1 million for Bordeaux scrum-half Baptiste Serin, a prodigious young French halfback. Stade may spend nearly€2.5m in transfer fees in one summer. Serin has only one year left on his contract, and the Bordeaux coach Laurent Marti is extremely reluctant to sell one of his most important players, but runs the risk of losing Baptiste for free in a year if it cannot renegotiate a new contract. Wild has stated his intention for the side to win the French title in the next "three or four years" – something you would not bet against.
€2.5m is nearly half of the entire wage bill of the Scarlets, the Welsh side that made the European Cup Semi-Final and Pro 14 final only to be beaten in both by Leinster. The environment in World Rugby is changing, as now once a player is in the final year of his contract, he becomes a target for all of the big money clubs like Stade.
Whilst these fees are unrivalled by anything an Irish Province can match, it is no substitute for young, determined payers who come through a home academy dreaming of one day pulling on their club's jersey and winning medals. The best model will always be the home-grown model, with a sprinkling of foreign players and coaches, like Nacewa and Lancaster, to give an extra edge. It is romantic but it is also robust.
Rob Burke